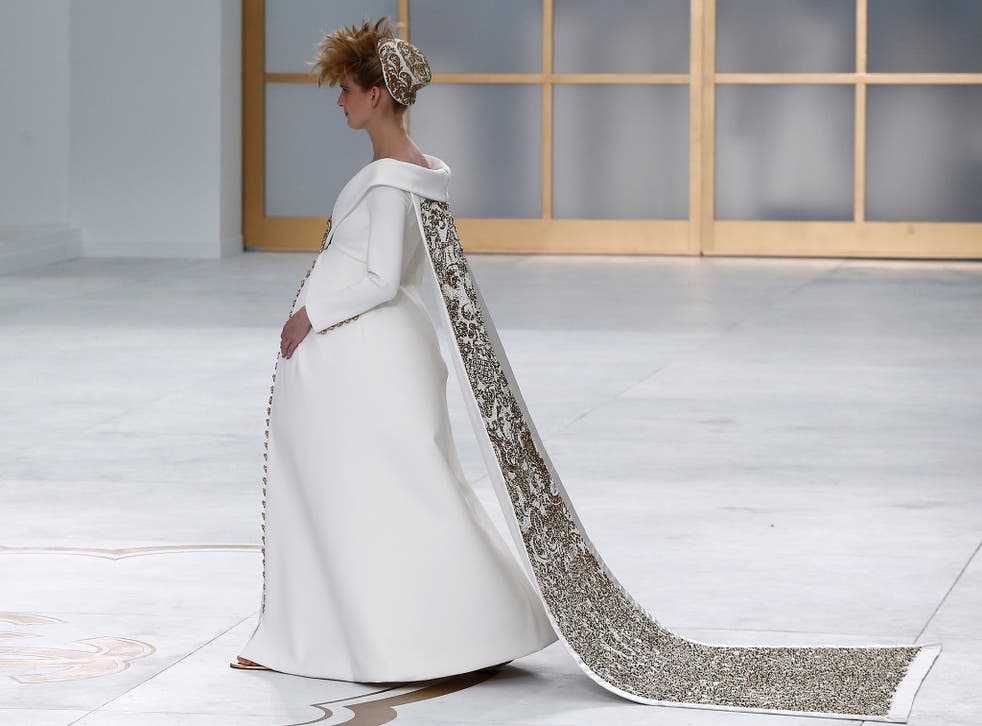 Historical re-enactment: Why fashion's finest had to develop a passion for aesthetic archaeology
Corsets and crinolines, farthingales and panniers – this isn't your local am-dram's dressing-up box
It began, as so few things do, at the haute couture in Paris, last year in July. Starting by tradition on the first Sunday of that month, couture week always misses Bastille Day, just. Which is, perhaps, appropriate. Since the couture consists of the most expensive dresses in the world, crafted for modern-day Lamballes and Polignacs, to juxtapose it with the symbol of the Ancien Régime's demise would be bit much.
Yet Marie Antoinette and her entourage were exactly who I thought of when watching Raf Simons' Dior show, and the clothes of Karl Lagerfeld for Chanel, all frills and furbelows, trailing trains and buoyant, voluminous panniers. We haven't seen that stuff for a while. Actually, we haven't seen it since 1789.
Fashion has a confusing tendency, like Willy Wonka in his Chocolate Factory, to go backwards in order to move forwards. Echoes of the past are hardly original. (This spring, for example, fashion has voraciously revived the 1970s piecemeal; and the 1980s will generally follow, come winter.) However, what we saw at the couture in 2014 was something different.
First of all, it was looking to a far-flung past rather than the barely cleared decades – the stuff we're more used to seeing in period dramas than charity-shop sale-rails. Second, and by its very nature, it forced designers to find something genuinely new in all that old hat.
The charity shop is a clue to what I'm writing about, and why fashion's action of hurtling back into distant history is the most exciting thing it has done in a while. Charity shops sell clothes; they may be from the Sixties, or Fifties, or even Forties, but they can be worn right now, without generally looking like you stepped out of Call the Midwife. You can't do that with an 18th-century gown, or a Roman toga, or the farthingales and ruffs of the Elizabethan court. They're costume, not clothing.
Those are a challenge for designers to update, because they can't just be dusted off and copied in nicer fabrics. They have to be entirely re-engineered for contemporary life. And I haven't pulled those examples out of thin air, either. Last season's haute couture – like the storming of fashion's Bastille – marked the start of something bigger.
Haute couture still expresses this shift best – perhaps because haute couture garments, entirely made by hand and extortionately expensive, are a direct link to the past, still constructed in much the same way that Charles Frederick Worth, the first haute couturier, made dresses for Empress Eugénie. Haute couture is living history – so it's obvious that, say, Maria Grazia Chiuri and Pierpolo Piccioli would dress their Valentino models as patricians of Ancient Rome, as they did this season, in silk drapes, chased golden belts and garlanded laurels.
Similarly, Raf Simons' autumn/winter 2015 Dior collection referenced Flemish Masters and the Impressionist and Pointillists of the 19th century, as well as the paintings of Hieronymous Bosch. But as he said before the show: "The historical impact is pulled back into reality, This, for me, is what makes something modern."
Simons' referencing of painting is apt: an haute couture dress can cost as much as a minor Old Master, or a good piece of 17th-century furniture. But what does it mean for everyone else? Well, it's dribbling into the ready-to-wear already. Following that couture excursion to Versailles, Raf Simons quickly and easily translated his embroidered rococo frock-coats into ready-to-wear, alongside embroidered white smocks that looked like something Joséphine Bonaparte could have sported.
But it's not just Simons who's on a history trip: how about the Jacobean ruffs and sashes at Giles Deacon's London show, or the rings that loaded every model's every finger at every one of Alessandro Michele's shows for Gucci? They looked like they'd been filched from the hands in a Holbein portrait; you wanted to wear them all.
That's the important thing about all this historical play: it can easily look fancy dress but, if you nail it, not only does it feel relevant for the here-and-now, but prescient of what's to come. My favourite example is Vivienne Westwood, who decided to collide the Victorian crinoline with the abbreviated skirts of the aerobicised 1980s. In 1984, she debuted her "Mini-crini" collection: people laughed, including the fashion press. But Westwood's skirt soon became the "pouf" in the hands of Christian Lacroix. Madonna followed, then the high street. It was the future, created from the past.
How are designers – such as Simons, Lagerfeld and the rest – remixing their history? By and large, they're lightening it, removing the stuffing and heavy layers, shrinking the skirts, but keeping a sense of fantasy and an evocative mood of escapism. They're also offering an antidote to the anodyne, and mass-market.I'm reminded, again, of Vivienne Westwood when I look at them: and not just because she did this century-hopping first, and better, than anyone else.
Westwood once said: "You have a much better life if you wear impressive clothes." And what's more impressive than dressing as Marie Antoinette when you go to M&S?
Join our new commenting forum
Join thought-provoking conversations, follow other Independent readers and see their replies