Homme is where the heart is: Kris Van Assche's tailoring has transformed Dior's menswear

Show all 5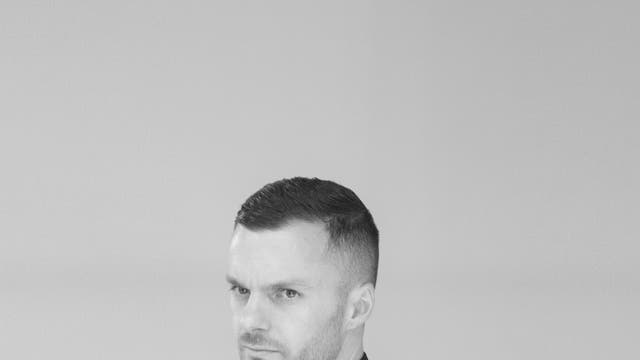 Homme is where the heart is: Kris Van Assche's tailoring has transformed Dior's menswear
Van Assche has designed the label since 2007 and has softened its razor-sharp tailoring
'The atelier was pure white, unornamented and intensely silent. People whispered and walked on tiptoe, and even the clients talked in hushed voices." So said André Courrèges of the atelier of Cristóbal Balenciaga in the 1950s.
Today, there's something of a similar feeling at the house of Dior. Not the Dior womenswear salons at 30 Avenue Montaigne. Those are in the Louis Seize revival style of Monsieur Dior's beloved Belle Époque, coloured in that dusty Dior grey and peppered with spindly, oval-backed grisaille chairs.
The Dior Homme salons at rue François Premier, however, are ascetic, to say the least. Floors are bare boards. Chairs are metal, cold and hard. Everything is a right-angle. The clothes are prominently black and white, similarly hard-edged. Even the air conditioning units are streamlined into seamless white towers, like distended iPods cross-bred with totem poles. Or maybe altars.
The ecclesiastical undertones are more about perception than reality, though. Since its inception in 2000, Dior Homme has inspired near-religious devotion among many of its followers. Kris Van Assche has designed the label since 2007, but it was Hedi Slimane who established Dior Homme, his first autumn/winter collection in 2001, creating a template for men at a hitherto intrinsically feminine house. He also revolutionised men's silhouettes, popularising a reed-thin, relentlessly youthful masculine ideal, the first real change to the ideal male body since the advent of the pumped-up Bruce Weber 'himbos' of the late Eighties and early Nineties.
It won plaudits, and fans. Slimane designed the suit Brad Pitt wore to marry Jennifer Aniston in July 2000. He dressed fellow designer Karl Lagerfeld – but only after Lagerfeld worked on achieving that skinny silhouette. "I suddenly wanted to wear clothes designed by Hedi Slimane," said Lagerfeld, in the diet book he published following his extreme weight loss. "But these fashions, modelled by very, very slim boys (and not men of my age) required me to lose at least 40 kilos (almost six stone)."
So, Slimane made men slim. He not only designed clothes, he changed the pure idea of 21st-century masculine beauty. He was, it's fair to say, a tough act to follow. Kris Van Assche was originally Slimane's assistant. He left Dior Homme to establish his own house in 2004, returning in 2007 to head up the men's maison after Slimane departed. Some say Slimane asked for too much money. Others, that Dior top brass were irritated with his autocratic manner and worried by collections that began to be increasingly criticised for an aggressively youthful standpoint.
Van Assche's first collection, for spring 2008, approached Dior in a subtly different manner. Rather than a radical rehaul, or continuing along the path Slimane blazed, Van Assche chose his own middle ground. He softened the razor-sharp Dior tailoring, loosened the pin-thin silhouette. He let us breathe a bit. "There's something very, very restraining about the suit," Van Assche still says today. "Which is so not how we actually live. As I am, in a way, my first client – I am, in a way, the first one suffering from my designs! – I am aware of that comfort, the lack of comfort, the need for comfort." He continues. "One of my big projects since I got here is loosening up the rigid frame of the suit. It's about gaining in movement without losing in elegance."
Above all, he did it quietly. Van Assche has been at Dior as long as Hedi Slimane. Come January 2014, his tenure will be the longest. We met on 1 July, the same day as Raf Simons' latest haute couture presentation and two days after Van Assche's spring/summer 2014 Dior Homme ready-to-wear show. Those ascetic air-conditioning units were humming quietly, like a far-away choir. Van Assche himself, the pontiff of Dior Homme, was dressed with monastic simplicity. His brow was furrowed, his mouth pursed. He looked serious, puritan even. Severe. I later discover that I was just one of a number of interviewers visiting him that day, which perhaps explains the slightly pained expression.
Before we met, I was briefed. Van Assche didn't want to speak about Slimane. Which is understandable. The former Dior creative director is once again very evident, given his new role at Saint Laurent. Which was his old role: Hedi Slimane was hand-picked by the late, great Yves Saint Laurent to head his menswear line in 1997. Saint Laurent himself was Christian Dior's choice to succeed at his eponymous house upon his death 40 years earlier. French couture is even more incestuous than the royal courts of Europe.
In another odd twist, Van Assche himself started his career at Saint Laurent, alongside Slimane, in 1998. "It was almost by accident – by opportunity I should say – that I ended up doing menswear," Van Assche says. "My first internship was at Yves Saint Laurent for menswear… that's what made me move to Paris, initially for four months and then I ended up staying. All that is history now." He dismisses, then comments, "I kind of got stuck."
Kris Van Assche was born in a small town, Londerzeel, in northern Belgium in 1976. He is 37 years old. He started to work in Paris following studies at the Antwerp Royal Academy of Fine Arts, a school renowned for its fashion alumni. They include Walter Van Beirendonck, Ann Demeulemeester, Dries Van Noten and Martin Margiela, cutting a swathe through contemporary fashion. How was that experience? "I don't know, it was 15 years ago," begins Van Assche, a hint of irritation in his voice. "It's a very demanding school. In that way, it's close to reality. They don't make things easy for you." He pauses. "It's really about defending your spot, which is kind of what real life is about. It's a tough school."
Hesitant to look backwards, and demanding. That's shorthand for Van Assche's Dior Homme. His autumn/winter 2013 collection was about "rigour, calm and control", which translated to a fastidiously clean, souped-up minimalism, all scuba-zipped suits and clunk-click aeroplane belts clasped around tight, tautly-tailored overcoats. The La Garde Républicaine venue was transformed into a flush white box; come April, the collection was shown in similar disco-futuristic white enclaves, albeit across the world in Beijing, China.
The film Gattaca was one inspiration – Van Assche himself refers to it as "the Gattaca collection" – and the clothes seemed like evolved tailoring, 22nd-century suits. Darwinian Dior. "It wasn't so much about making a futuristic collection as a state of mind," says Van Assche. "I felt everyone was so pessimistic about the future, I wanted to express that message about being confident in the future. Which is the role that fashion should play. To make people dream." As with Gattaca, there was no room for error. It's an interesting expansion on that trite press release cliche of 'Designer DNA'.
If we're talking DNA, Van Assche's isn't just from Antwerp. "It shaped me," he says. "But spending six years being an assistant at YSL and Dior Homme really shaped me. That's the mix I have in my head: being an Antwerp designer, working in Paris." He's also an Antwerp designer working in a Parisian house with an atelier which, Dior proudly boasts, is a first in menswear. The atelier, focused on construction and pattern-cutting, is based in-house at Rue François Premier.
"That's where a lot of ideas come from, you see things that are in the process, so you can stop them, change it, turn it inside out," says Van Assche. "It's what I call technical beauty, which is the technical aspect of things – whether it's watches or cars or the construction of a jacket – [it] tends to appeal to men. It does to me. I'm not so much into ornamentation. I quite like things to be technically explainable." Geek chic? Sort of.
Construction is, of course, an enormous part of the Dior heritage. Not Dior Homme, but Dior full stop. Monsieur Dior brought structure back to womenswear. Read his autobiography, Christian Dior and I, and he literally unpicks the structure of the dresses in his first collection, built like houses around his women using Victorian dressmaking techniques that had to be re-learnt by his seamstresses. Some were so stiff and heavy they could stand up alone.
Thankfully, that's not where Dior is today. Despite doing a roaring trade in suits, Van Assche is aware of the restraints. "Nine years ago, my very first silhouette was a three-piece suit with sneakers. That's kind of where I come from," recalls Van Assche of his first own-label collection. In turn, that's what he's brought to Dior Homme – a relaxing, a loosening of the previously tourniquet-tight Dior silhouette.
Unlike Slimane before him, Van Assche has an eponymous label. He continues to design it. Although it contains suits, it's more firmly focused on sportswear. While Dior Homme's winter collection featured tailored suits of almost biological perfection, the Kris Van Assche collection fused sweatshirts with shirts, literally: slicing them apart at the chest with the tails of a shirt attached to a sweatshirt chest, say – Frankenstein fashion.
Van Assche's urge towards sportswear has only been amplified by his Dior work, and its focus on perfection – sometimes relentlessly so. There's also the very valid point that Dior Homme isn't Kris Van Assche. It's part of him, but not the sole expression of his fashion ideals. "For me, it was a very personal reflection of me being in a couture house for the men's division," recalls Van Assche. "What should a men's division in a couture house be like? There are two ways to go about luxury. You can either add, or you can reduce and concentrate on what is essential. I chose to do that."
Join our new commenting forum
Join thought-provoking conversations, follow other Independent readers and see their replies