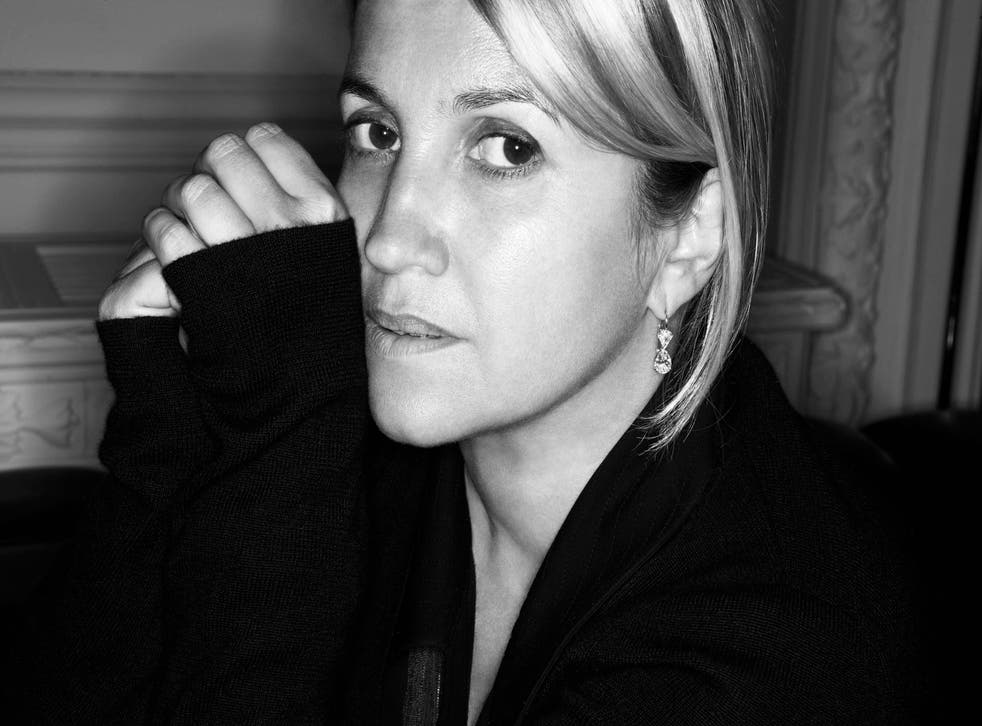 Italy's queen of accessories: Silvia Fendi celebrates fifteen years of her famous Baguette
The fashion house celebrated fifteen years of the punchy pouch with a weighty tome and two new versions of the classic Baguette
Seated in the colossal, caramel-coloured enclaves of the new Fendi boutique on London's Bond Street, Silvia Venturini Fendi looks right at home. As well she should: her surname is above the door, after all.
It's also emblazoned on the labels that adorn everything from hand-stitched leather key rings to five-figure coats and bejewelled handbags. She's the sole Fendi family member still involved with the house, founded in Rome in 1925 by Edoardo and Adele Fendi, a company whose value was conservatively estimated this year at £1.8bn.
Silvia oversees Fendi's accessory offering, but doesn't design the clothes: that has been the job of Karl Lagerfeld, Fendi's artistic director since 1965 – the longest ongoing collaboration between a fashion house and an outside designer. Silvia was just five when Lagerfeld was appointed, joining the company herself in 1987 as head of their secondary line Fendissime after a whirlwind period as a sometime-model and socialite in New York. She shirks off that modelling moment ("They just needed a girl to wear Fendi!") but there's a patrician bearing and elegance to Silvia Fendi, clad in flowing black, bar earrings and a glittering sequinned Fendi bag.
In 1992, she began working with Karl Lagerfeld and her mother on the Fendi mainline ("Although, I wasn't too sure, you know, about working with my mother…" she says, with a wry smile). Today, she's the matriarch of the house. Indeed, she's founding a fashion dynasty of her own: her daughter is the jeweller Delfina Delettrez, who launched her own label in 2007. This spring, Delettrez was called on to create the Fendi collection's jewellery, a collaboration carried over into winter. "I was really interested in my mum's work, I was very curious," recalls Delettrez today. "I was in the studio, touching materials and I wanted to kind of enter into her head: 'Why is she choosing this instead of this? What is she seeing?'"
Oddly enough Silvia Fendi's own story mirrors that of her daughter. "I have always been more interested in what happens in the atelier than in the fashion life," she says. "I was the one who was always there. When I think about my childhood, I always preferred to be where my mother was – it was more interesting where the action was than at home playing with my sisters. I didn't know at the time why I was doing that, but now I can understand: I had already chosen my path." Was that an expected path – to fall in-step with the family business? "No. Not at all," she states firmly. "I am from the third generation. There are eleven [of us]… and I'm the only one now at Fendi."
During Silvia's Sixties childhood, Fendi was filled with Fendis. The five daughters of the founders, Paola, Franca, Alda, Carla and Anna (Silvia's mother) began working for the house, already renowned for the luxury of its leather and fur. They brought their babies to work, laying them to rest in the handbag drawers while they perfected designs – a scene that sounds like a cross between Anna Magnani in a Rossellini film and Carole from The Brittas Empire, but also underlines the strong female heart of the Fendi house, a quintessentially Italian family affair. That quintet of sisters are credited with giving the already-established Fendi name a new, fashionable spin, and a relevance to a new crowd.
The appointment of Lagerfeld was an important step in the evolution of Fendi from family business to fashion powerhouse: he invented the Fendi logo, a pair of intertwined Fs standing for "Fun Fur," a description of the way Lagerfeld chafed at the traditions of the fur industry, showing coats unlined and unstiffened, a then-revolutionary move. He also introduced vegetarian delights like the black and brown canvas intarsiaed with the double-Fs, which rapidly became a house signature.
"There is a rich history," declares Silvia, proudly. "People were coming from all around the world to Rome to buy Fendi. Then, in the Seventies, we were one of the first Made In Italy Brands to open in New York." Indeed, their launch of a ready-to-wear line in 1969 placed Fendi at the forefront of the emerging Italian boutique fashion scene. Pucci beat them to the punch: Armani and Versace followed soon afterwards. In the Seventies, they also collaborated with the likes of Visconti and Fellini, a partnership with cinema that runs right to the present day (most recently, they collaborated with Wes Anderson on The Grand Budapest Hotel).
Today, fur is still an important part of Fendi's business. "I don't know how much English people wear it," shrugs Silvia Fendi, in answer to a question raised particularly by the Fendi menswear line, relaunched formally onto the catwalk (incidentally, a catwalk smothered with goat-fur) this autumn/winter season. A clutch of the collection's dramatic, demanding looks are available from a special men's space in the basement of the new boutique.
However, Fendi has become much more than just a fur house. Indeed, despite the astronomical costs, it wasn't fur follies like a knitted sable cardigan nor fox flecked with 24-carat gold that propelled it into the top ten of world luxury brands, nor into the prestigious portfolio of LVMH (they purchased a 90 per cent stake in the house in 2001). The credit for that, arguably, lies with Silvia Fendi's accessories. In fact, with one accessory. The Fendi Baguette.
Even if you know virtually nothing of fashion, you'll know the Baguette. You may even know it by name – a name that's funny, punny, and trips easily off the tongue. When Carrie Bradshaw was mugged in an episode of Sex and the City she somewhat foolhardily corrects her assailant when he demands her bag. "It's a Baguette," she pipes. There also a similarly ridiculous storyline in the same season (from 2000 – the first peak of the Baguette's appeal) when Samantha Jones buys a clutch of faux-Fendi Baguettes from the boot of a conman's car. Her condom-crammed Fendi is pilfered at the Playboy Mansion.
Much hilarity ensues, but the name recognition of that "Baguette" branding sent Fendi sky-rocketing. It spawned a still-smaller sister, jokingly dubbed the "Croissant," and a larger version named the "Mama." There were also 1,001 knock-offs, a number only matched by the variations of Baguette offered. Micro-sequinned zebra? Beaded fringe? Lights Alive-style plastic nodules attached to neoprene? Or maybe versions designed by Damien Hirst, Richard Prince, or Jeff Koons? There are now over 1,000.
What was it, then, about the Baguette? "The short shoulder strap was very new," reasons Silvia. "it was kind of ergonomic, it was soft. And then it gave you a new attitude. Your hands were free, you could really move. It was really practical… you could put really all your life in such a soft small bag." The squidginess, the short strap, its rather unusual armpit-adjacency. All features of the Baguette that influenced handbag design, universally, for at least half a decade. High street and catwalk alike aped them.
One can't help but wonder if Ms Fendi realised what she'd created? "Yes. Immediately," she says, emphatically. "When I saw it come in from Firenze to Rome I still remember. It came in two versions. I wore it, and I said "This is the bag!" I was sure." Following its launch in 1997, the Baguette was, for many, The Bag. "I can tell you, before that, bags were not on catwalks. They were very separate, very disparate from fashion shows. They were displayed in showrooms, and sold by functionality. Quite boring," says Silvia Fendi. She's fairly no-nonsense and matter-of-fact. She's talking business. "At the moment there was this minimalism – the Prada backpack. The Baguette really started this kind of new life for the accessory. It was treated like a fashion item, like a garment more than a bag. In different materials – always the same, but always different."
Despite the endless reinventions, as with so much in fashion, the Baguette burnt out. By the mid-2000s it was literally outsized by hefty hold-alls like the Chloé Paddington or the old-age, but newly-ubiquitous, Hermès Birkin.
But today, the Baguette is back. Fendi celebrated fifteen years of the punchy pouch with a weighty tome, including esoteric contributions from Japanese author Banana Yoshimoto; from Paola Antonelli, senior curator in the department of architecture and design at New York's Museum of Modern Art; and from Sex and the City's Sarah Jessica Parker. They also added two versions to the Baguette roster – a needlepoint-yourself kit, and a version in canvas with pots of paint, packaged like Hamley's hobby finest. It's not just furs that Fendi can have fun with.
"In this moment when we talk about normal things in fashion, a 'Normcore' vibe, it's a bit what you can find at Fendi," says Silvia Fendi, somewhat incongruously, a wall of Baguettes glittering behind her like a Russian Orthodox Iconostasis. This is a new feature of Fendi boutiques – a wall festooned with the bags, 30 or 40 at least, each in a different treatment of fabric, shimmering with embroideries and beading. The uniformity of the shape acts as a blank canvas (no pun on the painters' kit version) perfect for that embellishment. "It's a kind of Roman minimalism," laughs Silvia. "If such a term could exist!"
On their spring/summer 2013 catwalk, Fendi even offered a tote with an external transparent pocket perfectly proportioned to fit a Baguette, to flaunt that decorative excess. Baguettes alone are doing swift business afresh, while their undersized descendants are populating the season's catwalks, like Louis Vuitton's dinky Petite Malle, Prada's chain-slung numbers or Saint Laurent's Cassandre.
It's something I've witnessed first-hand: during New York Fashion Week in February, I was shopping with a friend – the very chic publisher of a biannual glossy. In a consignment store, she spotted a Fendi "Mama" Baguette – a rather hilariously hideous concoction, cable-knitted from snot green wool. She bought it on the spot, for about $100, and has used it everyday since. "There's something right about it," says she who has her pick from just about any handbag on or off the market. And she's right.
Silvia Fendi seems gratified by the upsurge in Baguette enthusiasm, although, she confesses, "I never stopped wearing it. Because I like to wear thing when they are off the radar. And I think people are starting to feel the same." Maybe that's what she meant by that Normcore thing (although there was a glint in her eye as she said it). Besides, she says, "It's a really clever little bag! It's little, but it's not little at all." An accessory Tardis? Surely there's room in every woman's wardrobe for one of those?
Join our new commenting forum
Join thought-provoking conversations, follow other Independent readers and see their replies