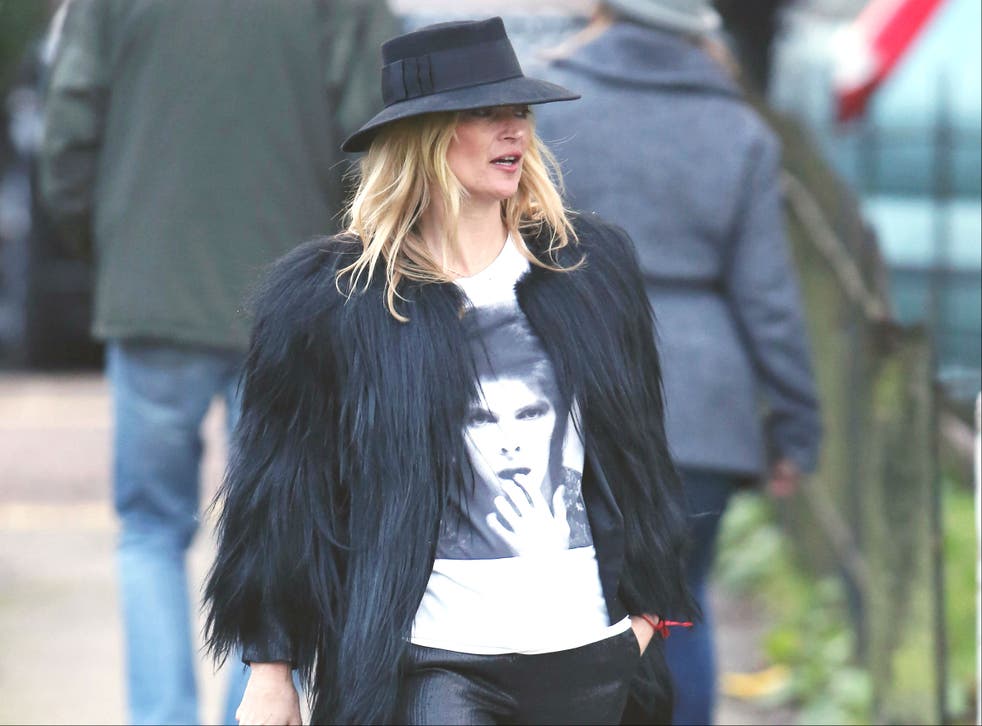 Kate Moss pays tribute to David Bowie through her outfit choice
The 41-year-old supermodel is one of many personalities from the fashion industry to pay respects to the late music and fashion legend - she wore a Bowie T-shirt teamed up with metallic platforms
Kate Moss paid tribute to her close friend and music legend David Bowie through her choice of clothing on Monday afternoon following his death from cancer aged 69.
The 41-year-old was seen near her home in north London wearing a white T-shirt emblazoned with the late singer's face. Her unidentified companion for the afterrnoon was also sporting a tee bearing the poster of Bowie's Sound+Vision Tour from 1990.
But more than her tee choice, her metallic purple platform booties were similar to those Bowie used to wear (he was into heels, particularly chunky platforms) - we would even believed it if she told us she borrowed them from his wardrobe - teamed up with a fluffy black coat and top hat, he would have aproved the entire attire.
The supermodel has long supported her friend throughout the years. In February 2014 she sported Bowie's 1972 Ziggy Stardust costume, the iconic patternerd playsuit known as the "rabbit costume", to accept Bowie's Brit Award for Best Male Solo artist in London while the music star stayed at his home in New York.
Moss has also channeled the late music star in many of her fashion works. She appeared on the cover of British Vogue in May 2003 emulating Bowie's Aladdin Sane album, with her make-up showing Ziggy Stardust's iconic red and blue lightning bolt and Seventies mullet hair'do. Previously, she had covered Vogue Paris for the December/January 2012 issue dressed, again, as Bowie's alter ego Ziggy Stardust.
The friends have also posed together dozens of times in fashion shoots, including an iconic one shot by Ellen Von Unwerth for Q magazine in 2003.
Moss was one of many within the fashion industry to pay tribute to the legend. Burberry models brought the profound moment to the catwalk show yesterday afternoon during men's fashion week, and CEO and Creative Director Christopher Bailey said backstage: "His personality, his creativity, his spirit had such an impact on this little, scruffy kid in Yorkshire [speaking of himself]... you see a guy wearing make-up, dancing like that, giving that kind of musical performance."
Stars on David Bowie's death
American designer Jeremy Scott presented his latest menswear collection for Moschino in London on Monday and later revealed on social media: "My recent Moschino men's show opened with Bowie inspired silhouettes. Thinking of the thin white duke today with both admiration and sadness."
Join our new commenting forum
Join thought-provoking conversations, follow other Independent readers and see their replies