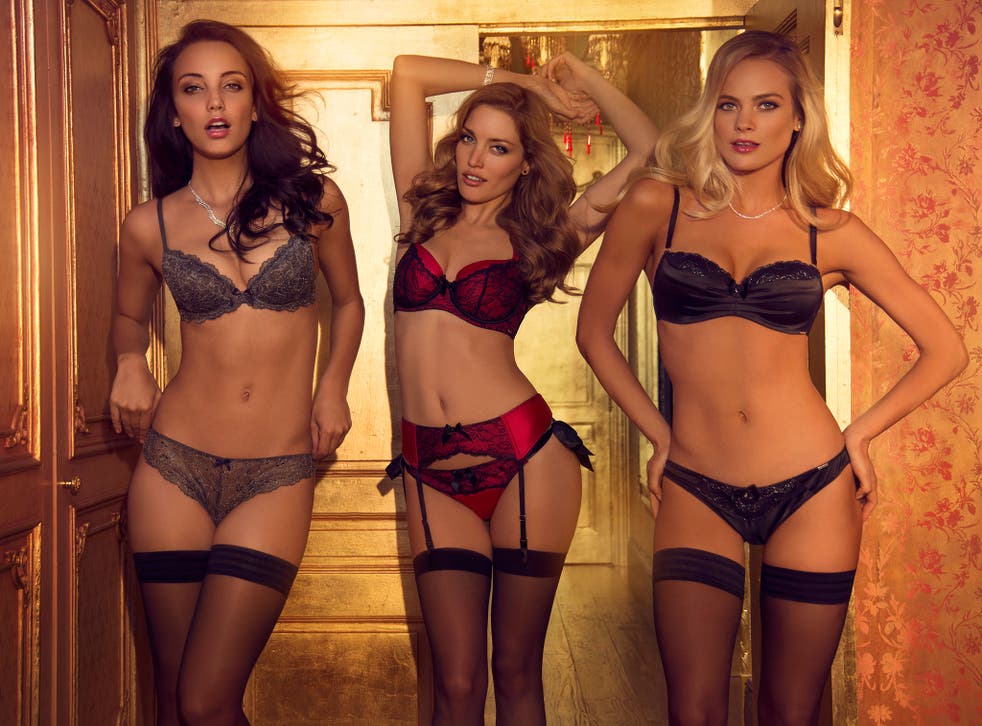 It's 'about sexy, not sex': Theo Paphitis on the lingerie business and the Fifty Shades effect
In an exclusive interview, the retail magnate, owner of Boux Avenue and former Dragon's Den judge opens up about working in the industry for so long, how it's changed and why is it worth investing so much in it
It feels like underwear has been everywhere lately, with lingerie designer collaborations, controversial ads, the Pirelli Calendar 2015 and, of course, the Victoria's Secret Show in London last week.
Not surprising given that it is a multimillion pound industry, and as our fashion editor Alexander Fury suggests, when it comes to marketing women's lingerie, "sex always sells".
It's not just high-end underwear and American brands but also the more affordable British high-street labels vying for a piece of the action. Pioneering the way with a burgeoning underwear empire is retail magnate Theo Paphitis.
Paphitis, reportedly worth £210m, is best known as one of the surly investors of BBC's The Dragon's Den, but within his many successful businesses there is lingerie. He told The Independent: "It can stand up on its own. Girls need it and it has its own place [in the market]."
The Greek-born British entrepreneur has been behind British underwear brands since the early nineties, first at La Senza, which he sold in 2006, then at Boux Avenue, which he founded in 2011 and still runs. "Lingerie is retail and I know the business," he told The Independent.
Marks and Spencer dominates the market in the UK but his Boux Avenue has managed to expand through the years seeing 20% growth in sales in 2013. It initially opened six stores across the country and has now opened 25 -after following strategies similar to those of lingerie giant Victoria's Secret. "What I've achieved with Boux Avenue is what I always wanted to achieve with La Senza," he said.
With bra high-street prices ranging between £14 and £36, the collections are affordable, however some may still prefer to get a bra piece for under a fiver from bargain retailers such as Primark. But Paphitis argues that his business is a different story and is really not competing with such brands. "We're not competing with them at all. It's not the same market. It's not going to be the same one [bra], nor same quality," he explained.
"Why would a woman want to buy her most intimate clothing at the same time as buying a ready meal or a frozen chicken. Some retailers have conditioned women into thinking that they only want lingerie at low prices, but British women can be adventurous... We are delivering something at Boux Avenue that is sexy but at the price point that British women want," he told The Independent back in 2011 when he launched the label, which name comes from a "dazzling French girl named Boux" he met in Paris.
Also, Paphitis reassures that quality in lingerie is key because it all comes down to women's experience with their intimate clothing. "This is an essential product that's close to your skin and gives you confidence from within. If you feel good that gives you confidence," he said.
"Our lingerie is functional, but it also makes you feel good. It's affordable and we try to keep it real."
And unlike the idea that the lingerie business sells sex, Paphitis said: "For us it's all about sexy, not about sex."
Boux Avenue's winter and Christmas collections are now out, and a Fifty Shades of Grey-inspired line will be launched next year, hoping to achieve even further sales.
Talking about the bestseller erotic romance novel, which has a film adaptation coming out on next year's Valentine's Day, Paphitis first said: "It's increased the population for sure.
"But the book has boosted that confidence on women, confidence on feeling sexy and being sexy is exciting. It's realising the power you have... It has inspired another generation."
The Spring/Summer 2015 collection inspired by E.L James' book, hopes to boost sales, but Paphitis explains that until the film is released, the effect on the lingerie sales won't be clear. "Not everyone has read the book yet, but when the film comes out in 14 February, it will be different. Hopefully it will boost sales."
Join our new commenting forum
Join thought-provoking conversations, follow other Independent readers and see their replies