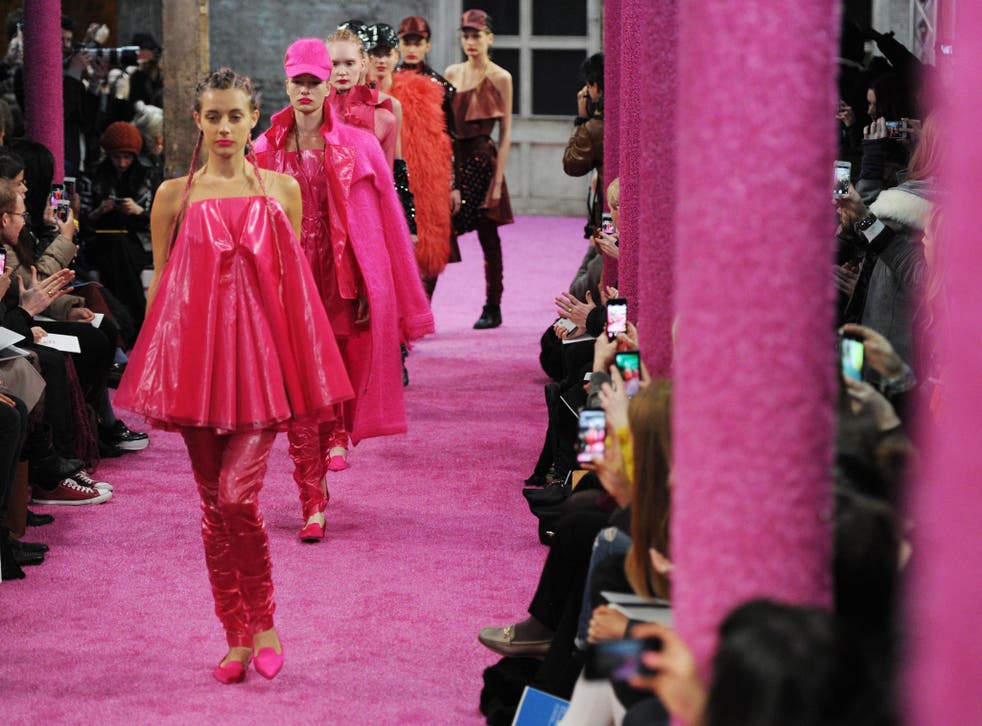 London Fashion Week: Capital struts its stuff against the big boys
With a packed schedule of shows, presentations and parties, there's plenty to excite and inspire –  on and off the catwalk
The London schedule has long had cheerleaders for its talent on home territory, but in the past it has been squeezed out by more commercially robust cities. Now it seems the capital is holding its ground against the bigger boys, as more and more international press, and buyers, make London an important stop in their schedule – blizzards in New York notwithstanding.
This in part has been due to brands like Burberry Prorsum, Mulberry and Tom Ford, which, with the weight of their advertising budgets behind them, command an international audience. Topshop, led by creative director Kate Phelan, also of British Vogue, has also helped provide financial support and a professional framework in which the creativity of London's emerging designers can be showcased.
This situation has not gone unnoticed in Milan, where Giorgio Armani has taken Stella Jean under his wing, hosting her spring/summer 2014 show last September. "The new generation of Italian designers needs our support," said Armani, echoing the sentiment that has long made London great. LVMH (the parent company of brands such as Louis Vuitton, Christian Dior and Celine) is also taking lessons from London: on Thursday it announced a shortlist of 30 designers for its inaugural LVMH Young Fashion Designer Prize. With €300,000 (£246,000) at stake, plus a year of mentoring, the number of London designers shortlisted, including Simone Rocha, Thomas Tait, Meadham Kirchhoff and J JS Lee, is a clear indication of the capital's fertile ground. Fittingly, the nominees – many of which have come through support programmes Newgen and Fashion East – are some of the most exciting shows on the schedule.
Korean-born J JS Lee, who trained at Central Saint Martins, took the prized opening slot yesterday in rain-swept central London. For autumn/winter 2014 she showed an elegant collection of brushed mohair, plaid overcoats and formal dresses – experimenting with cocoon shapes, biker jackets and rounded shoulders for the former, while playing with different lengths for the latter. Cobalt blue houndstooth as a laser-cut detail and dégradé printed silk provided a jolt of colour in a predominantly cream, navy and forest-green palette. Slim, long-line trousers were an elegant proposition for evenings, while chunky, cable knits were covetably cosy.
With a fit-to-burst schedule of shows, presentations and parties over the next four days, there's plenty to inspire and excite the fashion world – both on and off the catwalk.
JW Anderson's first womenswear collection since LVMH bought a minority stake in his business last September is sure to be as controversial as ever: the designer's gender-blurring take on dressing has its detractors, but just as many fans. The designer was also appointed creative director of Loewe, a Spanish leather brand within the stable, so an excellent accessories offering is to be expected.
It was all change at Mulberry last season too, as Emma Hill departed after five years as creative director of the British brand. Hill seemed to have hit on a winning formula: balancing design and the right kind of celebrity endorsements fortified the brand's finances, but recent profit warnings are cited as the reason for her departure. This season, the brand will not be hosting its usual catwalk extravaganza in Claridge's ballroom. Instead it has announced a photocall at which Cara Delevingne, its campaign face, will reveal the brand's next big move. Speculation is rife that she will be announced as creative director, but the brand's success with bags named after It girls makes the debut of the "Cara" a far more likely prospect.
Joseph, celebrating 25 years since its first west London boutique opened, is presenting on schedule for the first time too. It may not have the budgets of its blockbuster digital rivals, but it is held in esteem by serious shoppers and the fashion crowd.
While there is a respectable coterie of British luxury brands, it's the commercial pull of the high street that is unrivalled, something the British Fashion Council – responsible for co-ordinating the schedule – has cottoned on to. As well as Topshop's premium offering Unique, now a regular on the schedule, the BFC has courted brands such as River Island, which debuted its collaboration with Rihanna in London this time last year. Now Whistles is presenting on the schedule for autumn/winter 2014; with a mens collection rumoured to be on the horizon and a flagship store on Mayfair's Dover Street, the brand is certainly looking to expand.
So too are Christopher Kane and Roksanda Ilincic, who plan to open boutiques on Mount Street this year.
Join our new commenting forum
Join thought-provoking conversations, follow other Independent readers and see their replies