Louis Vuitton and Kusama: Spot The Difference

Show all 7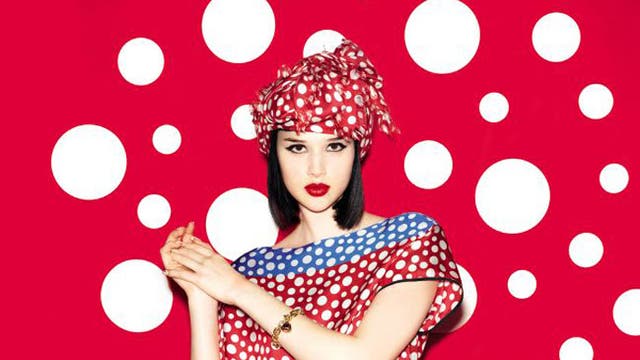 Louis Vuitton and Kusama: Spot The Difference
Louis Vuitton's dotty collaboration with Yayoi Kusama combines the best of both the luxury brand and the eccentric artist
Marc Jacobs first met Yayoi Kusama in Tokyo in 2006 while filming Loic Prigent's documentary, Marc Jacobs Louis Vuitton.
"We talked a lot about work and the passion of making work… She was just an extremely warm and lovely woman," Jacobs has said. Any admiration was mutual, apparently: "She took great pleasure in showing off a Vuitton Speedy that she had hand-painted on this visit," notes the designer.
And so began the most recent in a long line of collaborations between Louis Vuitton and art-world luminaries. The company has in the past worked with Takashi Murakami, Richard Prince and Jacobs' friend, Stephen Sprouse, some of the fruits of which have gone on to become bestsellers. Damien Hirst was responsible for a bespoke medicine chest for the brand; Grayson Perry and Tracy Emin have both curated the bookshelf at its London flagship store. Louis Vuitton's Art Talk programme, meanwhile, has seen Vanessa Beecroft, Marc Quinn, Jake and Dinos Chapman and Antony Gormley, among others, speaking to a select group of guests. The company sponsors art shows the world over, most recently a touring retrospective of the work of Yayoi Kusama. The exhibition moved from the Pompidou Centre in Paris to Tate Modern and opens at the Whitney Museum in New York later this month.
"The artists I've chosen to collaborate with in the past are all people whose work has meant something to me personally," says Jacobs.
Kusama's world, most famously, is one pre-occupied with dots: her own life is "a dot lost among millions of other dots", she once claimed. So it comes as no great surprise that silk summer dresses, swimwear, pyjamas and more have been covered with these. On sale later this month, they will be followed, at the end of August, by a more extensive range of monogrammed goods which, like Murakami's rainbow-coloured designs, are destined to end up in Louis Vuitton's permanent collection.
"The monogram canvas is as obsessional as Yayoi's dots," Louis Vuitton CEO Yves Carcelle told Women's Wear Daily when news of this aspect of the collaboration first broke. The initials "LV" interspersed with stylised flowers first made an appearance on trunks as far back as 1896, and it is by now almost as instantly recognisable as Coca Cola. Such projects "tend to be a commercial success because of the strength of the artist and the strength of Vuitton", Carcelle continues. The fact that the luxury-goods company is the cash cow in parent conglomerate LVMH (Moet Hennessy Louis Vuitton) is well known. That is not the driving force behind such projects, however. "It's not to put products on shelves." Instead, the symbiotic relationship between art and fashion enhances brand image. If designer fashion is exclusive, then fine art is still more so, after all.
Scarlet-haired Kusama, who is now 83, began painting in early adolescence in her native Japan, a means of expression adopted to alleviate childhood trauma. It wasn't until the late 1950s and early 1960s, having moved to New York, that her career really took off, her work being shown alongside Andy Warhol and George Segal. As well as infinity nets, never-ending fields of spots and sculpture covered with spongy phallic protuberances, as one of the early protagonists of performance art or, to use her own term, "happenings", Kusama invited groups of friends and followers, and indeed any interested onlookers, to paint each other's naked bodies with more dots in her studio or, weather permitting, en plein air. A sheer, spotty PVC mac in the collection in question is clearly a reference to that practice. Kusama too took part, stripped bare or dressed in her own designs with strategically placed cut outs to expose erogenous zones. Vuitton has yet to pick up on these.
For Kusama, who since 1977 has lived in a psychiatric hospital out of choice and who today describes herself as "an environmental artist", the experience extends her reach and that is clearly appealing. "I expect that as with our other collaborations this will bring the work of Kusama to still another audience," Jacobs confirms. "It's a wonderful thing the way contemporary art permeates the environment."
And for those who find Louis Vuitton's prices prohibitive – however universal the product it hardly represents art, or indeed handbags for all – the company has also just launched an iPad app that allows owners to take pictures and customise them using time-honoured Kusama motifs.
Louis Vuitton Yayoi Kusama is available worldwide from 10 July. On 24 August a Louis Vuitton pop-up store opens at Selfridges, with window displays by Yayoi Kusama.
Join our new commenting forum
Join thought-provoking conversations, follow other Independent readers and see their replies