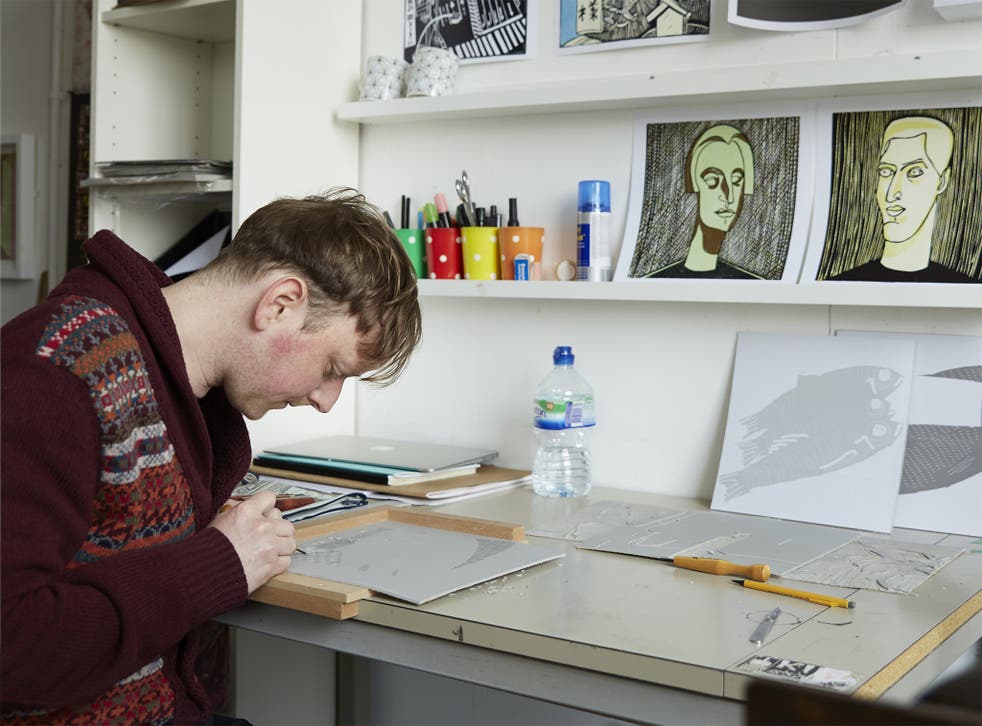 Manmade: The UK's first men-only craft fair opens this week - and it's not just for hipsters
The problem with the new return to artisanal values is the gender inequality that's at its core. Gillian Orr heralds the arrival of Manmade, the UK's first men-only crafts event
It has all the makings of a classic Portlandia sketch, the television comedy that sends up the twee activities and liberal concerns of urban-dwelling hipsters. This Friday and Saturday will see the inaugural Manmade, billed as an event to "celebrate men who make". It's basically a crafts show but a MANLY crafts show because, well, only men will be exhibiting.
So there will be no patchwork quilts or lemon-drizzle cake on offer here. At this market you will find more than 50 men peddling their wares that will include screen prints of smoking pipes, MANLY jewellery (think necklaces with MANLY axe pendants), and lamps, but, like, serious copper industrial ones not flouncy lampshades. Cos it's men, yeah?
There will also be a barber on site to trim all those beards (don't forget to pick up a tub of Man Not Ape, the all-natural beard wax), while anyone familiar with Portlandia's "Put a Bird on It" sketch – in which an enthusiastic shop owner refuses to sell anything that is not adorned with a feathered friend – might find it rather amusing to learn that the market will include a guy who makes "delicate paper birds". It should, at this point, go without saying that Manmade takes place in east London.
Oh, it's easy to poke fun at, but it's a totally harmless event and maybe the organisers even have a point. On Etsy, the online crafts shop, only 10 per cent of sellers are men (the poor under-represented souls). This is a call to arms to show the world that crafts is about more than embroidered tote bags.
To find out more about the idea behind Manmade I went to visit its creator, Sam Wingate, at his studio in Hackney Wick. A textiles graduate, Wingate has spent the past 10 years selling everything from printed T-shirts to homewares. All his products are unique and hand crafted.
He shares the studio with James Brown, an illustrator and printmaker. It is a cramped artful mess littered with rolls of fabric, old flags, a dressmaker's dummy and prints. Among it all stands a giant letterpress from the 1800s, which Brown admits is "kind of for show".
Wingate, an affable 32-year-old, kindly shows me round and tries to explain how certain things are made and effects achieved. Needless to say, the detail that goes into pieces – whether cushions, prints or mugs – is painstaking.
So why did he start Manmade? "Most of the people usually selling at fairs are women. There are some really good men out there, but we're few and far between," he insists, self-aware enough to realise that talking about how oppressed men are in the craft world might not go down that well with some women. He considers carefully before he goes on. "If you think about traditional crafts, then it was quite even between the men who worked in their sheds and the more feminine crafts such as sewing. I don't know why there is now an imbalance."
Wingate and Brown both admit that the idea of crafts is ripe for a bit of mickey-taking. "I think 'craft' has been a bit of a dirty word for quite a long time. Up until about 10 years ago or so, it was all a bit old lady-ish," suggests Brown. "Now it's trendy, isn't it? Look at craft beer."
Wingate believes that recently people have had a desire for design that hasn't been mass-produced. "There has been a resurgence in using traditional techniques," says Wingate, "but using them to make things that are quite stylish and that have more of a newer look."
So does he think that Manmade could take place anywhere other than east London? "It could work elsewhere. I think it's beyond just being for hipsters, even though we've got craft beer. And a barber for beards. And it's in Shoreditch," laughs Wingate. Portland, Oregon, would surely get on board.
Manmade takes place at The Old Truman Brewery, 91 Brick Lane, London E1, this Friday and Saturday. Entry is free of charge
Join our new commenting forum
Join thought-provoking conversations, follow other Independent readers and see their replies