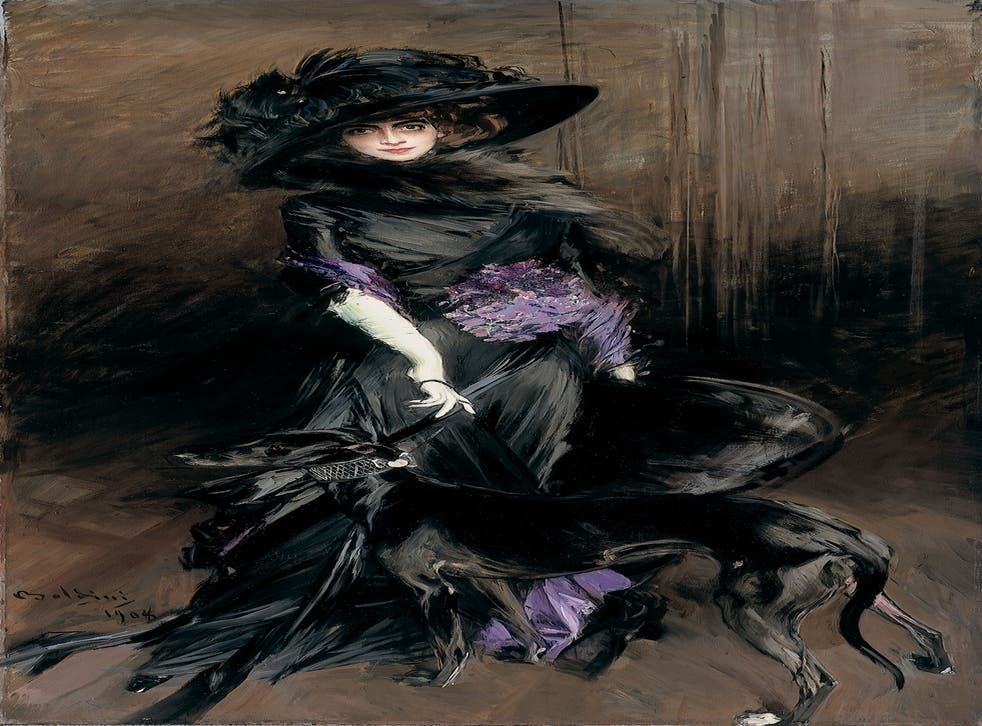 Move over Madge: 'La Casita' put style eccentrics such as Madonna in the shade
Marquise Casati Stampa di Soncino wore live snakes as jewellery, wandered around Venice and Paris naked under her fur coats and dyed her dogs to match her outfits
Italy has a heritage of breeding fashion eccentrics. There's Anna Dello Russo, the ritzy, glitzy, Italian-born doyenne of Vogue Japan, usually exiting or entering a fashion show in a barrage of flashbulbs clad in some form of reflective undergarment- as-outergarment.
Until recently, there was Anna Piaggi, a Vogue Italia front-row fixture who once pitched up to a Venetian-themed fancy-dress party dressed as a fish-wife with a basket of crabs balanced on her head, adorned with a brace of pigeon carcasses for good measure. She had to leave at midnight, like Cinderella, when the pigeons began to "mature" a little too much.
The original, however, came a clear hundred years earlier. Her full title was Luisa, Marquise Casati Stampa di Soncino, most commonly abbreviated to the Marchesa Casati – or simply La Casati, as you weren't likely to mistake her for anyone else.
Casati wore live snakes as jewellery, wandered around Venice and Paris naked under her fur coats and dyed her dogs, a pair of prize greyhounds, to match her outfits. She was obsessed with her luminous, oversized eyes, circling them with kohl, dilating them with belladonna droplets and even outlining them with adhesive tape. For daytime.
"I want to make of myself a living work of art," she stated, employing painters from Augustus John to Giovanni Boldini to immortalise her on canvas. Madonna has nothing on La Casati.
The climate-controlled Milanese apartment Anna Dello Russo maintains for her clothes pales next to Casati's eccentricities, including an albino peacock fed a constant supply of seed to keep it perfectly silhouetted against a window.
If her homes were stage sets, Casati saw her outfits as costumes for her multifaceted characters. She engaged Leon Bakst of the Ballets Russes to design her outré ensembles. Her most extravagant, however, "never quite came off", to borrow Cecil Beaton's phrase: La Casati commissioned Bakst to costume her as Saint Sebastian in armour pierced with hundreds of arrows sparkling with stars. Extra luminosity was intended to be added by a newfangled invention, electricity. Alas, when Casati was plugged in, her armour short-circuited and she was mildly electrocuted. Worst of all, she couldn't go to the ball.
Casati's couture capers sound like the perfect inspirational fodder for fashion designers: she became a muse, of sorts, as early as the 1930s, when a then-destitute Casati greeted the Italian couturier Elsa Schiaparelli in bed wearing a newspaper hat and scarf – Schiap quickly created her own printed silk versions.
In 1998, John Galliano staged a Dior haute couture collection in homage to Casati, taking over Paris' Opera Garnier for an exuberant fantasia of hoop-skirts, billowing bias-cut gowns and a flurry of tissue-paper butterflies released from the ceiling at the finale. There was even a suit of armour, albeit unplugged. Casati would have approved. And probably ordered half a dozen.
Alexander Fury is Fashion Editor of The Independent
Join our new commenting forum
Join thought-provoking conversations, follow other Independent readers and see their replies