Net gains: How the web made us a nation of designer fashion bargain hunters

Show all 14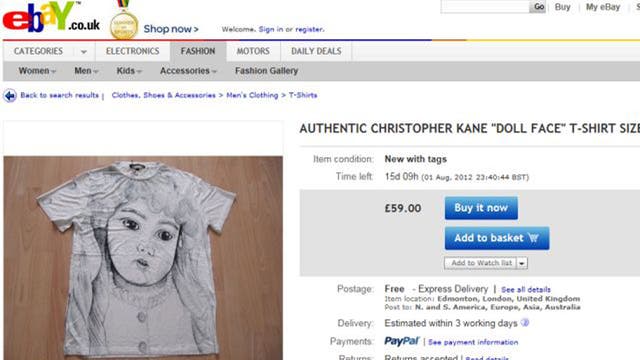 Net gains: How the web made us a nation of designer fashion bargain hunters
The web has changed the face of fashion, as well as the way we shop. But, says Harriet Walker, it has also turned us into a nation of online bargain-hunters, too
When the first model stepped out in Prada's autumn 2012 lozenge-print trousers in Milan last February, I felt my avarice levels rising and my wallet itching.
Sourced from the house's own archives, they referenced a similar design from the spring 1996 collection. And that very evening, some fortuitous eBaying took me straight to a pair of the originals – cut for a different era, of course, and ever so slightly too small, but I bought them nonetheless. For 50 quid. Six months before the latest version even appeared in stores.
I'm not the sort to stay up all night bidding and I don't have much of a strategy. But in the past year, I've accrued a selection of designer pieces from eBay and similar sites – the Prada trousers (they don't really fit), a Comme des Garçons skirt, a Nineties Ann Demeulemeester blazer – all immensely wearable, all in great condition and all for significantly less than you might expect to pay in a shop.
The internet's role in the democratisation of high-end fashion is well documented, from street-style blogs to live-streamed catwalk shows. But it has also spawned a generation of informed bargain hunters.
Innovative and accessible new retail sites and concepts mean that, even as traditional retailers are re-adjusting to a frosty climate, buyers can stalk cyberspace round the clock for cut-price goods. Alex Fury, editor of LOVE magazine, agrees: "I love eBay and discount websites, because you get a second chance to buy the clothes you missed out on first time around. Hindsight is a wonderful thing in fashion: you often don't realise how much you love something until you can't get it any more."
So much is borne out by the flourishing of past-season and second hand websites offering high-end designer clothing at what is often a fraction of the original price. Lian Michelson is the founder of the site Then and Now (thenandnowshop.com), which sells current collections from labels such as Rick Owens and Yves Saint Laurent, as well as pieces from their back catalogues.
"Fashion is cyclical and trends often repeat themselves," she explains. "Finding past season items for discounted prices that still fit with what's on the catwalk is not difficult.
"Then and Now allows shoppers to buy in-season and search through the current trends, while also offering those who are more price-sensitive a slice of luxury for less."
The Outnet (theoutnet.com) was one of the first of these concepts to launch, in April 2009. It carries more than 250 top labels at up to 70 per cent off and hosts clearance sales that often crash the site, such is the demand among shoppers. "You used to have to travel to out-of-town outlets or be in the know about sample sales," says managing director Stephanie Phair. "But the internet has changed all that. I think for our customers there is an element of pride in finding a fabulous, past-season designer piece at great value." Names on the roster include Alexander Wang, Marni and Maison Martin Margiela, all known for their conspicuously directional aesthetic. Usually such tell-tale items are a no-no when it comes to sale shopping, but attitudes to whether pieces are brand new or not seem to have changed.
"'Last season' used to be one of the worst insults you could hurl at anyone fashionable," says Alex Fury. "But people today seem to appreciate a garment for being beautiful rather than for razor-edge appeal. There is a sense of longevity to really luxurious garments that mean you buy them in-season and out."
The profusion of discounted designer sites means that clothing which is six months old (or older) is no longer passé; instead, this has become the savviest way to shop. If fast fashion went out with Bear Stearns on the tsunami of the credit crunch, then collecting cannily and with caution (not to mention an eye on the purse strings) is what has taken its place. And these types of websites have cashed in on precisely that zeitgeist, by offering cheap alternatives and the chance to make money from your existing wardrobe.
Stylesequel.com has a "Closet Concierge" service that collects your unwanted and unworn designer pieces and re-sells them online, allocating a cut to both the owner and the company. "There has been an explosion in the second hand market online in the last couple of years," says founder Emma Allen. "You can find an amazing selection of high-end fashion bargains any time, in any country. You don't have to pay thousands for a designer piece, you can get one for hundreds. I like to call it 'second-chance style'."
Allen began in 2005 by selling designer pieces on eBay, the first second-hand and auction site of its kind, which commenced bidding as early as 1993. It does a roaring trade in second-hand and box-fresh designer items, from classic names right up to the most avant garde: type in 'Rick' and 'Owens' is the first suggested search term.
There is a cult of buyers and sellers in the community, seeking out beloved labels that are more usually priced well beyond their budgets.
"I'm pretty good at eBay," admits fashion photographer Atlanta Rascher. "I basically wear all my clothes for a while, then sell them again. I only wear designer, but never spend a penny – I hate the high street because of child labour, and I can't afford to buy new.
"But I bought a really nice Balenciaga camel hair coat from a 2005 collection recently for £23. And a Lanvin fur coat for £350, down from £4,000. I think the lady who sold it was going through a divorce and needed some cash."
Incredibly, a piece of clothing is sold on eBay every second; a designer handbag goes every seven seconds; and more than 700 dresses sell every hour.
"People no longer walk into a shop and buy a head-to-toe look off a mannequin," says Carrie Bienkowski, eBay UK's head of fashion. "Shoppers have their own individual style and gain inspiration from all over the web. eBay enables people to find everything they need, from high street must-haves to that amazing bag from last season, to one-off vintage finds."
Internet fashion is then one of few heartening instances of increased consumer choice and people power in this respect. That's not to say that the stress of watching, bidding and counter-bidding is for everyone, but the web has opened up fashion to a much wider audience. Just beware the heat of the chase and set yourself a limit – many an enthusiastic eBayer has ended up paying over the odds for something that they didn't really want. And let the Prada trousers be a warning: make sure what you're bidding on will actually fit.
Going once! How to eBay
Know your designers: if there's a label which you particularly love, swot up on its recent collections so that you're more likely to recognise pieces when they do pop up.
Buy winter garments in summer, and vice versa, when prices are low.
Shop in January, as people offload unwanted presents and fewer people are spending.
Don't raise the stakes too quickly: bid cautiously so you don't inflate prices and set yourself a strict maximum before you get carried away.
Sell on a Sunday, and in the evening in particular, when more people are browsing – sales in December tend to generate four times as much as at other times of year.
Join our new commenting forum
Join thought-provoking conversations, follow other Independent readers and see their replies