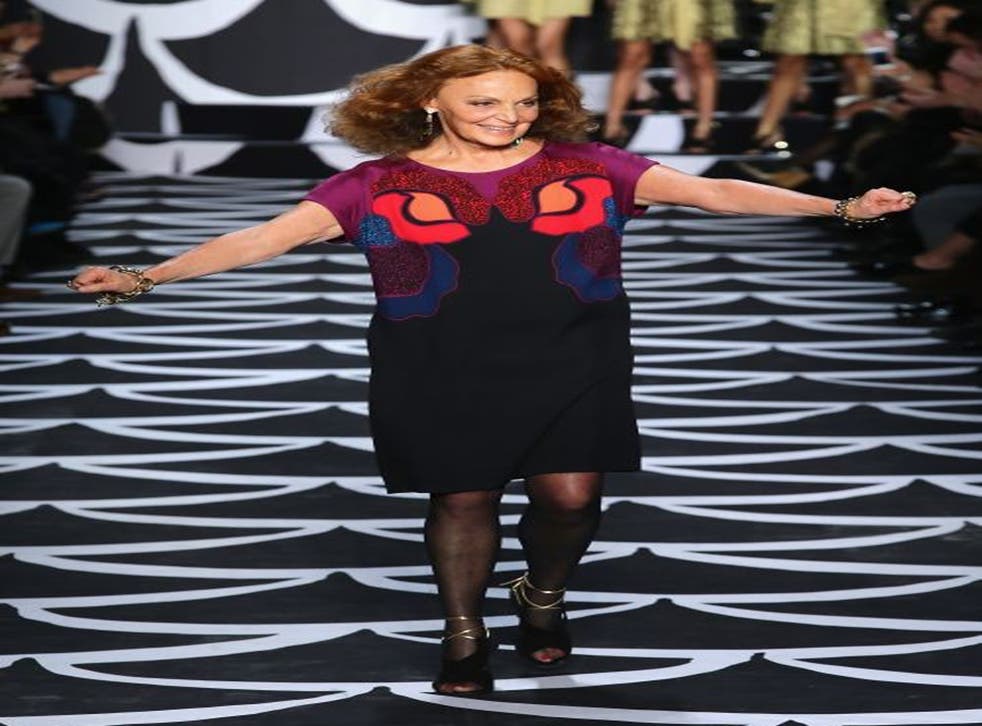 That's a wrap, DVF: Diane von Furstenberg's dress and the icon it has become
When you see it on young girls, they look beautiful. It's a great way to be proper and sexy
This year, Diane von Furstenberg's wrap-dress turns 40 – she celebrated it on Sunday night with a flashy, colourful, print-flecked autumn/winter 2014 catwalk show in New York, while there's also an exhibition, "Journey of a Dress", that opened in Los Angeles in January.
Yes, it's quite odd to celebrate the anniversary of a specific dress, even in fashion. But DVF's wrap – both Diane and her dress are almost-always abbreviated – is no ordinary garment. As the woman herself is quick to point out.
"You know fashion is a very mysterious thing because it is the reflection of your time," DVF says. "Sometimes you think something is so important but it passes and you forget about it.
"Nobody ever thought that my dress would be important, even though I made $25,000 a week very quickly. Nobody paid me very much attention to it. People said 'Well, she's not really a designer.' The truth is I made a dress that was immortal."
However, the precise appeal of the wrap dress is that is it an ordinary garment – it's accessible, a stretch-jersey slip that, as the name suggests, simply wraps around the body to tie at the waist.
DVF's wrap dress is a quintessentially American piece of sportswear. Which is what makes its ascendence to the status of pop culture icon quite so compelling.
The wrap first swathed von Furstenberg followers in 1974: today, it's still dressing many of those original women, as well as their daughters and granddaughters.
"That's a mystery," says DVF. "That wrap dress thing is a complete mystery. It's never happened to a dress before and it's one of those things... I don't know why but when you see it on young girls, they look so beautiful. It's a wonderful way to be proper and sexy."
New York Fashion Week: Diane von Furstenberg autumn/winter 2014

Show all 8
In person, DVF is exactly what you want her to be. She's feline, slightly haughty, perfectly preserved at 67.
She's dressed in her own clothes, of course – why would she wear anything else? And she peppers her conversation with some eminently quotable bon mots.
"I wanted to be able to have a man's life in a woman's body," she says of her start in the fashion business in the late Sixties, coinciding with her move to America.
She was married at that point to Prince Egon von Furstenberg, and the young, radiantly good-looking couple (DVF was so model-beautiful that she cannily fronted her own advertising campaigns) were fast fixtures on the social scene.
She's stayed ever since: she's now the president of the Council of Fashion Designers of America, the governing body of New York's rag trade. She said she'd do it for two years. It's now been six, and counting.
DVF – the woman, not the label – is an American fashion institution. Just like her dress. In fact, she is the walking, talking embodiment of everything the wrap dress represents: America's ascendance to become the cultural arbiter of the late 20th Century; the emancipation of women from the home and their move into the workplace; and the sexual revolution as epitomised by the louche disco decadence of Studio 54.
"I used to say always that you can get in and out making no noise," smoulders DVF today, purring like Eartha Kitt. DVF – woman, and label – does sex very well.
There's also a touch of fashion history to the dress, however, encompassing the decline of the rarefied world of haute couture and the rise of ready-to-wear. Basically, the wrap has ended up serving as a talisman of an entire period, the 1970s. It's heavyweight stuff for a slinky bit of jersey.
DVF has built a tidy business around exactly those values. Her latest collection, punnily titled "Bohemian Wrapsody", referenced "glamorous vagabonds" and Diaghliev's Ballets Russes.
Really, it was pure Diane von Furstenberg: easy, poppy Seventies stuff, a mash-up of Art Nouveau and Art Deco prints, billowing chiffons, psychedelic embroideries and a finale of glitzy, glittery gold wrap-dresses.
The band St Vincent played throughout the show. At the end, DVF careened down the catwalk and danced with the models under a cascade of glitter.
The woman was the life and soul of Studio 54. Hence, she knows how to throw a party. And that's sort of what the wrap dress is all about: the promise of a good time.
Join our new commenting forum
Join thought-provoking conversations, follow other Independent readers and see their replies