A step in the right fashion direction

Show all 10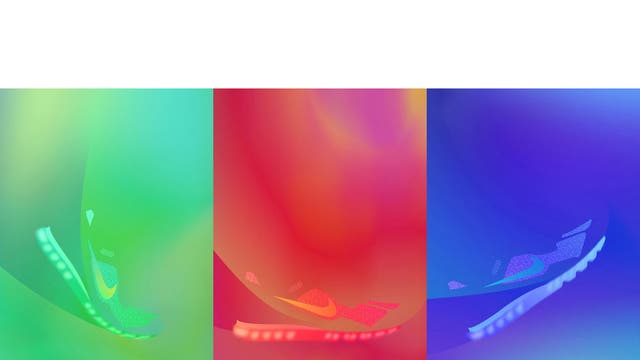 A step in the right fashion direction
Put a spring in your step  with Nike's new collection of re-issued Air Max trainers, just in time for the shoe's 25th birthday
If you wanted to know what was happening in menswear in the 1980s all you had to do was turn on the television. Miami Vice was all about pastel-coloured jackets and T-shirts, while over on Magnum P.I. Hawaiian shirts and short-tipped handlebar moustaches were all the rage.
Click here or 'view gallery' to see a collection of Nike Air Max trainers and artworks
Sports fans had their sartorial role models too. Nike's sponsorship of rookie basketball player Michael Jordan was a genius move: his trainer collaboration soon found its way onto the feet of urban dandies and hip-hop obsessives alike. With the launch of Air Max in 1987, Nike's fashion credentials increased further still: and with an ad campaign that featured the Beatles song "Revolution", a footwear fashion icon was born.
Opening tomorrow, Air Max Reinvent celebrates the 25th year of the classic shoe with five reissued key styles, each of which is accompanied by a piece of original art inspired by that particular design.
Animator Matt Box was charged with interpreting the Air Max 1, and his hand-painted watercolour shows the 1980s running shoe in all its glory, still sitting comfortably in modern culture.
Set designers and photographers Bruno Drummond and Gemma Tickle deal with the Air Max 90 – a sports shoe beloved of old-school ravers. The duo's work is full of shapes and colours: glow sticks, electronic dance music and the 1990s rave culture are clearly at the forefront of their minds.
Stylist and set designer Rosy Nicholas's take on the grey Air Max 95 references the London cityscape, while illustrator Oscar Bolton Green's vision for the Air Max 97 mixes iconography from that year while referencing Japanese technology; the original design for this trainer was based on the shape of a Japanese bullet train.
Finally, the newest addition to the Nike family, the Air Max 13, has been interpreted by graphic artist Sam Coldy whose prints focus on the impact that running has on the foot and the vivid colours of this innovative model.
From £97, nike.com. Exhibition at Hoxton Arches, Arch 402, Cremer Street, London E2
Join our new commenting forum
Join thought-provoking conversations, follow other Independent readers and see their replies