Take a shine to metal

Show all 12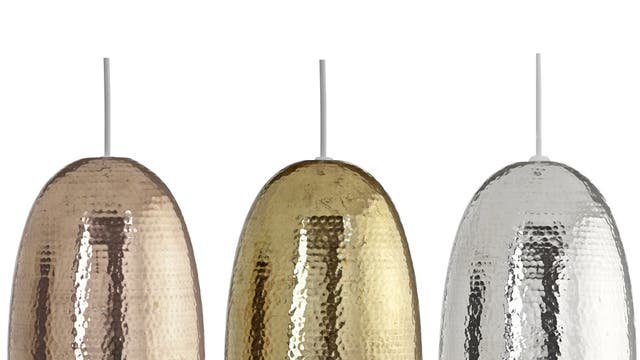 Take a shine to metal
Don't go over the top with this season's latest shiny trend. Subtly is king when is comes to metallics, says Trish Lorenz
All that glitters is not gold: this season, it's just as likely to be bronze, pewter, nickel or brass. Metallics are big news in interiors right now with burnished and shimmering finishes finding favour across everything from wallpaper, tiles and textiles to lighting and accessories.
It's all part of a move back towards a more glamorous vibe, after years of minimalist simplicity. "We're seeing a trend for introducing some glitz and glamour back into the home as an alternative to the pared back austerity of recent times," says John Lewis design studio manager for home, Mockie Harrison.
But forget bling and brassy. Designers are moving away from high-gloss sheen to a subtle lustre, with finishes such as bronze finding favour. Beaten metallics, with their softer sheen, are also popular.
The secret to working this trend at home is judicious editing: too much glimmer and shimmer and you'll be channelling a Footballers' Wives vibe rather than the opulent Art Deco, Great Gatsby-style elegance that's this season's inspiration.
Instead, mix shades of grey, white and silver for a sophisticated and elegant mood. Wallpaper is a simple way to introduce a metallic finish. Choose damask or floral prints for a more traditional feel or seek out geometric patterns in high-shine silver for a contemporary vibe.
Or combine copper or brass with natural materials such as bare wood for a warmer feel. Burnished copper light shades over a rough, hewn dining table work well, try Tom Dixon (tomdixon.net) whose copper and etch shades in brass are credited with inspiring the trend.
Textiles, too, are a good way to ramp up the luxury factor, particularly satins and velvets with a shimmering or iridescent finish. Rich curtains and sparkling cushions are a simple way to transform a bedroom to an opulent boudoir.
Join our new commenting forum
Join thought-provoking conversations, follow other Independent readers and see their replies