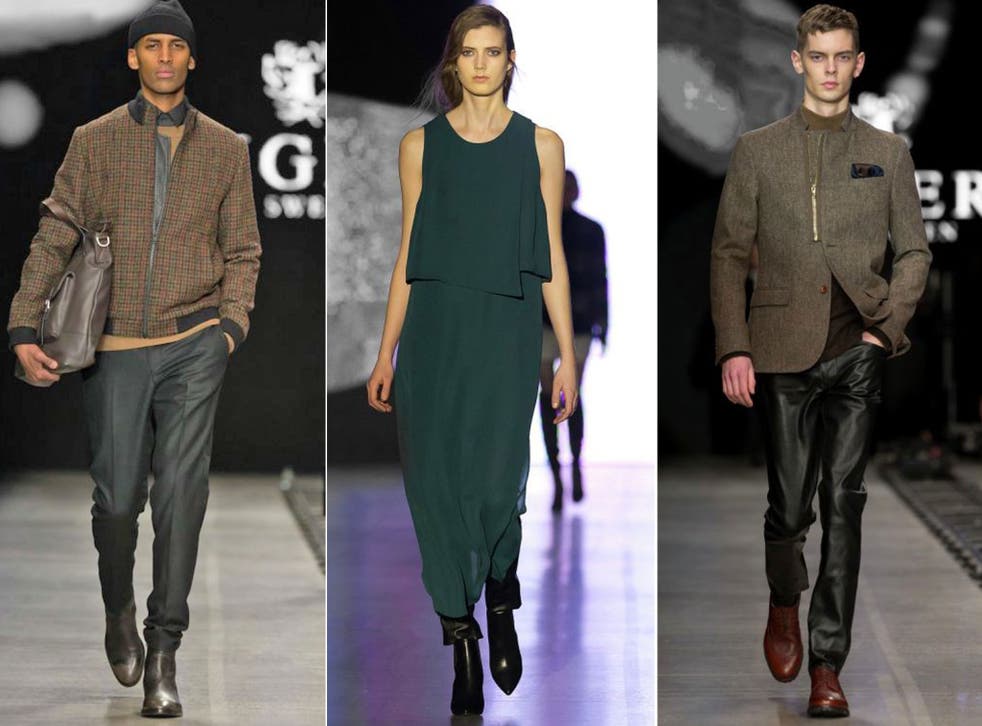 Tiger of Sweden: the brand which has become the epitome of Scandi-cool
It may still be a relatively new import to the UK – but it is getting bigger all the time and has won over influential fans. Rebecca Gonsalves takes a look at the Swede success
Lots of fashion brands like to think of themselves as families – albeit often slightly dysfunctional ones – but how many have such a clan spirit that they have commissioned and produced their very own tartan? Thanks to an inspired idea from menswear designer Ronnie McDonald, Tiger of Sweden can boast just that.
David Thunmarker, CEO of the 111-year-old brand, is proud of the family mentality that has been fostered over his 10 years in charge, "Everyone wants to be their best," he says over lunch in a Stockholm restaurant on the day of the brand's autumn/winter 14 catwalk show. "You don't want to let a family member down, do you? The philosophy we have is that it's the people who make brands, it's people who make ideas come alive – we all decided that Tiger of Sweden, the brand, is bigger than all of us."
In the scheme of its long heritage, Tiger of Sweden is still a relatively new import to these shores – but it is getting bigger all the time. Earlier attempts to launch in the UK were not particularly successful, but the persistence of Thunmarker and his team paid off when Selfridges picked up their menswear for 2011. "When we first came to Britain it was really tough for us," confesses Thunmarker.
"Just before we broke Selfridges, I shook hands with our sales director that if it didn't happen in one more season we would withdraw. So it was very close, and then Selfridges came on board. I think we strongly believed in what we were trying to do with men's fashion. Sooner or later, you're going to get some more response, you're going to have some more friends that believe in you." Now the brand has three standalone stores in London and is stocked by key department stores.
In pictures: Tiger of Sweden autumn/winter 2014 collection for men and women

Show all 9
As buying director at Selfridges when it launched Tiger of Sweden, David Walker-Smith was integral to the brand's success in the UK. Since taking on the role of managing director of Fenwick of Bond Street last January, Walker-Smith has brought the brand to his new customers, too. "I've known about the brand for a number of years," says Walker-Smith. "The brand was quite relevant in the UK back in early 2000; however, it has since been redeveloped and has come back with real vigour and relevance. The simplicity, the fit and the very clean lines of the Scandinavian aesthetic appeal to British shoppers, and Tiger of Sweden's men's suits are fantastic."
Although it is a brand well known for leather, accessories and denim, it is the tailoring that comes up time and time again when talking about Tiger of Sweden – understandably so, as it was founded as a tailoring company, albeit one in which the salesmen travelled to their customers rather than the other way around.
As the brand expanded, the innovations of the original retail method were not matched with forward-thinking design, and over the years it became associated with an older, and old-fashioned, customer: "old farts with hats," says Thunmarker bluntly.
In 1993, the brand decided to reposition itself keeping the original name, despite advice to drop it. "They started to do razor-sharp suits, very mod-inspired with bold checks," Thunmarker says. "This was just after the Swedish bank crisis, no one wanted to look at the suit because then you were in one way or another connected [with the banking industry]. When people dressed up, if they really stretched themselves, they wore a shirt and tie and a cardigan, this was when grunge was huge." And it was when the Tiger philosophy of "Taking the suit out of the bank and on to the street" was born: "A lot of the creative society and rock'n' rollers started to wear these razor-sharp, four-button mod suits in the clubs here in Stockholm. This was a way for them to say: 'This is something new.' I only have memories of the new Tiger. When I grew up, I didn't want to wear my father's brands and Tiger was really a brand with a young rock'n'roll spirit."
Since then, slim-cut suits have become something of a signature for the Swedish label, which has helped to win over influential fans such as Luke Day, fashion director of GQ Style: "The suits are an achingly cool cut, but look expensive and chic on a gentleman, too. Their aesthetic has the perfect balance of understated cool yet classical elegance – it is the epitome of the Scandi aesthetic. The Scandi aesthetic feels eternally modern. It has many positives; it's aspirational, achievable and inclusive. It has become the aesthetic that other brands now strive to emulate."
It's not just the aesthetic that represents typical Scandinavian values –practicality and equality underpin the brand philosophy which prioritises the needs of the people at the heart of the business. "We were one of the first to have an integrated kindergarten," says Thunmarker, which meant that they retained skilled female staff with young children. "There was a big textile crisis in Sweden [in the early 1990s], the company almost went bankrupt, so the government went in and took it over just to keep the people employed." By 1993, turnover was negligible and Thunmarker's predecessor saw an opportunity to turn the house's fortunes around.
Thunmarker has been CEO for five years, and held other managerial positions in the company before that appointment. In that time, he has seen a huge change in the way the business is done, and, just as importantly, where. One surprising market for the brand is South Africa – there are two Tiger of Sweden stores in Johannesburg and a third in Cape Town: "Of course, South Africa was never the key market, but we had a partner following us for a number of years."
Thunmarker and his colleagues eventually went over to South Africa out of curiosity, and became fascinated by the whole country. "South Africa is literally on the other side of the world from where we actually design, but when I speak to consumers down there they buy Tiger for exactly the same reasons as the customer in the flagship store in Stockholm. That's what you dream about."
Join our new commenting forum
Join thought-provoking conversations, follow other Independent readers and see their replies