The unbearable lightness of couture: The spring/summer 2014 collections from Chanel and Dior are the most relevant for decades

Show all 2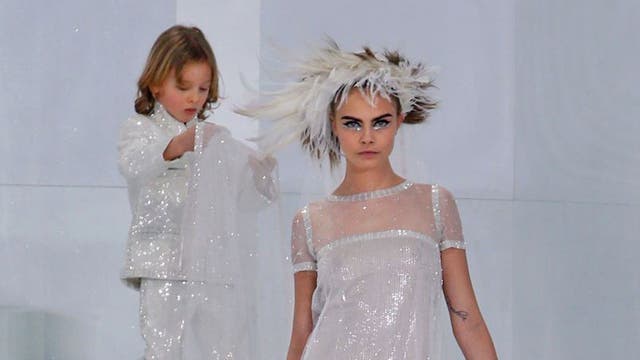 The unbearable lightness of couture: The spring/summer 2014 collections from Chanel and Dior are the most relevant for decades
Stellar showings summarise the new spirit of modernity that's revitalising the stuffy world of haute couture, says Alexander Fury
The death knell of Parisian haute couture has been clanging for 50 years. The youthquake of the 1960s, the birth of designer ready-to-wear, the soaring expense of actually producing haute couture, the most labour-intensive clothing in the world, for which hundreds (even thousands) of hours of concentrated work go into the simplest pieces, with a profit mark-up of about 1 per cent – all these factors should, by rights, have swept the whole archaic institution away decades ago. RIP, ma cherie.
So what are we witnessing right now? Is it an especially energetic death-rattle? Or is it possible – just maybe – that haute couture is transforming, like those infernal butterflies that peppered the catwalk of Jean Paul Gaultier, from one state of being to another? Maybe. But it's not so much emerging from a chrysalis as recreating itself from the inside out. Haute couture is finally being dragged, kicking and screaming, into the 21st century.
The chief proponents booting couture's well-clad derrière are an old master and a new pretender: Karl Lagerfeld at Chanel and Raf Simons at Dior. The striking thing this season was their similarity. The houses are fierce rivals, even if the designers aren't (case in point: Karl Lagerfeld wore a jacket from Raf Simons' eponymous menswear line to take his bow at Chanel). More to the point, their aesthetics are polar opposites. Coco Chanel herself witheringly stated that "Dior doesn't dress women. He upholsters them", among many other barbed comments. Dior himself was an admirer of Chanel, but his New Look turned her aesthetic edicts on their head. Out with jersey simplicity, in with taffeta-lined, cinched-waist extravagance.
Dior Haute Couture spring/summer 2014

Show all 6
That was back in February 1947. Times have changed. And haute couture seems to have finally caught up. Both Lagerfeld and Simons presented trainers with their haute couture, Lagerfeld across the entire Chanel collection, Simons with a clutch of Dior evening dresses. It looked a bit like Lily Allen in her "Smile" era incarnation, but what was more interesting chez Dior was the way that the idea of a trainer, rather than its injection-soled actuality, infected the entire collection. The spirit of aeration, of woman and dress breathing, the freedom of billowing bloused-back shapes, the general sense that Simons had knocked the stuffing out of that eternally boned and bombasted Dior silhouette, was profoundly refreshing. It felt completely contemporary. A few outfits in, it also silenced your niggles about who would wear this new breed of couture. It will appeal immensely and absolutely to couture's new guard, to a new generation of clients who demand go-faster couture.
The most refreshing thing about Raf Simons' spring Dior is that, as the silvery finale dresses of his last ready-to-wear show seemed to state, he's not only got firmly to grips with the Dior archive and aesthetic, but is now ready to move it on. Karl Lagerfeld always moves Chanel on to some place fresh and new every season. He's been reinventing Coco's boucle-tweed wheel for more than30 years. And while those Chanel trainers – handmade by haute couture bottier Massaro in pearl-embroidered tweeds – are probably a seasonal gimmick, the qualities they emblemise were reflected across the Chanel collection as a whole. They represented freedom, and movement, and speed. The models raced down the stairs of Chanel's futuristic set like Olympic athletes speeding across an arena, darting through like shimmering lightning flashes in iridescent pastel shades of opalescent pink, yellow and white. It was a new kind of fast fashion – lightweight and easy to move in, reflecting Madame Chanel's own idiosyncratic viewpoint. Clothes must be logical, she once intoned. This Chanel collection made perfect sense.
Chanel Haute Couture spring/summer 2014

Show all 8
It also highlighted one of the great selling points of haute couture: the workmanship. The impossibility of haute couture is where it has ready-to-wear beaten. Ready-to-wear, after all, can now encrust an evening gown with just as much ostentatious embroidery as its haute couture counterpart. But as with a high-performance sports car – or a high-performance trainer – the engineering behind haute couture, not the glossy carapace, is what makes the difference. Haute couture can create clothing of unbelievable lightness. Hand-stitching allows for more elasticity than machine-stitching. The clothes move in a different way. And for all the age-old techniques employed, they're finally looking modern.
Dior and Chanel are the figureheads, but these new ideals for a new couture were evident across Paris as a whole. Take Donatella Versace's Game Of Thrones-style cowled and cabochon-encrusted evening dresses – somehow, they stayed featherlight. "It's about the fragility in the Versace woman, and the fragility in me," said Versace before the show. True to form, her clothes were fragile, but forceful.
Couture has often seen itself as a dressing-up box, a place for clients to indulge fanciful whims, a modern masquerade. Nowhere was that more evident in years past than at the house of Elsa Schiaparelli, where the eponymous founder proposed get-ups based on Chinoiserie, the circus and Surrealism. The new creative director, Marco Zanini, romped joyously through her archive. However, everything stayed effervescent. He – and the expert Schiaparelli ateliers – compressed 80 metres of chiffon into a bubbling ball gown. They kept the grandeur, but lost the pomp.
As, too, did the best pieces in Maria Grazia Chiuri and Pierpaolo Piccioli's Valentino collection, their barely seamed cashmere daywear and evening gowns of a monastic purity. They should have felt lost amid the operatic splendour of expansive ball dresses in laces or brocades, or scrolled with hand embroidery. Instead, their tender message was all the more strident.
That's the takeaway from the couture season as a whole: speed, stealth and simplicity. It feels very now. Or, at least, it feels very new.
Join our new commenting forum
Join thought-provoking conversations, follow other Independent readers and see their replies