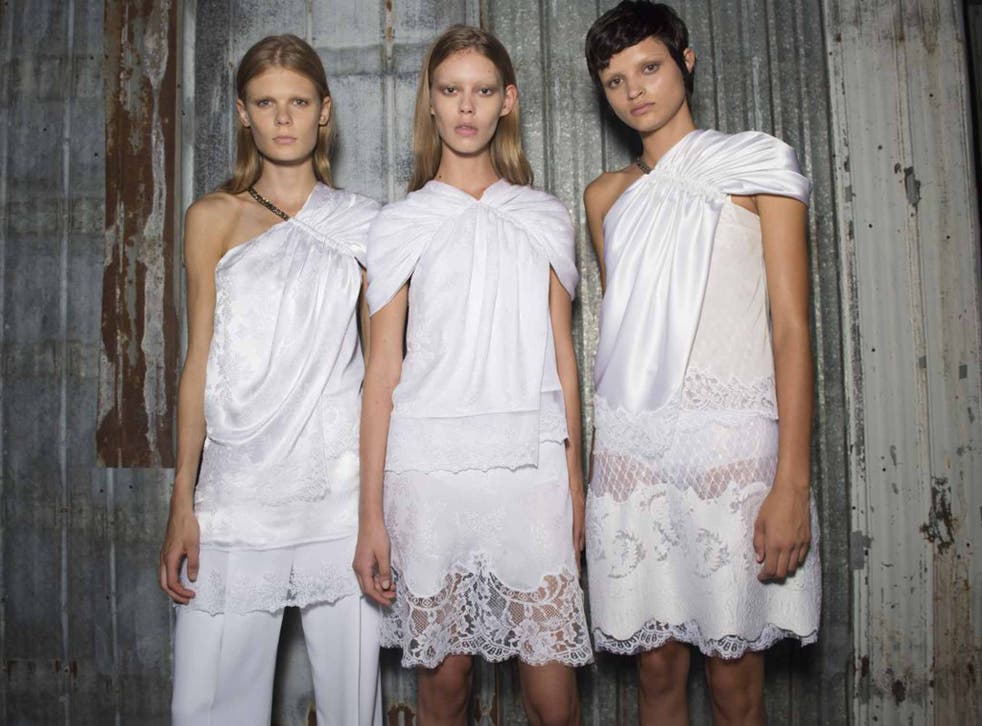 Underwear is outerwear: your smalls are the big look for spring/summer 2016 as lingerie style returns
Camsioles, bra-tops, corsets and slinky satin - fashion's favourite cliché, underwear as outwerwear, is the overriding but underdressed trend of spring/summer 2016, says Alexander Fury
Underwear is outerwear. Please note the slight change in emphasis. Blame climate change; blame heating both underfloor and central, ubiquitously cranked up; blame our ever fluctuating moral compasses, which decree that fashion has had enough of being tastefully covered and is now ready for necklines to plunge and slits to lunge across the body. Regardless of the cause, the ultimate proof came with the spring/summer 2016 shows in September, where models were undressed to impress in clothes that frequently approximated tissue paper knotted up with knicker elastic.
Example: Riccardo Tisci decamped to New York and showed a collection mostly composed of flimsy layered slips in Chantilly lace. Example: Raf Simons ended his tenure at Christian Dior with a show of antique pantalets and bra-tops in semi-transparent cotton, scalloped sweetly at the edges. Example: Sarah Burton delivered her strongest Alexander McQueen collection yet, heaving with ruffles, chiffon and diaphanous layers and fairly devoid of the grand evening dresses with which she's forged her name and reputation. Elsewhere, designers got to grips with slips, and with stuff like bias cutting (Alexander Wang, Haider Ackermann) and spaghetti straps (Balenciaga to JW Anderson). Generally, it all looked like it should be underpinning an outfit, rather than underpinning an aesthetic.
The mood of aesthetic licentiousness has even encouraged lingerie labels to break out of the knicker drawer. The Italian label La Perla, founded by corset-maker Ada Masotti in 1954, has just appointed 25-year-old wunderkind designer Pedro Lourenço as its creative director. "La Perla… will blur the boundaries between lingerie, beachwear and outerwear," says the company's chairman Silvio Scaglia, "extending its natural focus on sensuality, elegance and preciousness." Those sound like mighty big ideas for smalls. The price tags aren't exactly diminutive either: a La Perla Maison robe (a glorified dressing-gown) retails for £1,254. I'd want to wear that further than the front door.
La Perla has been here before – it showed collections helmed by the Italian designer Alessandro Dell'Acqua. But relaunching with a focus on lingerie-tinged everyday attire is especially astute given the slant of spring's shows. Riccardo Tisci didn't just show slips, but layered camisole tops and lightweight silk tailoring with soft tie-waisted jackets like robes. And Alexander Wang's final Balenciaga collection, loosely based on ladies lounging in a fashionable spa, injected a sense of undress into everything from filmy silk dresses with flat, lace-embroidered slippers (good) to satin backpacks and combat trousers with a hint of the Shaznay Lewis to them (not so good).
There's plenty of background for this look. The phrase "underwear as outerwear" was coined in the 1980s by the late Malcolm McLaren, a pithy description of a 1950s-style bullet brassiere worn on the outside of a sweatshirt in the winter 1982 collection he created alongside Vivienne Westwood under the label "World's End". It caused an explosion in the fashion scene, inciting Jean Paul Gaultier to design corset-dresses and conical bras.
By the end of the decade, Madonna was sporting the aforementioned poking through suits on her Blonde Ambition tour, and Westwood had set up on her own, reviving an 18th-century "divorce" corset as an elastic-sided bustier. The notion was explored notably by the designer Azzedine Alaïa, who created clothes so technically ingenious that they not only resembled underwear and did its job, but negated the wearing of underclothes. The age of Lycra had dawned, and Alaïa was the king of cling. Many of today's designers are referencing the work of the aforementioned: JW Anderson's exterior bras felt very Gaultier; there was a touch of Westwood to Miuccia Prada's layered baby-dolls over shirts and pencil skirts at Miu Miu. And, by God, everyone copies Alaïa.
But there is actually a foundation (no pun) much earlier: in the clothes of the 1930s, when Madeleine Vionnet's bias cut dominated. Clothes were streamlined, cut to minimise or even eradicate underwear and show off the natural form of the body. Many were lighter and less complex in their structure than undergarments of 20 years before – or, indeed, 20 years after, thanks to the corsets and petticoats necessary to support Christian Dior's New Look, the dominant silhouette of the 1950s. Vionnet's work caused a revolution in women's clothing, revealing the unfettered form of the body. Nevertheless, despite the underwear antecedents, Vionent's bias-cut gowns – quickly seized on by Hollywood as the ultimate in silver-screen-siren attire – exuded elegance. They were spectacularly revived by John Galliano in the 1990s, prompting none less than American Vogue's Anna Wintour to remark: "The bias-cut slip-dress has really become a symbol of what women wore at night in the 1990s – and that was John, completely John."
Many designers are referencing Galliano today, as opposed to Vionnet's finest. It's 1990s grunge, rather than 1930s glamour, that underscored satin dresses with puckered underwear details that Alexander Wang showed for his own label; and the satin slips with ribbon ties by Francisco Costa for Calvin Klein Collection, beaten up and worn with trainers to give underwear an edge. It's styles like this that make these clothes feel modern, fresh and desirable – and not like you're a sleepwalker gone a-wandering in your nightclothes.
And, worst comes to worst, if you make a bad investment you can always chuck your autumn/winter wares on top. Outerwear underwear functions well as just plain underwear, too.
Join our new commenting forum
Join thought-provoking conversations, follow other Independent readers and see their replies