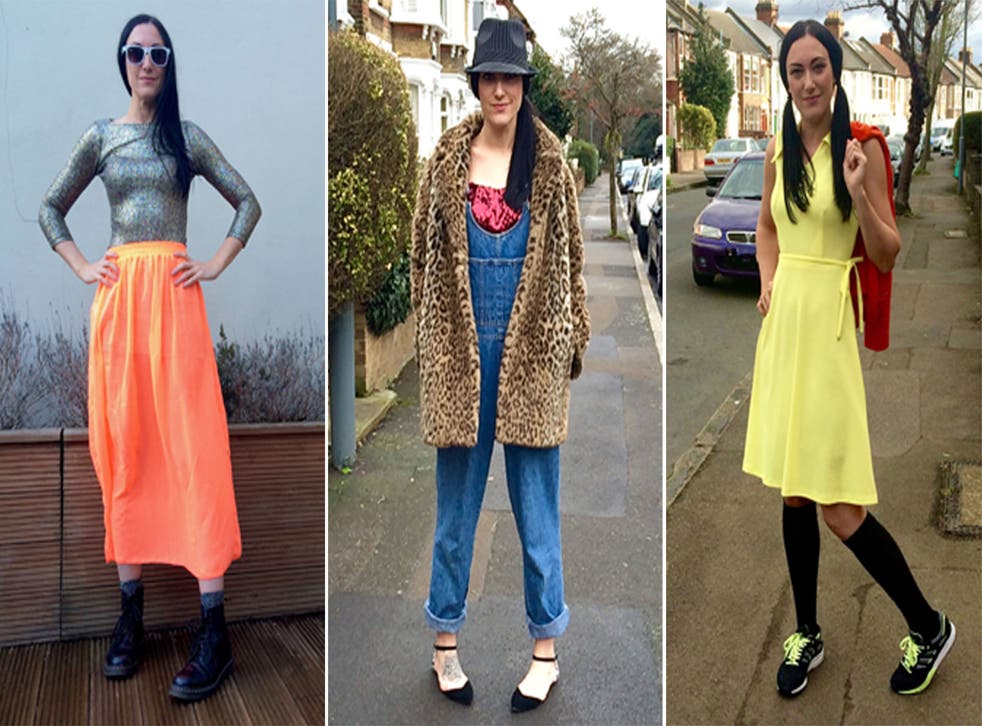 This is what happens when you let your three-year-old choose your clothes for a week
The Independent's Victoria Richards empowers her toddler. The result? Gold lamé, sparkles and patterns – lots of patterns
What happens when you let your toddler dress you for a week?
Inspired by US blogger Summer Bellessa, who recently documented the sartorial choices made by her own three-year-old son, I looked at my daughter and decided to do the same.
After all, I considered, as she proudly teamed Aztec-print leggings with a pink dress, polar bear cardigan and a neon ski hat for a day at nursery, what could go wrong?
I'm all for promoting independence (and usually let her choose her own clothes, as I did at her age - which probably explains why someone once asked my mum if we belonged to a cult), but I was also intrigued to see what would happen when we ever so slightly empower our children.
I also wanted a different perspective on fashion, from a time before we learn to be overly self - and socially - conscious.
And so, carefully nudging a gold lamé mistake to the back of the closet, where I hoped she wouldn't find it (wrong), I nervously opened my wardrobe doors; to a three-year-old girl...
Saturday
Things start badly. "I want you to wear this dress," she says, pulling out the gold lamé from the back of the wardrobe, "with these shoes." She brandishes a pair of silver plimsoles I'd forgotten about. "And this belt." I look at her, grinning widely and holding aloft a faux-snakeskin waisted belt, and wonder if there's such a thing as childish innocence after all. Then I chicken out - for the first (and only) time. I veto the lamé. It's too early on a Saturday to look like I'm doing last night's walk of shame, and we are going to a nursery tap dancing lesson. I take her second choice - a blue skater dress, with leather jacket and leopard-print tights - and appease her with the promise that I'll go for gold later in the week, hoping she'll forget (spoiler: she doesn't).
Sunday
"I like patterns!" my miniature Vera Wang declares, grabbing a blue polkadot vintage dress from a hanger. It's thin cotton and a size too small. It's also February, and hailing outside. When I point out the weather, she allows me a mint-green cardigan, navy heels - and purple tights. Just when it was all going so well...
Reactions are mixed. A neighbour shivers and tells me I look "summery", while a friend asks if I'm auditioning for the Sound of Music. "You look like you're from the past," she adds, eyebrow raised. I choose to take this as a compliment.
Monday
"Ooh...this is sparkly...I like sparkly things!" Never have such seemingly innocent words filled me with such horror. I slowly look up and see that she's found a red sequined dress last sported at a university summer ball in 1999, while dancing to Cast and The Honeyz. Ask her if I can wear a coat, am given a firm "no!" The reason? It's sunny outside (and freezing) and "nobody will see your beautiful dress". It's a stand off. She chooses a blue shirt instead - short-sleeved, naturally - and later becomes upset that I change my shoes because I can't walk in tights... and flip-flops.
Tuesday
Where else can you wear flowery leggings, a red crop top, long blue chiffon caftan and grey cowboy boots more comfortably than when taking your child to the doctor and the local supermarket? "I want you to wear lipstick today too," she says decisively, waggling the bright coral shade I understandably never wear. Oh no. It's like Pretty Woman, before Julia Roberts sheds the blonde wig. And not even Julia Roberts would have worn this get-up in a Tesco Express in east London.
Wednesday
This is the day I've been dreading - back to work at the office. Some people nod knowingly. Others ask more tentatively: "So... did your toddler dress you today?" I toy with acting offended and pretending she didn't, but the neon dress, white tights, striped shoes, mustard-yellow hat, skull-print scarf and military jacket are a dead giveaway (I hope). "If you hadn't told me I wouldn't have noticed anything different," one colleague says, trying to be helpful. Not helpful - what does this say about my usual wardrobe?
Thursday
"You look like the high school nerd in a film right before they get a makeover for prom," I'm told, once people have stopped laughing at the sight of my acid-yellow dress, bright orange jacket and black trainers with hypercolour laces. It's the knee-high black socks, isn't it? Doesn't anyone remember Clueless?
Friday
A short week at work, as I'm going away for the night and thankfully spend most of the day in the car dressed in dungarees, a red sequined crop top, trilby, cow print shoes and a faux-fur leopard-print coat. Some strange looks at services on the M4, more strange looks at a rural country manor in Gloucester full of wedding guests. "Have you come far?" the receptionist asks, glancing at my shoes. "I've driven down from London," I say helpfully. She nods and looks a little relieved. "Ah," she says. I imagine she adds silently: "That explains it."
Saturday
I tell the pint-sized Phillip Lim who now owns my wardrobe that I'm going out later, so I need a day-to-night outfit. And boy, does she choose one. "I like gold," she says decisively, going back to the dreaded lamé. "And bright colours, like this orange skirt. I like these sparkly silver socks, too. And sunglasses." She then pulls out my beloved Dr Martens and dumps them on top of the increasingly bizarre pile of clothes in front of me. "You can wear these shoes in the park if it's muddy," she says. "Now let's go to the swings."
Fashion lessons learned? Wear more colour (but not white tights, ever.) Don't take textile tips from a three-year-old. And have a clear out - I have too many (awful) clothes that I (thankfully) never wear. From now on I'll be making sure that I like everything I own, and there's nothing I'm too scared to wear... although maybe not all at the same time.
The trouble is, my toddler doesn't realise it's a temporary experiment. The last thing I heard before I left the house this morning? "Let's choose mummy's clothes..."
Join our new commenting forum
Join thought-provoking conversations, follow other Independent readers and see their replies