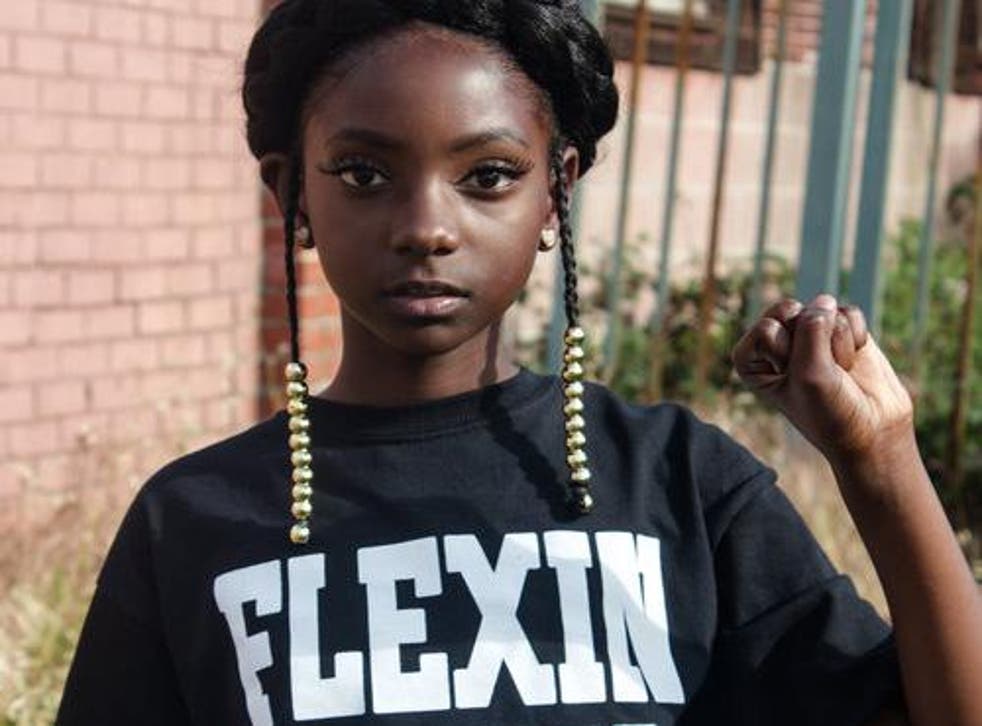 Flexin In My Complexion: 10-year-old launches clothing line to combat colourism
"It doesn't matter how dark or light you are, just knowing that it's beautiful and that your complexion doesn't determine your beauty"
A 10-year-old girl has created a clothing line to help challenge colourism.
Kheris Rogers, from Los Angeles, was bullied a lot at school for her skin colour, which affected her confidence.
Now, however, she wants to help instill confidence in others with her T-shirts emblazoned with 'Flexin in my complexion.'
Rogers was bullied by both white and black pupils for her dark skin: "I've been bullied a lot, like in the first grade, I went to school with just four other black kids," Rogers said in an interview with Mic.
"And kids used to bully me because they weren't used to my skin tone. There was an incident with a teacher and we had to draw ourselves and she gave us a black crayon instead of a brown crayon, and I was really upset."
In a bid to boost Rogers' confidence, her 22-year-old sister Taylor Pollard posted two pictures of Rogers on Twitter, writing: "My sister is only 10, but already royalty #FlexinInHerComplexion."
The tweet soon went viral and has now amassed almost 84,000 likes.
Pollard then added a video of Rogers walking in a local catwalk show, which garnered further praise online.
"Your sister is onto world domination!" wrote on person.
"Your sister runs the world, she's beautiful," added another.
And Rogers was completely taken aback: "I was overwhelmed," she told Buzzfeed. "There were so many comments that they loved my skin and my hair."
With her heightened self-esteem, Rogers decided to launch her own clothing line with her sister - the range currently features T-shirts in four different shades, all proudly proclaiming the slogan: 'Flexin in my complexion.'
They're planning to launch fitted T-shirts and crop-tops soon too.
"Kheris really thought she was the only one going through this, but Kheris now realises that this is a global issue," Pollard said in an interview.
"That's what pushed Kheris, because she thought 'If I'm feeling this way, then we want to help others who are feeling bad about themselves too.'"
It's hoped the T-shirts will help empower other people across the world: "I just hope that especially for younger kids, people start to feel more confident in their skin," Pollard said.
"It doesn't matter how dark or light you are, just knowing that it's beautiful and that your complexion doesn't determine your beauty."

Join our new commenting forum
Join thought-provoking conversations, follow other Independent readers and see their replies