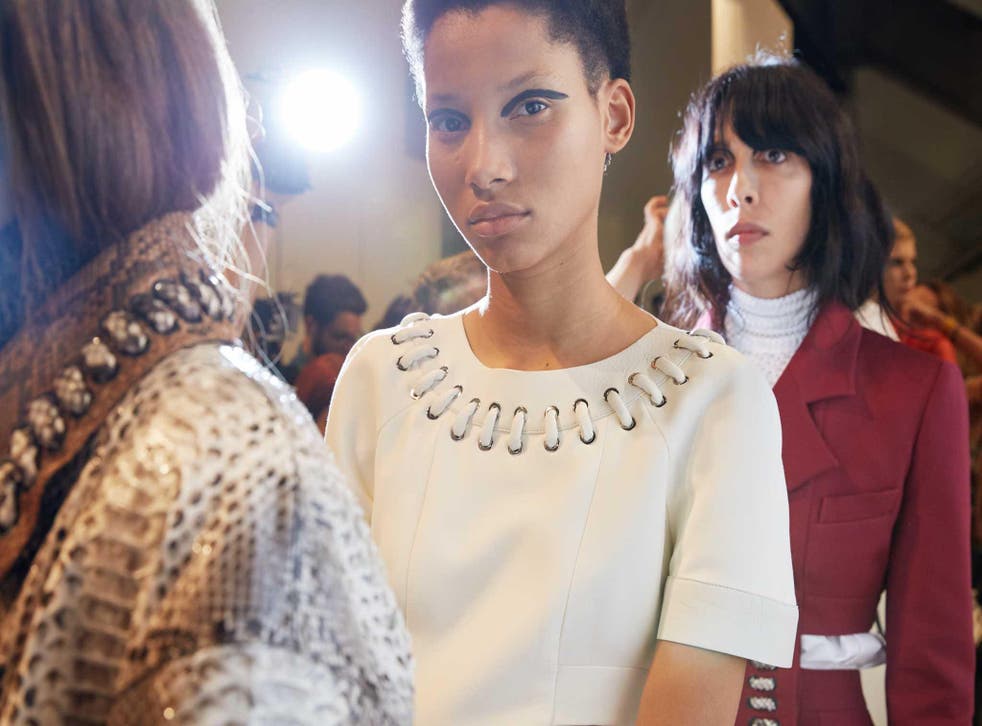 Graphic content: Spring/Summer 2016's latest beauty trend is a real eye opener
From ladylike swooshes to spiky drawn-on lashes, this season eyeliner dominated the catwalk. Sarah Young highlights why we'll soon be ditching the traditional feline flick for extreme statement eyes
Keeping your finger firmly on the fashion pulse can be tricky, especially during a seasonal interlude but fear not as spring/summer is chock full of beauty looks that promise to instantly apprise your wardrobe. Whether you're worldly wise in the realm of cosmetics or a latent newbie, when it comes to taking risks the contents of your make-up bag provide the ideal tool to unleash your inner artist. This season eyes got graphic, especially when it came to liner so if you're looking to draw outside the lines this memorable makeup statement is a convincing counterargument to come-as-you-are beauty.
Liner was seen every which way on the spring/summer runways from a blended smoky haze to exaggerated graphic strokes but for Dolce & Gabbana the look remained subtle with soft feline flicks typifying the ladylike ether of their DNA. In keeping with this more traditional approach, Chloe and Issa opted for Kohl liner; the former rimming the models eyes entirely while Issa reserved a heavy dose for the lower lash line creating a cool, grungy vibe.
At Fendi and Celine though, things were far more intense with the shape of brows recreated just above the eye socket for a bold floating look; but they weren't the only ones enjoying a flutter with wide-eyed beauty. Jeremy Scott is well known for lifting inspiration from everyday culture and his spring/summer offering was no exception, especially when it came to run-of-the mill makeup. The designer cast sky-high beehived grandeur with cartoonish liner to boot; imitating thick Twiggy-esque lashes that stuck together mascara took a back seat in favour of liquid liner overdrive.
If you're bored with the traditional cat eye then this trend affords a fresher take on a makeup bag staple. For an edgy look that's still wearable try a full on flick with not one, but two wings or opt for a thick, squared-off cat eye that promises to turn heads – just make sure the rest of your face is kept simple for a beautifully unconventional approach to eyeliner. If you haven't quite got to grips with the liquid variety just yet then using a kohl pencil lessens the margin for error. Eyeliner on the bottom lash can look a little dated but luckily this trend affords you two alternatives – Keep things modest and crisp ala Issa or embrace lower liner with a blur of classic black kohl in keeping with the revival of 90s grunge.
Graphic Content

Show all 6
Join our new commenting forum
Join thought-provoking conversations, follow other Independent readers and see their replies