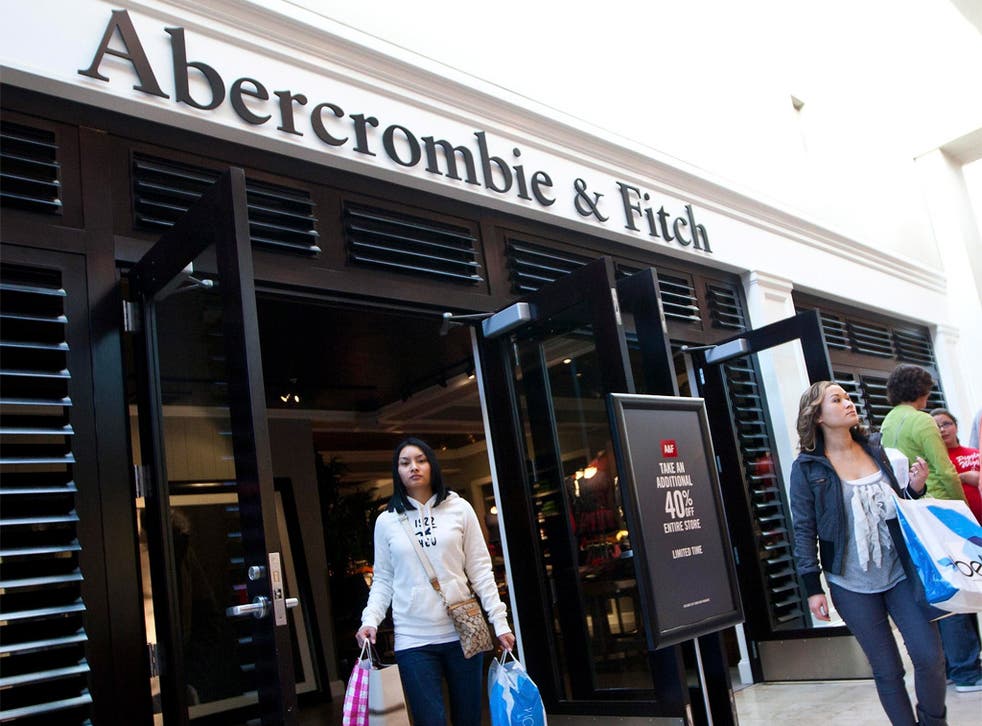 Abercrombie & Fitch model tells of 'racism, sexual harassment and discrimination' at store
US student claimed black models were sent home early so they would not be visible during an executive's visit
An Abercrombie & Fitch employee has claimed that black models were sent home early so they would not be seen during an executive's visit, while detailing "countless" alleged incidents of racism, sexism and discrimination at a store.
The woman, who wrote anonymously about her experiences for Xojane, claims to have cut down her shifts as a model to a couple a month because of the "toxic and superficial environment" at the US store where she works.
She said she started the job as a university student after being approached by two of Abercrombie's male models while shopping.
Although the job was initially fun and relaxed, she claimed that visits from the then CEO, Mike Jeffries, prompted managers to send staff away until they had only the "thinnest, tallest and whitest models" visible.
Mr Jeffries, who resigned aged 70 in December, infamously described why his brand only stocked small sizes for women by saying: "Good-looking people attract other good-looking people, and we want to market to cool, good-looking people… a lot of people don't belong (in our clothes), and they can't belong."
"On one particularly horrifying instance, most of the black models were sent home an hour early before their shifts ended and before Jeffries was scheduled to visit," the employee wrote.
"One of the models complained to the confidential company hotline of racism on the manager's part, and the security team conducted an investigation.
"The manager denied any racial bias and the investigation led nowhere, because there wasn't enough "substantial evidence" to prove that her actions were racially motivated."
She is employed as an in-store "model", who are infamously hired to walk around wearing the brand's clothes without working the tills.
Shop assistants who do the rest of the work are dubbed "impact team members" by the company.
The student described "countless incidents" around Mr Jeffries' visits where those employees were not allowed on the shop floor and anyone deemed not to be good looking enough was sent home.
There was only one black "greeter" in the large shop at the time, who was the first in five years, and another black model was told he did not get the job because he did not look "exotic" enough, she claimed.
The woman also described frequent sexual harassment by customers, which she blamed on the staff uniform of revealing tops, shorts and miniskirts.
"I grew to hate coming in to work," she wrote. "What was once a fun, easygoing part-time job now made my stomach churn as I reluctantly squeezed into my uniform of short shorts and low-cut tops.
"I was once followed by a group of men across the store, while the men made profane comments under their breaths about my 'nice ass'.
"Another time a customer came up to me and in what little English he knew, praised the store for not hiring 'fat and ugly women'."
Abercrombie & Fitch became notorious for its attractive sales assistants and use of topless models at shop openings and in adverts – a policy that has frequently come under fire.
In 2004, the company settled a $40m (£26m) class-action discrimination lawsuit in the US, after accusations that it filled its shop floors with almost exclusively white staff.
Five years later, Riam Dean, a British student born without a left forearm, won £9,000 from the firm after she was forced to work in a stock-room where she would not be seen by customers.
A spokesperson for Abercrombie and Fitch did that the latest allegations would be fully investigated.
"A&F has a longstanding commitment to diversity and inclusion," he added. "We take any allegations of this nature very seriously, and are investigating this matter."
Join our new commenting forum
Join thought-provoking conversations, follow other Independent readers and see their replies