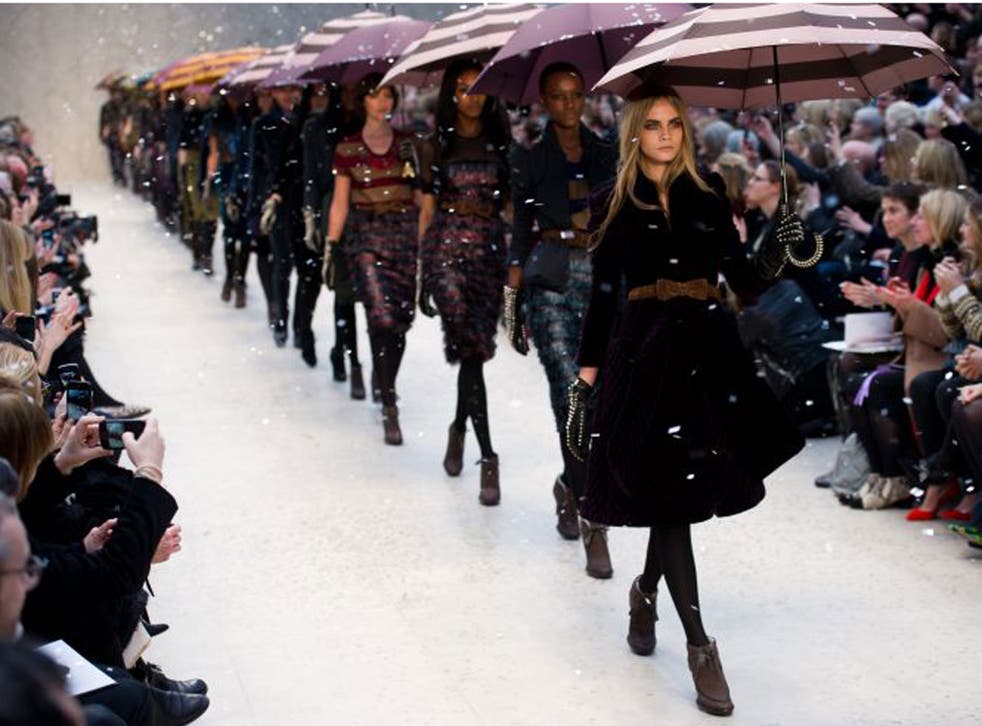 All runways lead to Cara Delevingne. But what's so special about the new Kate Moss?
Not since the days of Kate Moss's dominance has the name of one girl been on the lips of so many people in fashion.
And the girl of the moment, Cara Delevingne, has much in common with the supermodel – not least the agency responsible for her meteoric rise.
It was Sarah Doukas, the scout who spotted a teenage Kate Moss in JFK airport, who first saw the star potential of Delevingne, a schoolfriend of her daughter, at a fashion show at their private school Bedales and signed her to the books of Storm Models in 2009.
In a few short years, Delevingne has certainly matured.
Jetting into town straight from New York Fashion Week – where she walked in 13 shows, including Marc Jacobs, Oscar de la Renta and Diane von Fürstenberg – Delevingne will tomorrow morning make her first London appearance of the season at Sister by Sibling, a show styled by Katie Grand, the editor-in-chief of Love, who has been a hugely influential force on the young model's career.
"Cara is amazing, bright, gorgeous and a joy to be around," says Grand, when asked to pinpoint why Delevingne is such a hit. "Her energy is infectious and, most of all, she is fun."
Grand has dedicated a large proportion of the latest issue of her fashion magazine to her prodigy, including a shared cover with Kate Moss.
Love is not the only prestigious cover that Delevingne, named the 2012 Model of the Year at the British Fashion Awards last November, has landed of late, as she graces the March issue of British Vogue too.
A high-profile slot indeed, as it's the issue in which brands debut their new-season advertising campaigns.
In her introduction to the issue, editor Alexandra Shulman hails Delevingne as the model of the moment: "Cara is one of those girls who combine energy, wit, enthusiasm and the kind of edgy beauty that marks her out from the general pool of beautiful models."
On paper, Delevingne does not fit the usual catwalk criteria – coming in at 5ft 9.5in, she, like Moss, is shorter than the average. But her strong – almost kooky – features have ensured that she has achieved success despite this.
Part of Delevingne's appeal is her ability to break out of the mould of super-serious fashion plate, and her high-energy levels backstage and on-set have ensured that she has been noticed by the tabloid press as well as fashion publications.
The redtops in particular have picked up on Delevingne's aristocratic family: she is the daughter of a property tycoon and former society beauty, and her older sister, Poppy, is also a model and ambassador for the British Fashion Council.
There is also her high-profile friendships with of-the-moment women such as Rita Ora and fellow models Georgia Jagger and Jourdan Dunn; plus a brief dalliance with pop star Harry Styles.
Not content with just modelling, Delevingne made her film debut in Anna Karenina last year and has professed a desire to start her own onesie label – she is regularly photographed in the all-in-one garment outside fashion shows.
Physically, her strong eyebrows and snub nose are defining features – and their popularity is representative of a general mood in the fashion world away from armies of model clones appearing on the catwalk.
This is a phenomenon that Terry Barber, MAC director of make-up artistry, who works with a host of brands to create the look for their collections has noticed and predicts that a strong brow look, in the vein of Delevingne, will be big this season, usurping the bleached brows that were all the rage last summer.
As one of the faces of Burberry, Delevingne will no doubt be appearing in that blockbuster brand's show on Monday too, while tomorrow she will be part of Topshop's digital tour de force thanks to features such as backstage videos and a model-cam, sharing footage on YouTube.
With an impressive running total already, Delevingne is well on her way to matching the 39 shows that she walked in last season, which included Louis Vuitton, Dolce & Gabbana and Chanel.
While many models do not make much money from their London catwalk appearances, using them instead as a way to springboard into more lucrative advertising campaigns and editorial work, a model of Delevingne's stature will be commanding high sums for many of her appearances for high-profile, wealthy brands such as Burberry in London, before heading to Milan and then Paris, where there is much more money to be made, thanks to the luxury conglomerates fuelling the labels.
Join our new commenting forum
Join thought-provoking conversations, follow other Independent readers and see their replies