Armani hotel looks like a psychiatric hospital (says king of out-there fashion)

Show all 2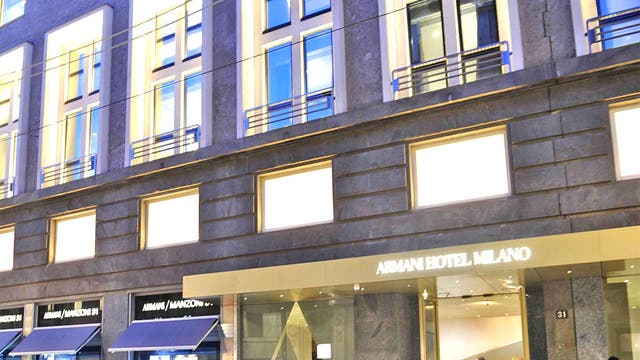 Armani hotel looks like a psychiatric hospital (says king of out-there fashion)
Roberto Cavalli – famous for his animal-print excess – criticises the taste of Italy's Mr Minimalism
Last week's womenswear shows in Milan were big hits. But that hasn't stopped the requisite post-runway cat-fight between big-name designers, with the flamboyant stylist Roberto Cavalli sinking his claws into the city's king of minimalist chic, Giorgio Armani.
The two might inhabit the same city – the world's ready-to-wear capital – but they're polar opposites in fashion. Mr Armani thinks less is more. But Mr Cavalli thinks more is more, especially if it involves leopard-skin prints, the colour lime and gold buckles.
From this starting point, egged on by a predictably understated Armani catwalk show last week, and possibly too little coverage of his own creations, Mr Cavalli lashed out. And appropriately for someone who thinks mink is for dressing models or rich old ladies rather than animals, the fur flew, after Mr Cavalli landed a low blow on Armani's Achilles heel: his high-profile hotel in Milan's fashion district.
"Between Armani and me there is an abyss," he told La Repubblica. "Have you seen that new hotel? It looks like a psychiatric hospital," before adding an unconvincing: "Of course, I love Armani." Beauty, after all, is said to be in the eye of the beholder. The Armani Hotel Milano, which opened to much fanfare at the end of last year, forms part of a block housing his various clothing labels and even home products. But the five-star establishment sticks out like a sore thumb in stately Via Manzoni, and has the added disadvantage of being right near what is probably the city's most elegant hotel, the understated but opulent Grand Hotel et de Milan.
A modern building, the Armani hotel appears to be clad in its lower levels in what resemble grey breeze blocks. Mr Armani could point to his meticulously planned interiors. But not everyone has been won over by the relentless good taste inside, a sort of art-deco minimalism in taupe.
The Armani press office failed to comment on Mr Cavalli's criticism of the showpiece building. But it is well known that Mr Armani is no shrinking violet when it comes to voicing opinions – or criticising his fashion rivals.
A few days ago, he took thinly veiled swipes at his more bling competitors such as Cavalli and Dolce & Gabbana, asking rhetorically why some designers had to dress women like prostitutes.
And in 2009 Mr Armani accused Dolce & Gabbana of copying one of his designs.
Join our new commenting forum
Join thought-provoking conversations, follow other Independent readers and see their replies