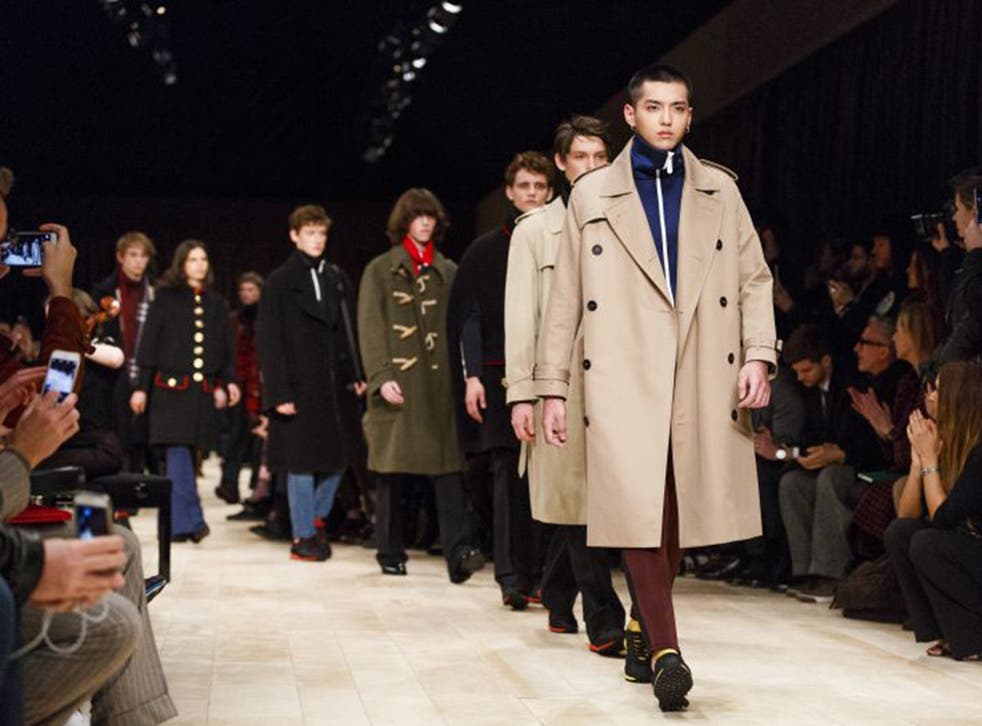 Burberry plans to sell clothes straight off the catwalk
On paper, it's a giant leap for the fashion industry
Depending on your point of view, Burberry's announcement on 5 February that it would eschew traditional biannual labelling, and release clothes immediately into stores following their display on the catwalk, is either the remedy to a fashion system in crisis, or symptomatic of a triumph of commerciality over creativity. Or it could be neither of those grand, sweeping statements, and just a clever marketing ploy to shift more clothes.
On paper, it's a giant leap for the fashion industry. One of the largest names in luxury, with a reported annual turnover in May 2015 of £2.73bn, Burberry will abandon the traditional labels of "spring/summer" and "autumn/winter". Instead, it will simply show a range of clothing suited to international climates. The company will also combine menswear and womenswear in two annual shows at London Fashion Week.
Beginning with its show in September, clothes will be available in Burberry stores as soon as the catwalk presentation is complete. Traditionally, the September garments would only begin to be available in January, although Burberry did offer made-to-order clothes delivered within six weeks.
Other labels – notably Moschino – have adopted a similar model-and-release of capsule ranges of clothing within days of their catwalk debut. Burberry's move, however, is bigger and bolder and advertising campaigns will be released immediately. "Seasonless, immediate, and personal" are the three words the brand cites to describe the approach, somewhat contradicting the latter by stating that the format is designed "with a global audience in mind".
Fashion: Spring/summer 2016

Show all 6
Burberry's Christopher Bailey, who since May 2014 has combined the roles of CEO and chief creative officer, told Womenswear Daily: "You can't talk to a customer and say, 'We're really excited, we're going to stimulate you and inspire you, but you can't touch it or feel it for another six months.'"
This whole Burberry brouhaha could be a storm in a trench coat. The system of fashion isn't a Bastille, imperious to challenge. A few, such as Céline, already quietly eschew the traditional biannual axis (Céline creates four collections, titled – sensibly – spring, summer, fall, and winter). And back in the Fifties and Sixties, Balenciaga and Givenchy would only present their collections to the press on the eve of retail delivery in order to avoid copying and to combat orders being affected by critical commentary.
The difference with Burberry is scale, as the brand operates around 500 stores worldwide. But while the move may fall short of "radical" – not being so much a catalyst for revolution, as has been hailed by many, but more symptomatic of existing moves by brands to buck the current showing and selling systems of fashion – it may encourage other luxury retailers of similar heft to follow suit. If they do, the majority of the industry will likely follow, given the jolt it will deal to retail deliveries.
Burberry recorded a 4 per cent fall in the second quarter of 2015, and revenue in the three months to end December was flat compared with 2014. Whether this move will remedy the malaise remains to be seen.
Join our new commenting forum
Join thought-provoking conversations, follow other Independent readers and see their replies