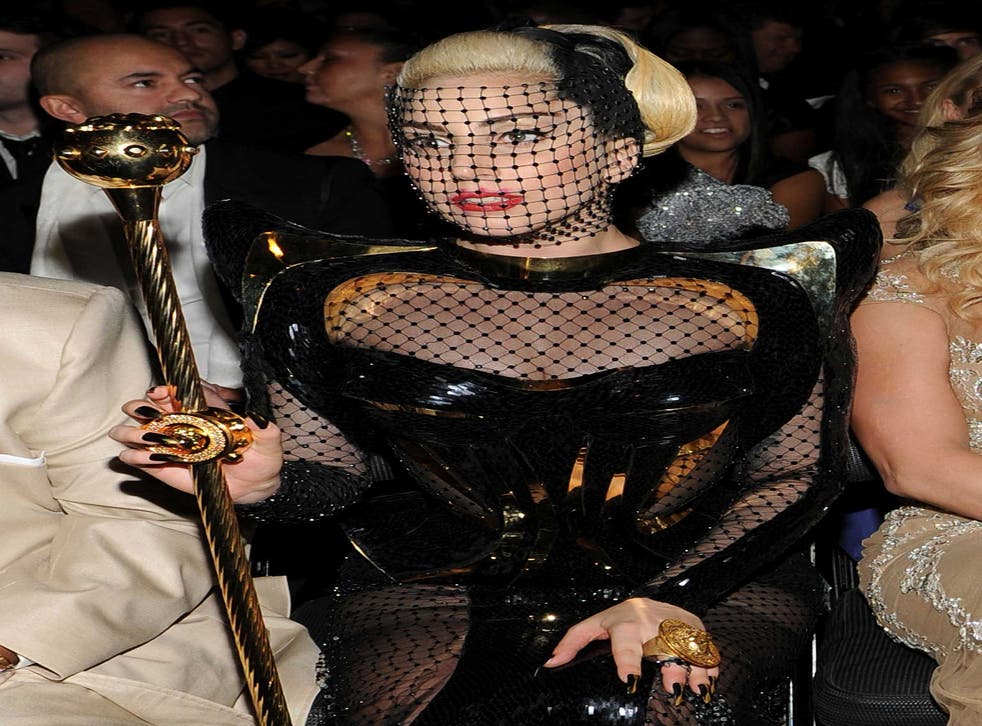 The changing face of Versace: Lady Gaga is face of fashion label for Spring 2014
The fashion giant is going Gaga, Alexander Fury reveals today. So what do these two giant brands see in each other?
"What do you wanna wear this spring? / What do you think is the new thing?" Lady Gaga asks in her song "Donatella", dedicated to Donatella Versace, the lead designer of the Italian fashion house that bears her name.
Today, she answers her own question: the superstar singer has been unveiled as the face of the spring 2014 Versace campaign, photographed by Mert Alas and Marcus Piggot.
The Independent was given the first look at the images set to grace glossy magazines from January. If the label inside is Versace, then presumably this spring the answer is chain mail, hyper-short skirts and metallic Medusa head medallions the size of a fist.
When The Independent spoke to Versace before her recent show, she said this collection was about "The girl on the street", but " Gaga on the street" feels more accurate.
"I am honoured that my friend Lady Gaga is the face of our new Versace campaign," Donatella said. "I wanted to capture her true beauty and spirit in images that are elegant and alluring. She is like family to me, the embodiment of the Versace DNA."
For keen Gaga observers, the clues were already there. For her recent outing on NBC's Saturday Night Live in the US, Gaga wore custom costumes created by the Italian fashion house.
Unlike many celebrity endorsements, Lady Gaga for Versace feels perfectly attuned. It's not just that the singer and Donatella have been spotted wearing near-identical Versace outfits and matching manes of peroxide-blonde – a look Gaga maintains for her campaign debut, where she appears as a veritable Donatella doppelgänger.
Gaga also wore archive Versace for her 2011 "Edge of Glory" video, which has since racked up 76 million views on YouTube. That's a demographic to make heads spin. Tapping Gaga makes economic sense.
There's also, inevitably, the question of whether this is a step to a further collaboration with the house. Earlier this year, Versace teamed with the British rapper M.I.A. to design a range for its lower-priced sister line, Versus. A similar Gaga/Versace collaboration feels less like a question mark and more like a question of time.
After all, the singer already has her own in-house fashion label, Haus of Gaga, creating bespoke frocks. Granted, they're only worn by the Lady herself, for now. But the appetite for Gaga-associated product is insatiable, especially in fashion.
In February 2010 Gaga was a high-profile addition to the catwalk of the Parisian fashion house Mugler, a label whose then-creative director, Nicola Formichetti, was also the musician's stylist. Despite her latest album's title, Artpop, and her arty pretensions, it's that fusion of pop music and fashion, rather than art, that Lady Gaga is arguably best known for.
Her 2010 video for "Telephone" was seen by many as the zenith – or nadir – of celebrity endorsement. It includes product placement shots for the likes of Virgin Mobile (which sponsored her 2009-11 " The Monster Ball" concert tour), Monster Inc (the creator of Gaga's own branded Heartbeats headphones) and Polaroid (which named Gaga creative director and began working with her on a line of speciality products named the "Grey Line").
Foremost among the Polaroid products are the GL20 sunglasses, containing an embedded digital camera, a clever fusion of fashion and image-making. Which is what Gaga is really all about.
The Versace campaign appears to make perfect sense. Gaga has already featured on the cover of pretty much every fashion magazine – her latest being the October 2013 cover of US Elle – so the transition to the advertising pages inside is the next natural step.
She's also been tapping fashion image-makers to help refine and define her look. Stylist Nicola Formichetti was the first (he's now creative director of the fashion company Diesel), who brought in image-makers Nick Knight and Hedi Slimane, the latter working as a photographer alongside his role as designer of the Saint Laurent fashion house.
They created the cover art for her albums Born This Way and The Fame Monster, respectively, alongside shooting advertising campaigns for Hermes, Giorgio Armani and – of course – Saint Laurent. Her Artpop image was devised by the Dutch fashion photographers Inez van Lamsweerde and Vinoodh Matadin, whose commercial rates are reputed to be the highest in fashion.
It's Gaga's ties to the fashion industry that make her such a viable Versace campaign star. She may have her own fragrance – as does everyone from Jennifer Lopez to One Direction – but in her case photographer Steven Klein created the imagery. Her concerts are as much about what she wears as what she sings. And the high-concept, high fashion outfits she sports on a daily basis – from designers including Louis Vuitton, Comme Des Garçons and, of late, plenty of Versace – are at least as famous as her songs. More people know she wore a dress made of meat than can name half-a-dozen album tracks, despite her millions in sales.
Lady Gaga's constant visual reinvention is just one reason she's often touted as a natural successor to Madonna – much to Madge's chagrin. The material girl may have beaten her into second place to top the Forbes list of 2013's highest-earning musicians, but now Gaga has taken her Versace mantle. Madonna starred in the brand's campaigns back in 1995, and again for spring/summer 2005. Her fee for the latter was reportedly a cool $10.5m (£6.5m), plus free Versace clothing for two years.
There is no official word on Lady Gaga's financial involvement in the campaign. But despite her affection for the brand, she certainly won't have done it for love. Lady Gaga means business. Big business. And it isn't restricted to recording contracts.
Video: Lady Gaga touches down in Japan
Join our new commenting forum
Join thought-provoking conversations, follow other Independent readers and see their replies