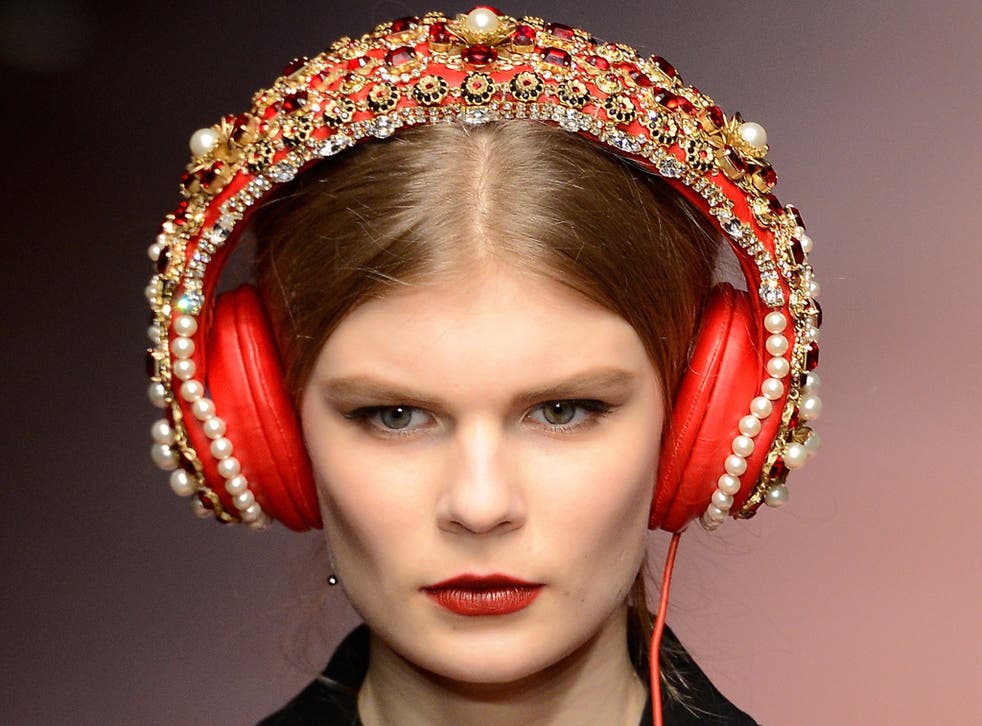 Dolce & Gabbana's embellished headphones can be yours for $7,000
The luxurious earbuds, made in collaboration with Frends, are ready to pre-order online now - only if you have some extra cash to spend
Dolce & Gabbana has made the swankiest earbuds to date in collaboration with Frends; and they can be yours for the staggering price of $7,000 (approx. £4,600).
The fashion house's recent autumn/winter 2015 show during Milan Fashion Week was inspired by the Italian matriarch, otherwise known as la mamma, celebrating Mother's Day a bit earlier this year. But not only that, it also celebrated the pleasure of listening to music by taking it to the next level.
The headphones worn by the models are made of leather and are fully covered in the brand's signature jewellery, embellished with materials like pearls, gold chains, Swarovski crystals and velvet across the earpieces and bridge.
Definitely not your average pair of headphones.
They were initially thought to be catwalk collaboration only, but tech brand Frends has confirmed that two of the original catwalk versions have officially landed on American online retailer Moda Operandi and are ready to pre-order for expected delivery between July and October.
Retailed at $7,095 (approx. £4,700) these are about 35 times more expensive than Frend's popular Taylor style, which is currently priced at around £150.
These are also much more that what you'd pay for a D&G handbag, with some of its most luxurious designs priced at around £1,000.
The two headphone designs available to buy for that staggering price are a bejewelled red-leather style and a green-leather version.
Since Frends was founded in 2006 by a young group of pro snowboarders it quickly made its minimalist designs a favourite in the fashion world. But by collaborating with the king of bling and superfancy, it has taken its fashion forward spirit to a whole new level.
However, this is not the first time luxe headphones have gone from the catwalk to the shopping bag. Last season Chanel's autumn/winter 2014 show also introduced quilted headphones in partnership with tech company Monster. They were sold for $5,000 in the US and reportedly for £4,170 in the UK.
Still, Dolce & Gabbana's headphones take the prize. Although unconfirmed, these might be the world's most expensive earbuds - and the most blinged out ones too.
Oh well, la dolce vita.
Join our new commenting forum
Join thought-provoking conversations, follow other Independent readers and see their replies