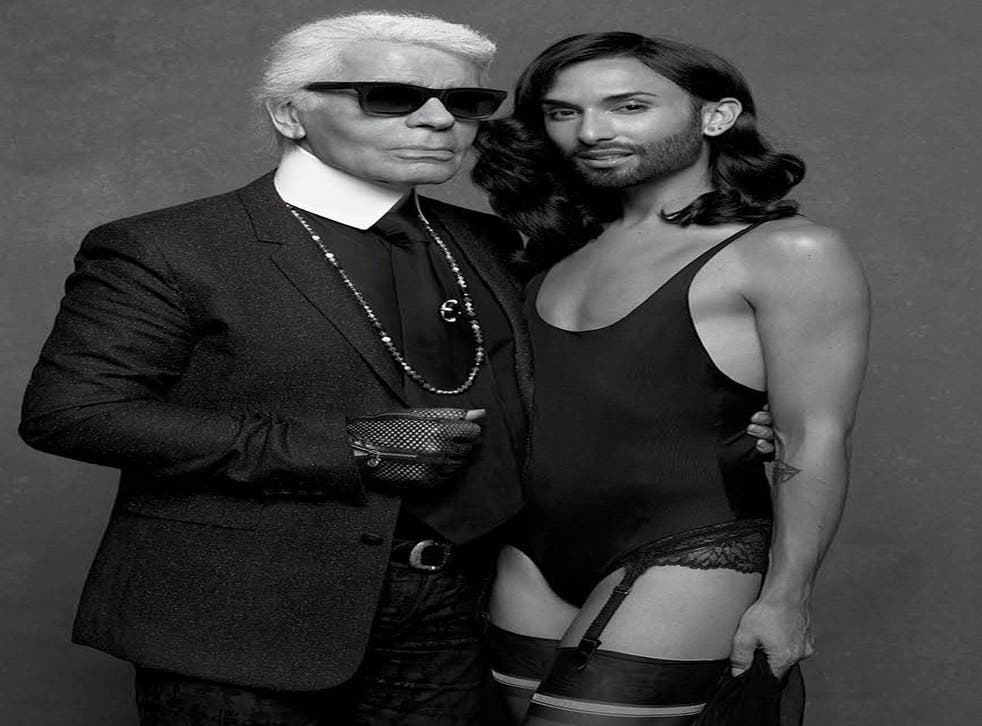 Karl Lagerfeld shoots Eurovision winner Conchita Wurst in suspenders for CR Fashion Book
The Austrian drag queen is shot alongside top model Ashleigh Good for CR Fashion Book magazine
Karl Lagerfeld shot a series of portraits for an editorial entitled "The New Normal" featuring Austrian singer Conchita Wurst and pregnant model Ashleigh Good.
The legendary creative director of Chanel, Fendi and his own label shot the drag queen sensation for CR Fashion Book, the fashion magazine of his friend and former Vogue Paris editor Carine Roitfeld.
Wurst poses in new-season Givenchy, Prada, Chanel and Rick Owens with a perfectly groomed brunette hair and his trademark beard. In one photo he appears wearing suspenders alongside top model Ashleigh Good.
Good is a favourite of the German fashion designer, she modelled the closing look at Chanel's haute couture show which took place in Paris last month.
Karl Lagerfeld said: "I like Conchita because not only does he really have a voice but he has done something that's never been done before.
"We have all heard of "bearded ladies" but no one has ever seen a bearded man posing as a lady... This brings new meaning to the term 'drag'"
Talking about the photoshoot, he said: "A skinny musician next to a pregnant top model, it was a game of volumes."
Carine Roitfeld added: "It wasn't as easy as I had imagined… it was a sensitive subject, but Karl's talent in photographing with a classical style gave more strength to Conchita's character."
25-year-old Wurst, whose real name is Tom Neuwirth, made his catwalk debut last month, when he closed Jean Paul Gaultier's autumn/winter haute couture show in Paris. Gaultier usually saves that spot for the collection's show piece design – the wedding dress however this season Wurst took the bride's place wearing a black dress.
The iconic designer bowed at her feet in a theatrical appreciation. "I always say that beauty is difference and Conchita has shown us all that she is unstoppable. And she looks great in couture; she is a real couture woman," Gaultier told The Independent post-show.
In the publication's feature, Wurst said: "I created Conchita as the goal of a very long… well, actually, it's the story of my life. I grew up in a small Austrian village, a quite conservative one, and I was the weird little boy always dressing as a girl."
"[Being transgender] is very serious business; it's a life within itself, so you mustn't confuse the two. I always get the question, why the beard? And I think the beard, for me, has so many reasons and so many meanings, but at the end of the day, I want to show that you can achieve anything, that you can have a beautiful life with an kind of look, because the way you look isn't the most important thing in life. It doesn't matter."
Conchita Wurst: From Austria's X Factor to Eurovision glory

Show all 10
Last week another shoot from the new issue of CR Fashion Book was released, which featured 13-month-old Kim Kardashian and Kanye West's daughter, North West. The baby was pictured wearing Chanel with a headline on the page that read "The Future".
Another recent photoshoot from the publication saw models wearing the bizarre Chinese summer accessory of facekini.
Join our new commenting forum
Join thought-provoking conversations, follow other Independent readers and see their replies