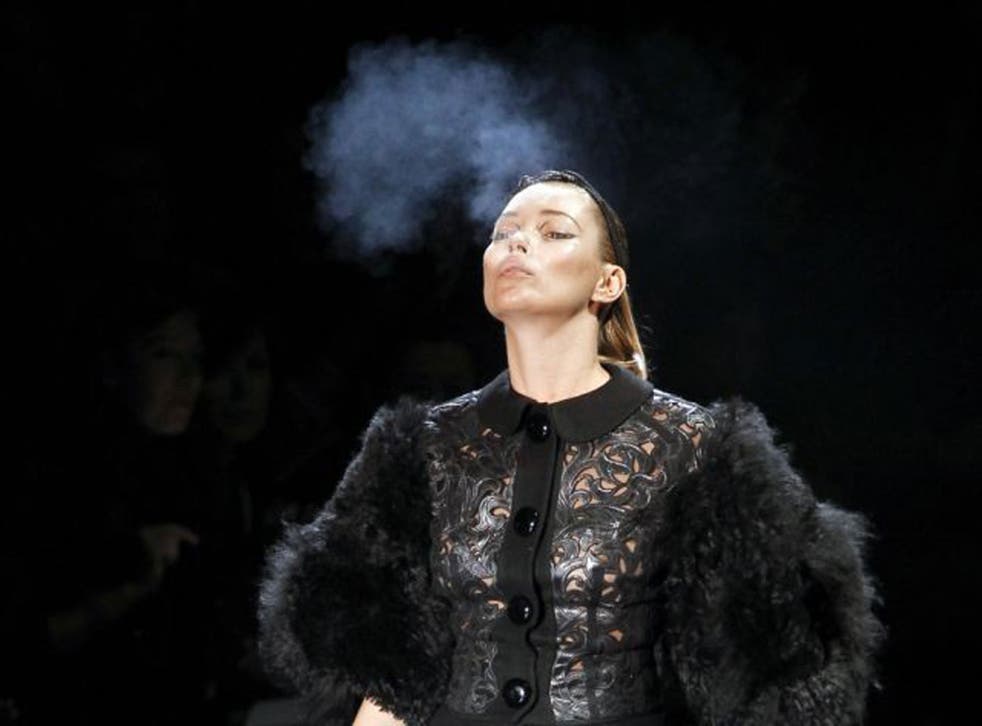 Fabulous at 40: Kate Moss's finest fashion hits
Kate Moss turns 40 today, and is still treading the boards for designers from A(lexander McQueen) to Z. Well, to Louis Vuitton, at least. Alexander Fury celebrates the life and career of the fashion's longest-lasting catwalker.
Kate Moss has cast the net of her career far and wide – she's posed for Playboy, designed clothes, she's danced in pop videos, sung on records, played tambourine for Oasis and was appointed contributing fashion editor for British Vogue last autumn. She turns forty today, and her first Vogue shoot behind – rather than in front of – the camera, is slated to appear later this year.
Nevertheless, her day job is still to model, and a model's natural habitat is on the catwalk. Moss has been responsible for more than her fair share of catwalk moments over her career – a 25-year career, for which she received a Special Recognition accolade at December's British Fashion Awards.
Moss's catwalk appearances today are few and far between: she will still strut for her friends, like designer Marc Jacobs. He was enlisted to present Moss with her British Fashion Award, and has coaxed the supermodel back into the limelight for no less than three Louis Vuitton catwalk shows. Prior to this, she appeared as an ethereal hologram for her friend Lee Alexander McQueen in 2006 and in the flesh for Christopher Bailey's spring 2004 Burberry Prorsum show, whose campaign she also fronted.
She's always been a hot catwalk commodity - despite clocking in at just 5ft 7in, at least three inches shorter than other models. That height disparity has led to memorable instances, such as the spring/summer 1997 Chanel ready-to-wear show where, while other models trotted out in kitten-heels, Kate was given platforms.
Her last full catwalk season was in 2001, when Moss showcased designs for Tom Ford's debut for Yves Saint Laurent Rive Gauche, Luella Bartley's last show in London, and the fledgling but achingly-cool designer Nicolas Ghesquiere's cultish Balenciaga Le Dix (as it was then-monikered) in Paris.
In pictures: Kate Moss' Catwalk Greatest Hits

Show all 14
Moss's catwalk heyday was, of course, the 1990s, when she was trotted out – literally – as the poster-child for "Cool Britannia". When her friends Lee McQueen and John Galliano invaded Paris to take over the houses of Dior and Givenchy, closely followed by Stella McCartney's appointment to Chloe, Kate was right alongside, on their catwalks and in their ad campaigns.
Moss had supported them all before, first walking McQueen's spring/summer 1997 show in London, modelling in Stella McCartney's Central Saint Martins graduation show, and eschewing her fees in favour of clothes to model for John Galliano when the designer was penniless and sleeping on friend's floors. She took a freebie turn in an expansive crinoline stiffened with telephone wire for Galliano's spring 1994 show, Princess Lucretia. Twenty years later, Marc Jacobs sent her out in a feather-embroidered Louis Vuitton negligee. What other model can boast that breadth of career?
What is the secret of Kate Moss' enduring success and catwalk appeal? Her friend, the casting agent Jess Hallett, hits the nail on the head: "She is very beautiful and an incredible model and an inspiration. She is never lazy when it comes to work… She is fun to be around and loves her job. She definitely is the most photogenic person I have ever met."
Join our new commenting forum
Join thought-provoking conversations, follow other Independent readers and see their replies