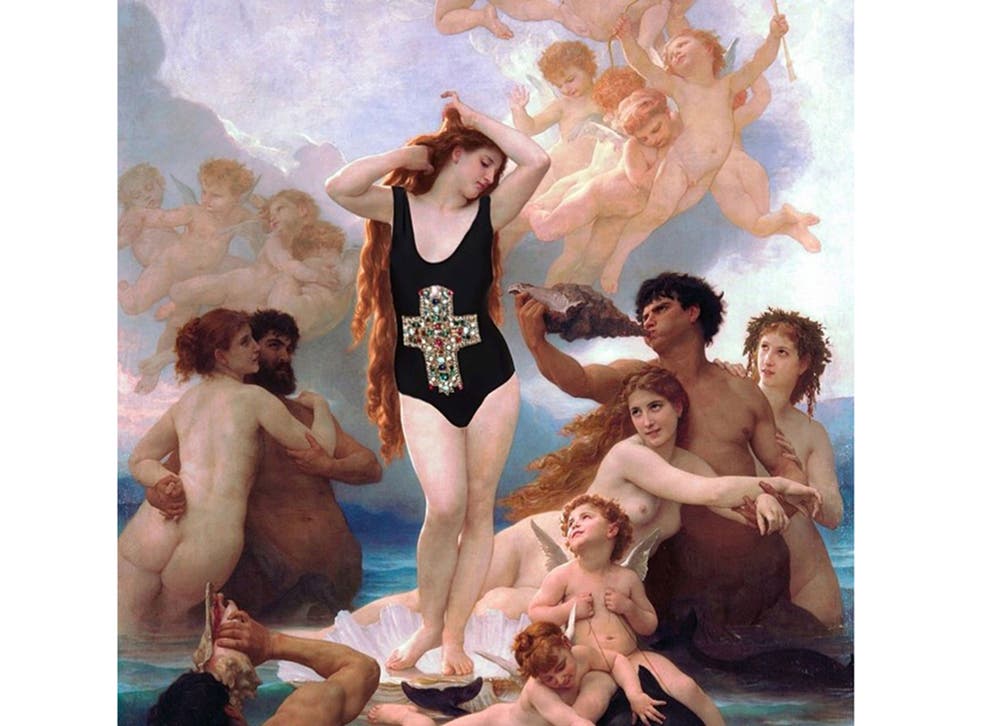 Fashion student embellishes iconic historical art with designer trending accessories
Fashion intern recreates the iconic paintings with luxury fashion, turning Girl With a Pearl Earring into Girl With a Chanel Earring
Social media has been treated with a creative and artistic album of images that feature the most iconic paintings and luxury fashion.
Chris Rellas, a 19-year-old American student and intern at the fashion website Nasty Gal, started an Instagram account about two months ago called Copylab. In it, he combines art and style - picture Jesus Christ carrying a Hermes wallet or Frida Kahlo wearing round mirrored sunglasses.
He's attracted the fashion world's attention by embellishing images of famous historical art with designer accessories and logos. For example, Johannes Vermeer's 1665 Girl With a Pearl Earring has been modified into what he entitled Girl With a Chanel Earring; and Juan de Juanes' 1560 The Last Supper was modified into "He broke the Hermes, gave it to his disciples and said…".
Fashion photobombs in art history

Show all 11
For another twist, Mr Rellas has taken a propaganda image of the late North Korean dictator Kim Jong-il and made it look as he's wearing last-season Prada coat.
Rellas explains that he uses Photoshop and Lightroom "from time to time" to edit the photos. "I'm basically in a long term relationship with the Adobe programs," he told The Independent.
Talking about his inspiration in opening the account, Rellas said: "I started Copy Lab because I was tired of hearing people say that fashion was meaningless. Most people respect fine art but look down on clothing designers, but I've always seen a huge connect between the two.
"Of course, I also think art needs to be approached with a sense of humor, so that's a big component. I never take anything too seriously!"
Join our new commenting forum
Join thought-provoking conversations, follow other Independent readers and see their replies