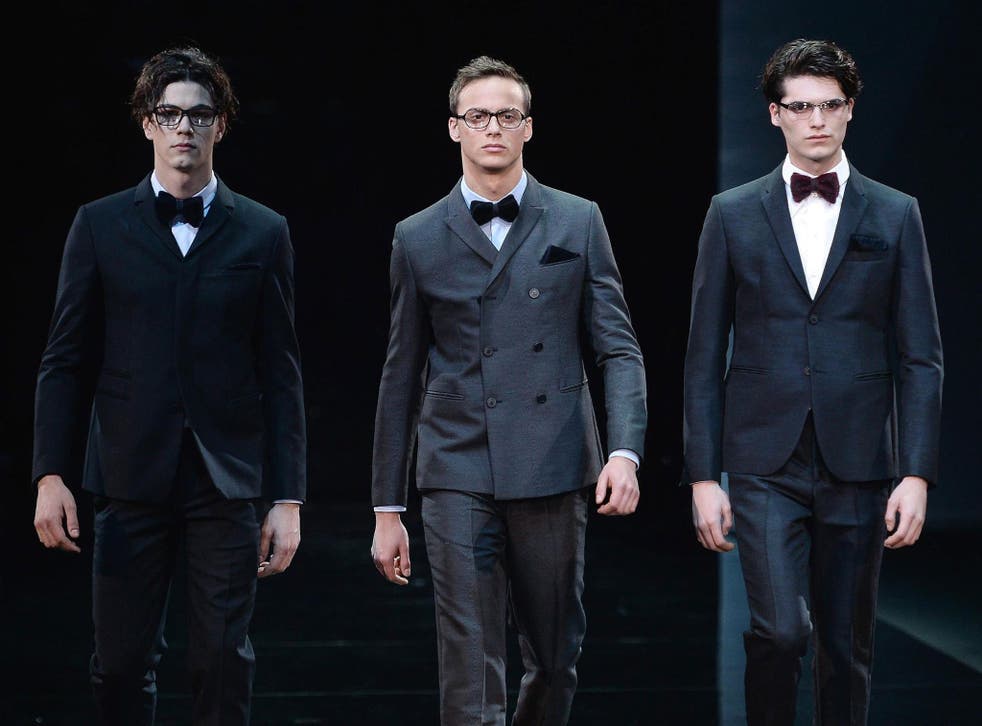 Gucci and Emporio Armani at Milan Fashion Week: Italian classics have men reaching for their wallets, not iPhones
The twenty-first century habit of instantly recording a show and broadcasting the results across social media is damaging to fashion - but some designers aren't playing ball
The pen may be mightier than the sword, but for a new breed of fashion watchers, the iPhone is mightiest of all. Those are what gets whipped out of bags and held aloft at a twenty-first century fashion show, instantly recording and broadcasting the results across social media. Analysis? Who cares? Just get that stuff out there, and let's move onto the next.
It's something that's damaging to fashion, this lack of depth and of thought. It's also demanding showier clothing and flashier presentations, and many, many more of them. The international menswear weeks now overlap with the Parisian haute couture presentations, which commence in just under a week. The women's pre-Fall collections show concurrently. It's all a bit of a mess.
It also means that some clothing gets overlooked, or overshadowed. The klieg lights that Gucci has used since the mid-nineties days of Tom Ford illuminated the clothes superbly for the audience to note the subtle textures of casentino wool and finely-grained leather. But it makes snapping pictures for Instagram next-to impossible. That isn't something a designer could care about, but a few of the groans were audible.
Frida Giannini, however, eschewed some of the internet theatrics she's engaged with in the past and put her attention squarely into designing beautiful, beautifully-made clothing. It was all deceptively simple, clinging fine knits, leather cut into shirts in camel or baby-blue denim shades, and also drainpipe black jeans worn beneath wool pea-coats and peaked caps. Black closed the show, but the gentlemanly pastels - pistachio, that NHS blue and every shade of beige - made the greatest impact.
Giorgio Armani is a master of spectacle. His clothes may be muted, but the might of the Armani empire is awe-inspiring: his cavernous headquarters in Via Bergognone, a modernist temple of polished concrete and mile-high atriums, gives Mussolini's Stazione di Milano Centrale a run for its monumental money. It's where Mr Armani stages his fashion shows - two during each menswear week and four during womenswear, more than any other Italian house. This season, the monolithic stones of Armani HQ could have been inspiration for the clothes shown for his Emporio Armani line, a muted malatte of pulverised rock-tones (his words, not mine) with mottled moire effects. There was a also a hefty dose of fur - faux, mostly, as fronts to knits sweaters, and wool treated to resemble astrakhan.
Again, this Emporio collection had the kind of subtlety (and spotlighting) that doesn't exactly get the heart of the legions of dot-com fashion watchers pounding. But it does make many a well-suited and booted man reach for his wallet. Giorgio Armani turns eighty this year, and next year marks the fortieth anniversary of his eponymous company. The urge to acquire, not to Instagram, is what allows you to build an empire of that magnitude and success.
Join our new commenting forum
Join thought-provoking conversations, follow other Independent readers and see their replies