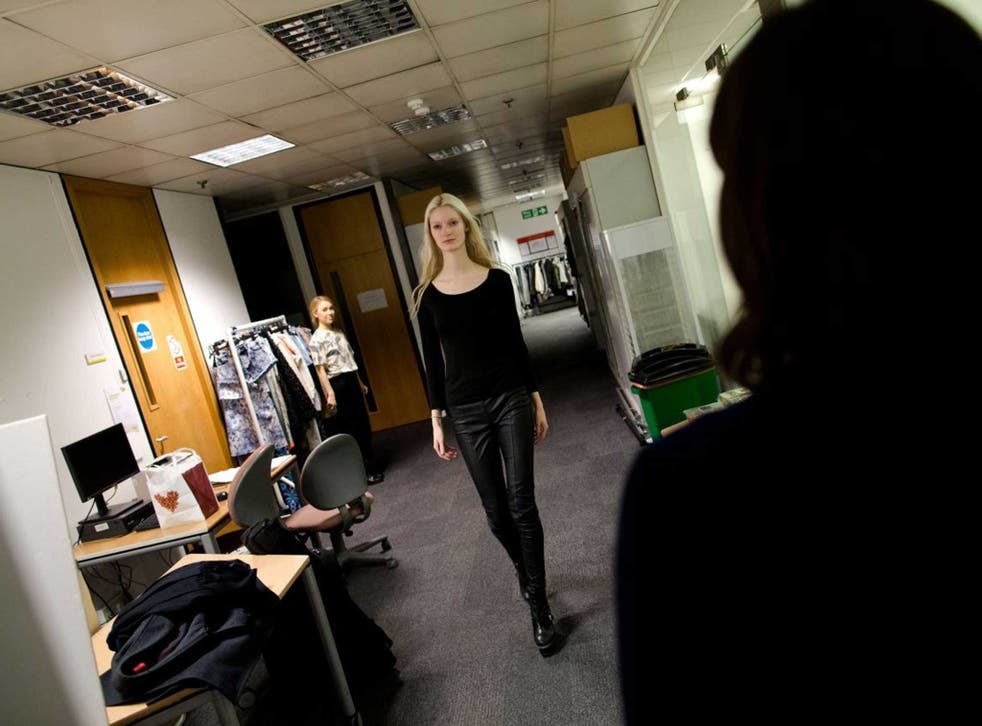 How Topshop's runway shows became a must-see success
Rebecca Gonsalves is ready to watch as London Fashion Week's finest strut their stuff
It's the third day of London Fashion Week, and while new collections from Richard Nicoll, Mary Katrantzou and Jonathan Saunders are must-sees on the schedule, so too is the Topshop Unique catwalk show, which will take place in the Turbine Hall of Tate Modern this afternoon. The brand caused something of a furore when it first made its way on to the schedule in 2005, being the first high-street label to feature. But Topshop has won a hard-fought battle to be taken seriously as an investor in young talent.
In the early Noughties Topshop was "going through a repositioning strategy", said Sheena Sauvaire, its chief marketing officer.
"There was a conscious decision to look at the industry and how we could support it in a real, tangible way." In 2002, Topshop began sponsoring the British Fashion Council's Newgen initiative, through which emerging designers are given financial support to both produce and show their collections – an undertaking that can cost fledgling designers thousands of pounds they don't have.
"Topshop's a very young, youthful brand," said Ms Sauvaire. It felt that the high street's support for new designers was important. In 2003, Topshop also began sponsoring Fashion East, a not-for-profit initiative that acts as something of an unofficial feeder between London's famous fashion colleges and the Newgen scheme.
Working with these enterprises led to Topshop building strong relationships with the young talent that its core customers might be inspired by but are unable to afford – and so a scheme of designer collaborations was born. "We thought we could partner designers, and they could design for us, producing collections that are going to resonate with our customers. We can provide a platform through our many, many stores to raise their brand awareness, as well as helping them with the cost of producing their own-label collections," Ms Sauvaire said.
Numerous Topshop collections, including those of Christopher Kane, Meadham Kirchhoff, J W Anderson and Jonathan Saunders have been snapped up, proving the efficacy of the model – and satisfying demand from customers.
As the brand relationships grew, Topshop began to be seen as a credible force for good rather than a commercial interloper. When it made its debut on the LFW schedule in September 2005, some wondered "Why bother?" But as Ms Sauvaire explained: "There's long been a perception that the high street just rips off designers. We felt it important to show our premium collection at the same time as other designers, and demonstrate what we know in terms of fashion and design."
A season later it established its own venue for Newgen designers, and graduates from that scheme, for their shows. It's become the second venue to the British Fashion Council's official tents, and by choosing a public space this season the entire process of putting on a fashion show is open to a new audience.
Consideration is key to Topshop's approach – increasingly a brand with international clout (it recently announced plans for a flagship store on New York's Madison Avenue to rival London's Oxford Circus branch with its footfall of 30,000 a day) – it takes a very respectful approach to its relationships with designers. The fact that "those young British designers are growing up and doing serious business" makes Kate Phelan, Topshop's creative director and an editor at British Vogue, immensely proud.
She believes that Topshop's progression mirrors the evolution of London Fashion Week as a whole. The events, once closed to all but industry insiders, are now beamed around the world via Instagram and Twitter, while many brands live-stream their shows. Technology has been a huge enabler in the democratisation of fashion. Topshop's hook-ups with Facebook, Google+ and Chirp, a lesser known network, all allow interactivity with the audience; today's show will be played via virtual reality headsets in the Oxford Circus store.
Emma Farrow, head of design, has been involved with Unique since its early days, when the first off-schedule show took place in the basement of the flagship London store, featuring models such as Erin Wasson and Jessica Stam.
Ms Farrow, whose collection for autumn/winter nods to a "coolest girl in school" look with a mature twist that its premium pricing demands, said: "It's incredible when I stop to think about how the same channels just weren't open then."
"We understand the value of being in the company of great designers," Ms Phelan said, a sentiment echoed by Sir Philip Green, chief executive of Topshop's parent group, Arcadia. "There is definitely a sense that everybody is engaged in trying to develop young talent," Sir Philip said. "Each year it's increasingly obvious that the industry is getting behind Londoners, something we've tried to support."
Interestingly for a brand that turns 50 this year and has redefined the high street offering in that time, Sir Philip said a theory of "evolution not revolution" is at the heart of the brand which looks to the future rather than the past.
Join our new commenting forum
Join thought-provoking conversations, follow other Independent readers and see their replies