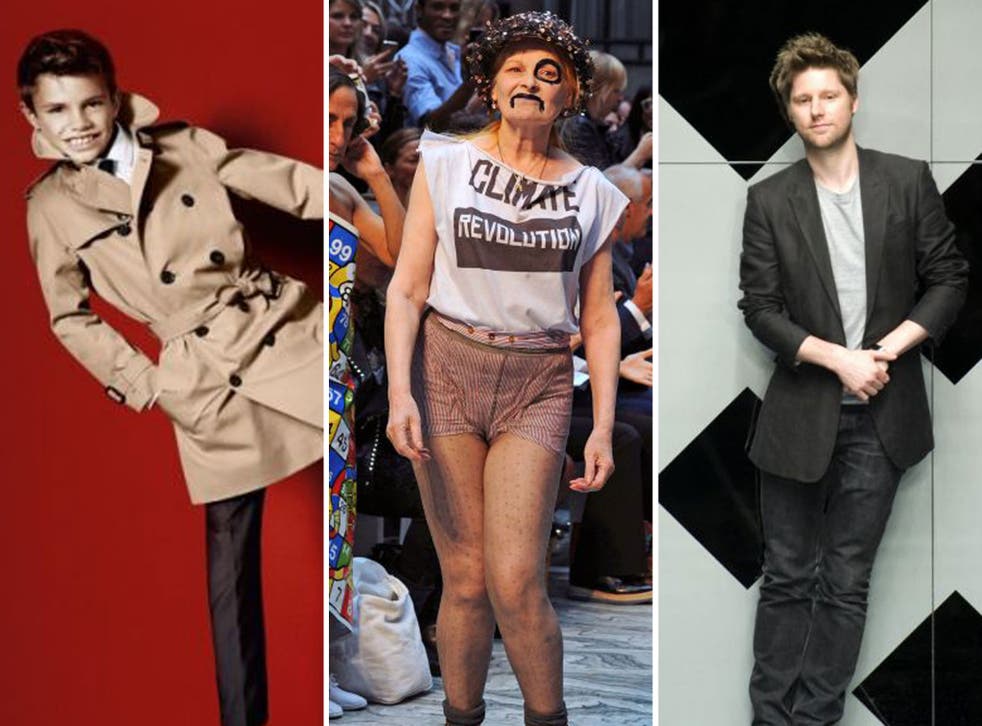 Let's hear it for the boys, London
A fashion event for men only is long overdue, says Style Editor Harriet Walker
Until this week, followers of men's fashion in London have had little to get them through the bleak winter other than Christmas ties and novelty socks.
No more, however, for the cavalry is coming. From tomorrow, the capital will be awash with designers, buyers and beautiful people as the inaugural winter edition of London Collections: Men gets under way.
Vivienne Westwood, Hackett and Burberry (complete, if rumours are true, with a cameo appearance at a breakfast event tomorrow from child model Romeo Beckham) are among 60 designers who between them, will stage over 30 shows, while labels such as Tom Ford and Alexander McQueen have been tempted from overseas.
Up until recently, men's fashion was relegated to a single day, tacked on to the end of the female-dominated London Fashion Week, while other couture capitals like Paris and Milan hosted dedicated, separate events for the hairier sex. As a result, many menswear buyers spent their budgets elsewhere and often didn't even come to the UK, leaving British designers struggling to sell enough on the lucrative international market.
But with British menswear undergoing something of a renaissance of late – from street-smart casualwear by labels such as Oliver Spencer and YMC, which have risen through the ranks from boutique to brand, to more traditionally worked Savile Row tailoring from Hardy Amies and Spencer Hart – the industry decided to act.
Last June, it held a trial run in the form of London Collections: Men, which was widely hailed as a success and encouraged organisers to be more ambitious with this week's inaugural winter event.
"All of us involved in the first London Collections: Men were overwhelmed by the response in June," says Dylan Jones, editor of GQ and chairman of the British Fashion Council's menswear committee. "We're looking forward to it being bigger and better than last time."
This week's schedule also includes a high-end catwalk range from Topman Design, as well as hip offerings from much-lauded punk knitwear label Sibling, who last season presented a onesie decorated with intricately woven scenes from the London riots.
Stacey Smith is the menswear buyer for boutique and online store Matches, and will spend this week on the lookout for new talents and trends. "The inaugural men's collections were widely characterised as the most dynamic, energetic and youthful of the menswear capitals," she agrees. "But that belies the considered, elegant and entirely wearable collections that we saw from Christopher Kane and Richard Nicoll, among others."
Both designers initially found fame making women's clothing, but have since adapted their signature styles for men due to commercial demand. Kane, 30, found that his trademark galaxy print T-shirts were being bought by more and more men, and so developed a dedicated line.
It's a far cry from the nu-rave neons and cartoonish caricatures that latterly characterised London menswear. With the capital already boasting a roll-call of young designers who have made names for themselves in womenswear, it's little wonder that this week's programme is a full and glamorous one.
"We've proven ourselves true contenders to our European counterparts," says Stacey Smith. "The homecoming of Alexander McQueen is testament to the fact that London deserves to be taken seriously."
Join our new commenting forum
Join thought-provoking conversations, follow other Independent readers and see their replies