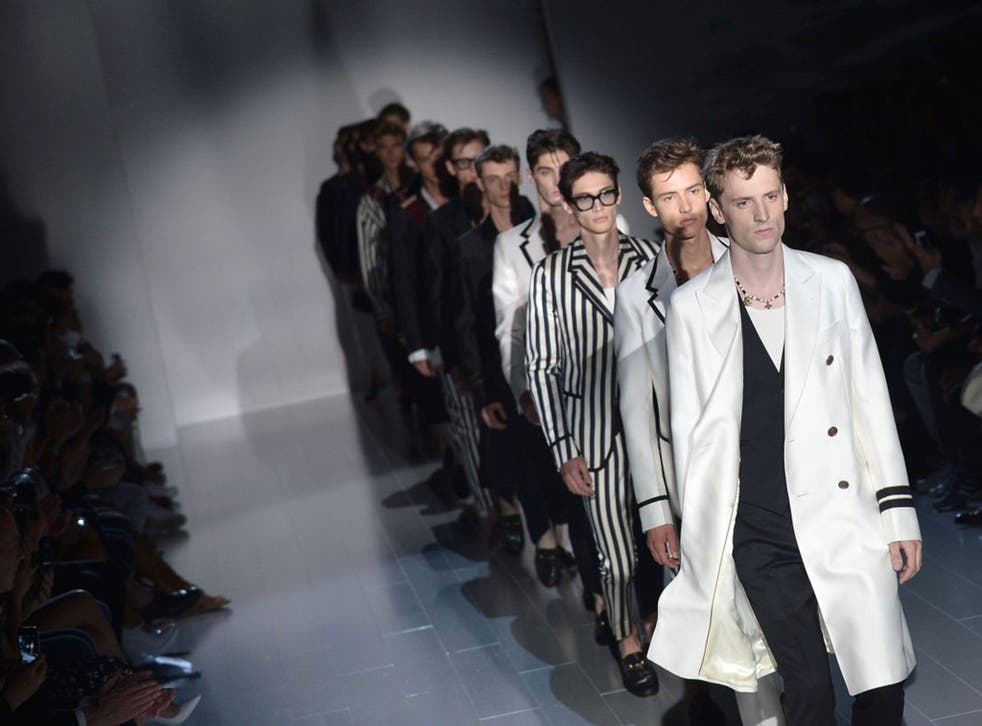 Menswear sans frontiers: The best of spring/summer 2015 fashion shows
The best designers of the spring/summer 2015 collections broke down the borders of location and season to produce compelling clothes for men which had a global outlook and international relevance. Style is the new lingua franca
London, Milan, Paris. Once upon a time, those labels had a magical, transmogrifying ring to them. They were a fashion imprimatur, an assurance of a certain quality, class and price. If you bought the clothes, those labels said, you would have a more impressive life.
But what kind of life? Each of those labels promised something different. Milan meant bare-chested machismo, Paris slick, suave sophistication. London was the trickiest, standing for Saville Row and Seditionaries simultaneously – stuffy establishment and destructive rebel rolled together.
Today, those pigeonholes, and hence those cities, didn't count anymore, certainly when it comes to menswear. They simply serve to cleave up the season into manageable chunks, making digestion easier and faster.
Fashion has become homogenised: everyone is chasing the same elusive luxury customer, and is appealing to him through the lowest common denominator. Look at the number of staid brands making a quiet killing by dispensing by-the-rote suiting in expensive Italian wools, or the number of labels churning out barely-designed "luxury" sportswear, sweatshirts adorned with a funny print or an odd slogan. Neither are challenging, nor interesting.
Interesting menswear falls between those extremes of two-piece suit and shellsuit. It was the stuff that was harder to swallow that made for compelling viewing – the iconoclasts, the renegades, the designers trying to buck the system from the inside. Geography has never mattered to them. Miuccia Prada shows her second line in Paris; Raf Simons has presented in Florence, and showed for six years in Milan under Jil Sander; JW Anderson's eponymous menswear has a home in London, but he unveiled his first collection for Loewe in Paris on Friday.
Menswear spring/summer 2015 collections

Show all 9
Regional identities don't matter. The clothes do. "I don't feel Italian," said Donatella Versace, unexpectedly, before her Cuban-inspired menswear show last Saturday night. "I am Italian, I was born here, but I'm a citizen of the world. I don't want to just stay here in Italy… yes, Italian roots are very important. But borders are less, less, less important for me."
You may question why I group Versace – one of the oldest and most established houses in Milan – into that rebel camp. It's because what Donatella Versace is doing is challenging. Most evidently she's challenging, with her tongue firmly in cheek, the hetero-normative attire of the modern male. She isn't afraid of camp, of the extreme, of pink crêpe-de-chine for him (her collection's opening suit was made of it).
And guess what? Men are responding. Versace's men's category accounts for 46 per cent of total sales, that last year reached some £307m, up 20 per cent from 2011. Those sales have rocketed since Donatella began showing these idiosyncratic, utterly individual collections.
It's a message one wishes would get through to buyers – who, it must be said, are the ones so often guilty of dumbing down designers' aesthetic to the point of banality. That's a shame, because what fashion consumers are looking for is an identity – perhaps they're informed and cultured and want to buy into the identity of the best designers in the world. Or perhaps they're just looking for someone else's identity, to help define their identity. That's quite teenage – after all, the band on your T-shirt is what defines your identity in those formative years.
Perhaps men really never grow up. Raf Simons doesn't. That's the joy in what he does. After collaborating with the artist Sterling Ruby for winter, this season Simons brought it back to an innately personal space. A shirt even featured a photographic patch bearing the designer's own portrait as a young man, while the bricolage of seemingly disparate elements all related to Simons's past. There were echoes of his work for both his eponymous line, and under the Jil Sander and Dior labels. Sailor collars were looks explored at Sander; the definition of the waist on longer-line jackets whispered at Dior. But, ultimately, both are tied up with the singular identity of Simons himself. And Simons is the best menswear designer in the world.
The best shows of spring/summer 2015 defied not only geography but season, offering a pure distillation of a designer's vision first and foremost. Did Craig Green's rib-quilted jackets and flapping, strap-festooned trousers feel especially summery? No. But they were an arresting, brave, compelling idea stated with complete confidence. The same is true of Miuccia Prada, who probably also has her eye on the ultimate commercial prize. She has a global outlook – and it ain't spring/summer everywhere. Besides, given the compression of the seasonal cycle, this Prada menswear collection will begin to hit shops in November, along with the women's pre-spring clothing she showed alongside it.
If we hark back to identity, this collection was dubbed "Prada Classics" by the designer (with a large 'C'). This implies Miuccia Prada's ownership of the Seventies-infused shapes rather than classicism to the clothes themselves, although they leant towards the plain and unadorned, stripping back the theatrics and prints that have infused much of fashion (including Prada's own). Miuccia Prada wants real men to really wear this. The company is opening 50 standalone men's stores across the world, to prove just that.
This was a rich, fruitful season for menswear. It sated and satisfied. Yet, it's difficult to tie up in a neat, editorially concise bundle – how can you relate JW Anderson's stack-soled loafers and tapestry tabards to Rick Owens's apocalyptic reimagining of Nijinsky's L'Après-Midi d'un Faun, or Kim Jones's cyclamen and saffron-infused Seventies raj at Louis Vuitton, winking with LV-logoed mirror embroideries. You simply can't. The only constant seemed to be a cropped, slim trouser, probably shown without socks, if you'd like to make a note for your shopping list. As a connective tissue, that's pretty flimsy. Which is a good thing. That's because the really exciting happening was the diversity of vision. Every designer was an island, for spring/summer 2015.
Join our new commenting forum
Join thought-provoking conversations, follow other Independent readers and see their replies