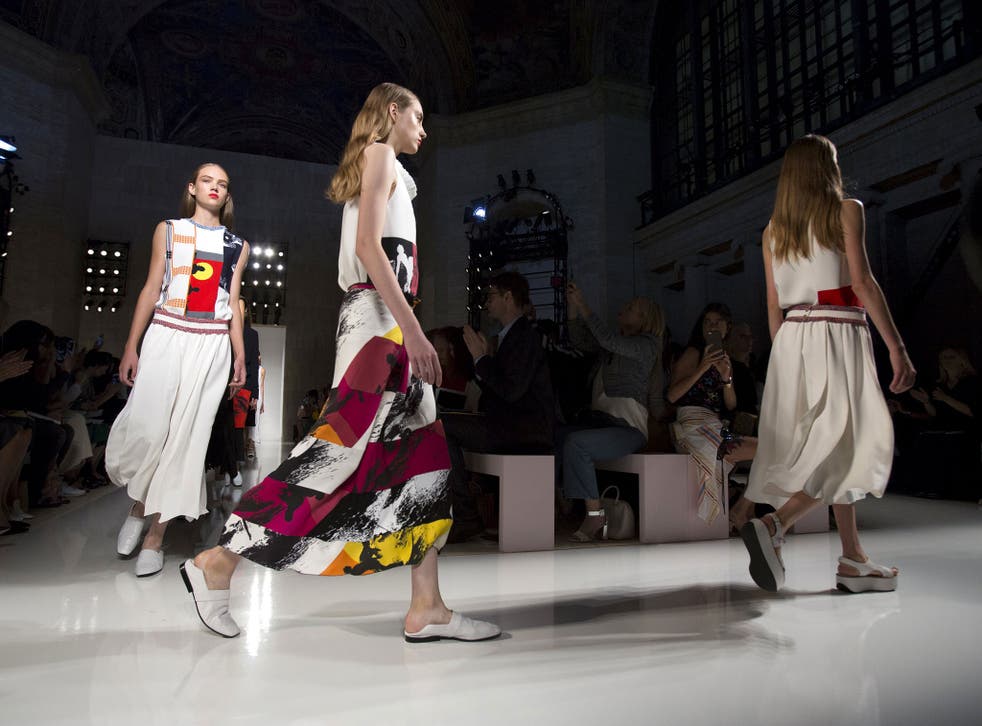 New York Fashion Week: Victoria Beckham soaks up her sources to produce a canny cocktail of a collection
Beckham and Alexander Wang offered something at once familiar, but different
Like every fashion editor worth his or her knicker elastic, I've spent most of the past three days with iPhone clenched insweaty hand fitfully trying to snap at interminably perambulating objects - namely clothes, on models. It's mostly an aide-memoire - that crocodile coat you may forget amongst the creased linens of Altuzarra, the booty-call ensemble of oversized trench over satin night-gown at Alexander Wang. Part of it is simply because it's what everyone does. It's become the routine, the job of a fashion critic to pump out imagery and pithy comments across social media platforms like visual canapés, appetisers of the reviews to come.
This season, I've had trouble getting anything to come into focus. Blame the lighting, or my jet-lagged eyes, but it feels like a metaphor for a New York fashion week that, despite a surfeit of shows, and the major new player of Riccardo Tisci's Givenchy, has resolutely failed to snap into 20:20. There's a sensibility of sex, manifest literally in limp camisole dresses at Wang and Givenchy, more abstracted in the crumpled, rumpled, roll-in-the-hay bunched-up pencil skirts and blouses of Altuzarra. The colour palette has been fleshy, too. And there have been a few grandiose back-slapping statements to celebrate milestones; Tisci's ten years, and Wang's first decade.
Both wound up going back to what they know - Givenchy in a literal sense, Wang metaphorically. He staged his show in his tradition Pier 94 venue, against a video screen, with an audience thronged with celebrities, closing it with a massive party. That's all very Wang. And the clothes themselves were riffs on the everyday, on the stuff Wang does well, which is to forgot high concept, and even high fashion, and just offer clothes. Clothes, in French, is 'Vetements'. There's a label that takes quite the same approach to that I just mentioned, and whose designs are highly reminiscent of the ones Wang offered, like chopped-up and reconfigured jeans and recycled leather jackets. This collection felt recycled. So did Tisci's Givenchy anniversary. It's a little disheartening - disturbing, even - to see designers borne so ceaselessly back into their own past. They're resting on their laurels. Or perhaps, someone else's.
Designer double-speak is tough to call out. There's a whole chicken and the egg situation: Vetements, designed by Demna Gvasalia, is itself drawing heavily on the work of Martin Margiela. There are even dashes of Gaultier in there - he trained Margiela, remember, and once transformed a tea-strainer into an earring and a tin-can into a bracelet (and then perfume packaging).
So who owns what in this recycling cycle? Nevertheless, I suspect it's leafing through current editorials packed with Vetements' vêtements (it's too tricky to trademark the word with accent intact, apparently, hence the discrepancy) as opposed to the Margiela originals, that triggered Wang's looks this time around. Wang tends to look around him, like a magpie, picking up debris of his times (stuff on the street, including other designers' work) and weaving them together like a magpie fashions its nest.
New York Fashion Week Spring/Summer 2016

Show all 25
Then, discard - flee the nest for the next. The approach has enabled him to forge a healthy business: Wang's is one of America's leading young fashion brands, with revenues topping $100m (around £65m). He's the one others aspire to emulate. But, creatively, the approach has relegated Wang to the role of follower. That's a tough assessment, but fair.
Credit where its due: Wang's collection wasn't difficult to get, and won't be difficult to wear, and therefore to sell. It felt like you saw everything but the kitchen sink - although a toilet-tank chain did double duty as earrings, or trussed around spherical handbags that wound up looking like odd BDSM accoutrements. Maybe it's back to sex again? Or at least desire, which is what emanated from bags with hardware clanging audibly above the thumping music.
Desire brings us, inevitably, to Victoria Beckham. Because her work is all about that. "I'm like a sponge," she earnestly stated to me. Meaning she soaks stuff up. When you wring her out, the juices of various different sources have mingled together to make a cocktail at once familiar, but different, just like Wang's.
It has its benefits and its drawbacks - sometimes it leaves a taste of other designers' work in your mouth - but Beckham herself seemed more relaxed about the whole thing this time around. She's on her fifteenth collection - she isn't celebrating the milestone, but she did mention it pre-show - so perhaps she feels she has nothing left to prove? "Carefree" was the word she used a few times to describe her collection, as well as "liberated".
There was plenty of carefree colour, and print, and wide-cut trapeze-ish dresses that left your body pretty liberated (unless you wore the correct supporting garments), none of which you readily associate with her clothing, or herself. Beckham was in all-black when we met but, she insists, she'd wear this collection, dedicated to urban surfers with hefty lugalong sacks shaped like decapitated boogie boards. Light was another word she used, which came across most obviously in a white-focussed palette, but more interestingly in the fabrics, like a bouncy gingham, whose nubby weave made it feel like a super-luxurious dishcloth.
In part, Beckham's sponging came from travels across the world, realising that both the climate and attitude in places like Miami demanded different things of designers. They elicit different desires. Sounds obvious, but plenty of designers miss that. Beckham is canny - she not only tries on all the clothes, but she lives her customers' lifestyle too. At least, the customers buying lots of clothes from her. The rich ones, the ones who are carefree and liberated. With their money.
Join our new commenting forum
Join thought-provoking conversations, follow other Independent readers and see their replies