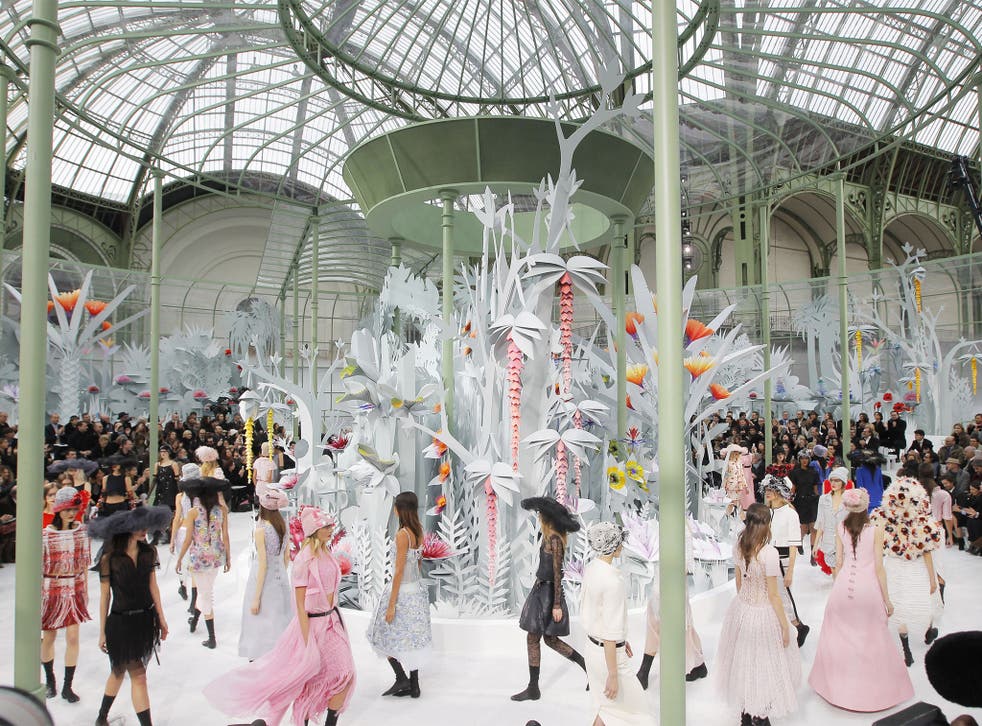 Paris Fashion Week 2015: Chanel works its magic in Karl Lagerfeld hothouse
Wide-brimmed Merry Widow sun hats, atop outfits in hothouse shades of delphinium blue, geranium and brilliant rhododendron cerise, and a fresh version of the house classic tweed two-piece
Coco, Coco, how does your garden grow? With exponential speed, when Karl Lagerfeld is involved. Or maybe that's down to the greenhouse effect – hence the "magical" blooming of a garden (albeit a cardboard one) in a constructed conservatory in the Grand Palais, Paris.
Chanel is the mightiest house showing haute couture in Paris this week: there are only a handful, granted. Nevertheless, with its ownership of specialist craftspeople – from the embroiderers Montex and Lesage to the button-maker Maison Desrues and Lemarié the plumassier (feather-er, in cod-Anglais) – under an umbrella lovingly dubbed "Par Affection", Chanel is the granddaddy, the majordommo. Lagerfeld can strut proudly around his show venue to rapturous applause, chest puffed, like the cock of the walk.
It was a swagger of supreme confidence: Chanel refuses to release figures numerating the value of its various business areas, but the beauty branch alone is reputed to make over £1bn annually. Word is that its haute couture is one of the few (or possibly the only one) to make a profit (the margins on the hand-crafted haute couture are, roughly, one per cent, if you're lucky).
Spring/Summer 2015 haute couture shows

Show all 25
There was plenty to satisfy Chanel clients, with Lagerfeld crowning models with wide-brimmed Merry Widow sun hats, atop outfits in hothouse shades of delphinium blue, geranium and brilliant rhododendron cerise. Those colours came in riffs on the house classic, the tweed two-piece, this time with a rounded shoulder and, perhaps, a cropped jacket to show a slither of midriff.
Evening was beaded blooms, glazed linen sequins, feathers sprouting from models' shoulders, a bride as walking bower of white jasmine flanked by Mellors-type gardeners in Chanel espadrilles.
It was effortlessly throw out. It wasn't about taking Chanel anywhere new – nor fashion, florals being a cliché. But who wants new, when the old is working so well? Kind of like the octogenarian Lagerfeld himself, whose job security is never in doubt.
Join our new commenting forum
Join thought-provoking conversations, follow other Independent readers and see their replies