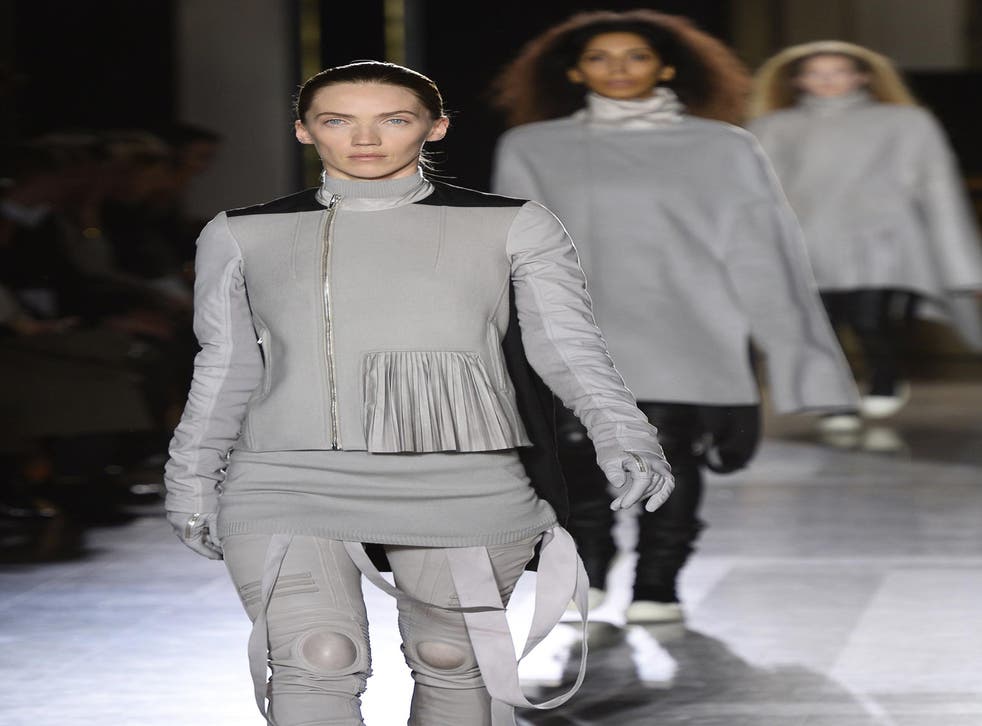 Paris Fashion Week: Alexander Wang finds his feet while Rick Owens steps up his pace
Now in his third season at Balenciaga, American designer Alexander Wang may still be finding his feet but the ground beneath them appears to be firm. This collection was sports-luxe, emphasis on the luxe – some looks were paired with industrial wire-handled bags in leather, crocodile and fur. Add croc gloves with a built-in wallet and the Balenciaga customer will have no need to worry about where to store their spare change – not that there will be much of it.
The opening looks seemed like Wang's take on the Russian-inspired mood of the season. Models in fur-hooded wool coats kept their hands in built-in muffs of woven plastic. Outerwear featured heavily, and was of a utilitarian bent. Cable-knit wool was coated in bright latex; robe-like coats were belted with asymmetric double-layered collars.
The drama that surrounded Wang's appointment seems to have quieted down. The designer is now starting to show the confidence needed to make the brand his own.
Ann Demeulemeester this season was designed not by its Belgian founder, but a team of four – Demeulemeester left last November. The clothes were mostly black, and beautiful in their way: deconstructed trenches were worn over leather leggings and slimline tailoring; dresses featured twisted details that were handled well. The few non-black looks were of a pink-tinged white. The sense of drama that Demeulemeester brought to her shows was pared back.
In pictures: Paris Fashion Week autumn/winter 2014

Show all 20
After using a troupe of "steppers" dancing in aggressive unison last season, Rick Owens returned to a more recognisable format. Nevertheless the parade of street-cast models – appearing again and again in the same looks, coupled with a heavy bass line – made for a disorientating experience. The clothes were classic Owens, leather and wool draped around the body, legs clad in leather thigh-high boots with plimsoll soles. Shades of putty, black, oxblood and chocolate leather, wool and duchesse satin are hallmarks of his glamorous grunge take on the avant garde.
Owens may not be well known outside fashion circles, but anyone passing an All Saints will be familiar with a watered-down version of his aesthetic. However, it is powerful collections like these that explain the reverence with which those in the know speak his name.
Join our new commenting forum
Join thought-provoking conversations, follow other Independent readers and see their replies