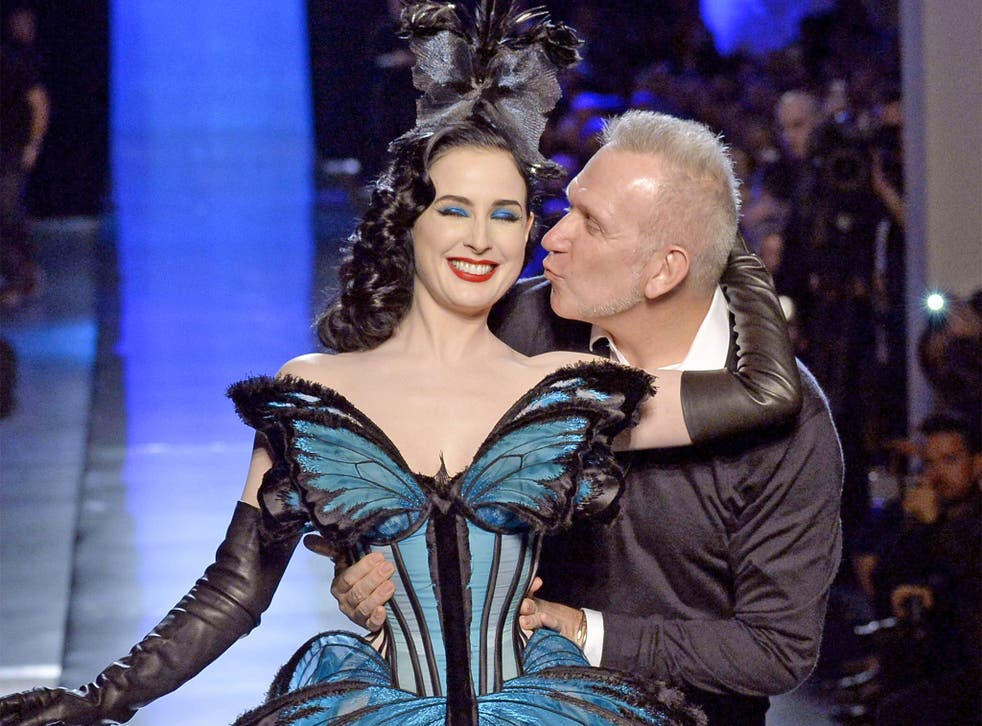 Paris Fashion Week: Jean Paul Gaultier tries to transmogrify haute couture at spring/summer 2014 show
You felt you were witnessing a trite, tired form in its death throes
Lightness and movement have been key motifs of the spring/summer 2014 haute couture collections in Paris, and today Jean Paul Gaultier provided his idiosyncratic take on the themes. Rather than Chanel's sports-influenced running shoes or Dior's airy, aerated fabrics, Gaultier took lightness and movement quite literally. What's lighter and more mobile that a butterfly? There's one box ticked.
It was the process of powering that inspiration into the 21st century that seemed tricky chez Gaultier. He shows in an old music hall, which possibly ignited the collection's second parallel, paradoxical theme: showgirl. "She's a butterfly in the day, and a showgirl at night," said a press attaché, without a flicker of irony.
Transmogrification is an interesting theme for haute couture – especially given the plastic surgery evident in the front row – but Gaultier's hand was heavy. Leaden, even. The technique in his clothes was formidable, sometimes so great as to rescue them from the overriding, overpowering and overwrought themes. Simple black crepe dresses sliced open at the shoulders to form winged sleeves were chic. And, when pushed to the zenith of decoration, even some of that Crazy Horse showgirl shtick stuck, although not when it came to the towering Ziegfeld headpieces.
In pictures: Jean Paul Gaultier - Haute Couture Spring-Summer 2014 collection show

Show all 5
By the time Dita Von Teese darted out in a corset with butterfly markings, you felt you were witnessing not the fluttering birth of new life but a trite, tired form of couture in its death throes. Where was the modernity? What was new?
Join our new commenting forum
Join thought-provoking conversations, follow other Independent readers and see their replies