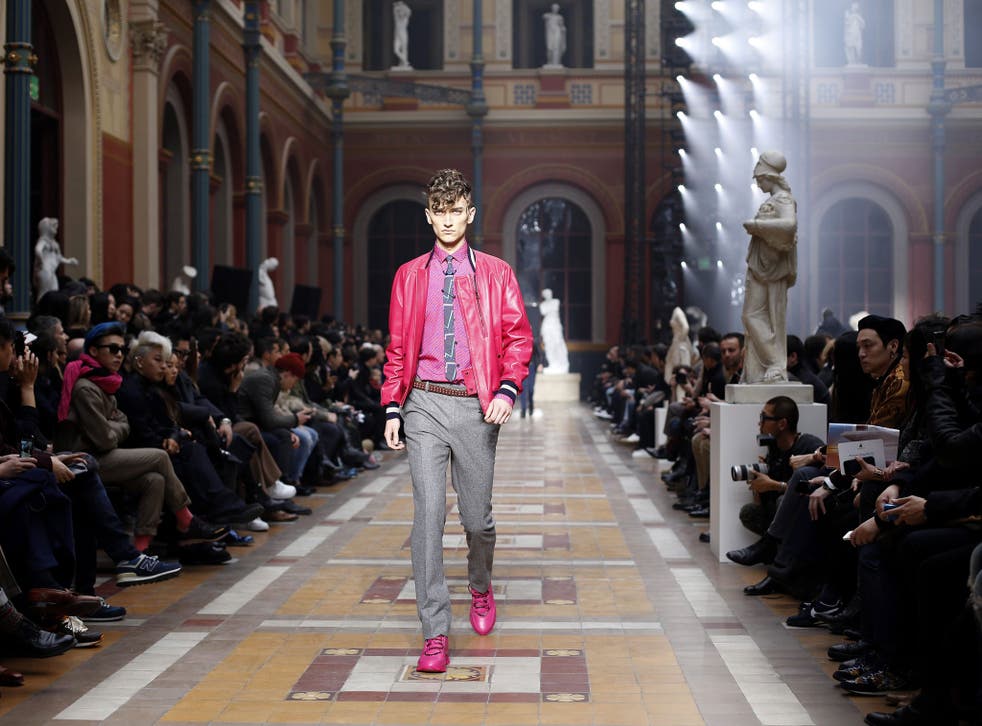 Paris menswear: Lanvin goes back to the Eighties
Fashion's all about evolution and revolution. Particularly in the pursuit of the new, and youthful. The Lanvin autumn/winter 2014 collection was both: at least, on paper. The styles referenced eighties new-wave, skinny models with partially-shaved hairstyles marching out in acid-bright varsity-jackets, skinny ties and giant trainers like characters from a Bret Easton Ellis novel.
All very, very young, and very new, for Lanvin - a look much more in the vein of Hedi Slimane's Saint Laurent. Which was the issue. The tourniquet-tight tailored suits and slender sports separates looked pinched, in every sense of the term. They also seemed antithetical to the gentleness that Lanvin's twenty-first century incarnation has made a leitmotif. That is tied up in the identity of Lanvin artistic director Alber Elbaz - a man of a certain age and a certain size - and of Lucas Ossendrijver, gangly head of menswear. Taking their joint bow at the end of their menswear shows, you're constantly struck by the resemblance to British comedy duo Little and Large.
However it underscores the universal appeal of the clothes, hat every body can look good in Lanvin - from Elbaz to the Arsenal football team (to whom the house are official tailors). By contrast this collection's barrow focus on narrow tailoring felt restrictive.
Hedi Slimane's Saint Laurent is the current reference point for every other designer. Maybe it's the much mythologised sales figures? Or maybe it's because Saint Laurent is doing something different to every other house. Namely, eschewing overarching themes or narrative, and just making clothes.
Lanvin 2014-2015 fashion collection

Show all 6
That approach leads to variety, but also disparity. There's no cohesive conceptual backbone to Slimane's approach. He gave us a pamphlet featuring the graphic work of New York punk artist Raymond Pettibon. What was it's relevance to the clothes? Hard to say. There were no obviously derivative prints or motifs, although there was a vague feel of a cool New Yorkite in a narrow suit and herringbone trench sometime between 1960 and yesterday.
It still looked good. But ultimately, Slimane's aesthetic is an indication of the staticity of masculine style. Antithetical to fashion's seasonal swing-about. But it still looked good.
Join our new commenting forum
Join thought-provoking conversations, follow other Independent readers and see their replies