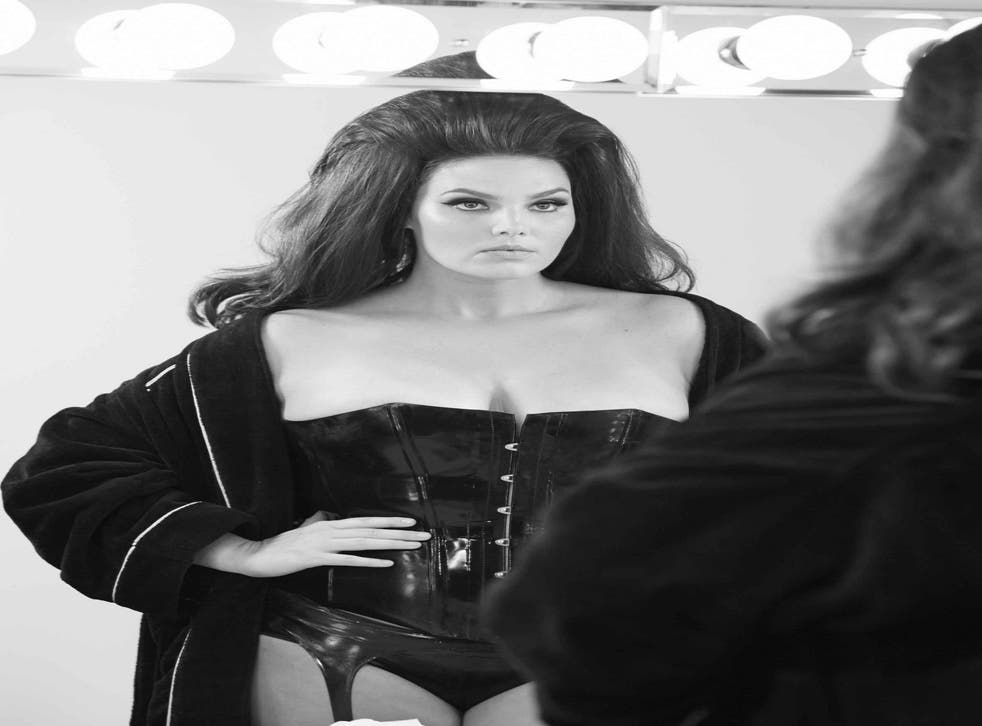 Pirelli calendar 2015: First plus-size model Candice Huffine is featured alongside Adriana Lima and Natalia Vodianova in a fetish-themed shoot
The calendar was styled by Carine Roitfeld and shot by Steven Meisel in New York
The Pirelli Calendar 2015 has launched today in Milan, unveiling its first ever plus-size model Candice Huffine, alongside 11 other supermodels, clad in latex for a fetish-themed shoot styled by Carine Roitfeld and photographed by Steven Meisel.
The 30-year-old American model has been on the rise in recent years with appearances on publications like Vogue Italia and V Magazine, and campaigns for department stores worldwide such as Marks and Spencer and Nordstrom.
Now she's made her debut as the first official plus-size model to be featured in the calendar. She said: "Pirelli is an exciting piece of art in fashion that comes out only once a year. I've always looked up to it, not to actually be part of it but to stand among these incredible women.
"It was the ultimate experience for me… I couldn't have thought of a better first time for Pirelli for me."
Regardless, Huffine says of her size 16 figure, that it's never been a "thing". "The idea of my size or weight has never come up in the casting process or even the thought process."
To which British supermodel and musician Karen Elson (Miss September), 35, added: "This calendar is about women being women. We're all very different women here. I'm 35, almost 36, two children... It's a celebration of women, not necessarily about their size because we all come in a lot of shapes and sizes."
The 12 models vary in age, nationality, experience, shape and lifestyle. In order of the months they feature, they are: Adriana Lima, Natalia Vodianova, Joan Smalls, Candice Huffine, Carolyn Murphy, Anna Ewers, Cameron Russell, Sasha Luss, Karen Elson, Isabeli Fontana, Gigi Hadid and Raquel Zimmerman.
The celebrated fashion photographer Meisel brought together an impressive roster of supermodels in this year's calendar which is titled Calendar Girls 2015.
The shoot is styled by Roitfeld, who is former editor of Vogue Paris and founder of CR Fashion Book, with makeup by renowned makeup artist Pat McGrath.
Also making her Pirelli Calendar debut is the up-and-coming American model Gigi Hadid, whom at 19 has seen a rise on her career this year. She's the youngest of the Calendar's stars, reason why she describes herself as the "little sister".
"When I first saw the outfit I thought of a catwoman but then it turned into a superwoman, a superwoman behind her layer while my eyes are showing that confidence," Hadid told The Independent.
Whilst most of the models went topless and revealed a bit more skin, Hadid appears wearing a black plastic corset with defined waist. She explained: "Carine understood the girls she would work with.
"I think she knew that if she covers me up more I would be able to bring a sexier side because I don't have the confidence as yet."
Alongside Hadid, Russian model Sasha Luss, 22, also made her Pirelli debut, in a sailor outfit with a fifties vibe. "I'm very, very happy [with the result]. I look so beautiful. I mean come on, look at my face [on the shot], look at the big smile," she told The Independent.
Many of the models have had experience posing for the calendar previously and count themselves very lucky to be back. Brazilian beauty Isabelli Fontana, who also walks the Victoria's Secret show regularly, has been a Pirelli girl for six years and this is her seventh time to pose for the Calendar.
Backstage images from the Pirelli calendar 2015 shoot

Show all 10
"It's always an honour to be part of the calendar," she told The Independent.
"It's never the same. I always look totally different and this one [pointing at the 2015 calendar] is unbelieveable. Steven is an artist and I'm very happy to be one of his girls."
But besides the models, it's also the debut for the creative team behind it, Roitfeld and Meisel. "This calendar was a first for Steven and me. For both of us, it was an amazing experience. If you are in the fashion industry, working for the Pirelli Calendar is something you dream may one day happen to you," said Roitfeld.
Also talking about incorporating latex in every single shot embracing everything fetish, stylist Roitfeld said: "As a material, latex is a recurrent element in the shots: it's beautiful it's versatile, and it has a sheen that makes it alluring.
"All of them [the models] knew that Steven would be able to transform them, to make them stunningly beautiful, to portray nudity with no trace of vulgarity."
Launched in 1964, Pirelli Calendar 2015 is the 42th edition, which was the first experience to many of those taking part in it and in which photographer Meisel joins the likes of Richard Avedon, Mario Testino, Nick Knight, Bruce Weber, Patrick Demarchelier and Annie Leibovitz.
Join our new commenting forum
Join thought-provoking conversations, follow other Independent readers and see their replies