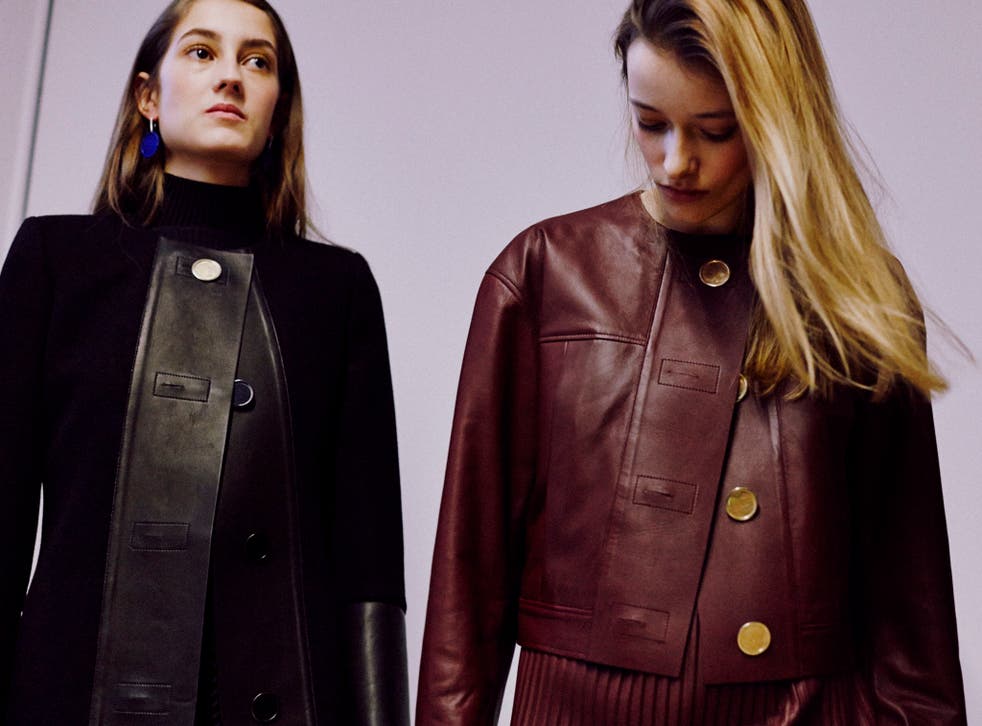 The quiet ones: Silent clothes that don't need to shout to be heard
The cacophony of different trends this season is enough to make your head spin - but there are plenty of calm collections too
This season, there are more trends than you can shake a fringed, whipstitched denim and suede stick at, or so it seems. And while designers collectively saying "You want it? You got it!" is definitely a very good thing, it also means that the competing concepts create something of a cacophony.
But fret not: while jazzy, razzle-dazzle designs may steal the show, there is respite, too, as some of the quietest, most considered designs are also the most covetable. Even the most ardent of sun-lovers understands the cool bliss of a shaded room on a scorching day, and sartorially speaking, that sense of blessed relief comes from minimal, modern and mannish clothing.
Of course, the vogue for all things pared back isn't new. The Phoebe Philo effect is well documented, as both her own wardrobe and her designs for Céline have inspired women (and men) everywhere to make an impact by paring things back, while the clean and serene white and green of Stan Smith trainers are ubiquitous to the point of cliché among fashionable folk. But perhaps it's precisely that sense of longevity that makes understated dressing so appealing.This is slow-release satisfaction compared with the sickly sugar rush of the statement pieces of the season.
"Stylish and timeless" is how Claire Miles, the head of The Shop at Bluebird, London, would describe the aesthetic. Interestingly, "integrity" is another word that comes to her mind. It's unsurprising that this way of dressing has infiltrated the modern woman's working wardrobe. Prioritising comfort and ease without sacrificing style exudes a sense of confidence, control and calm authority that can't be achieved when trussed up in a skirt suit. "The traditional ideas of office-appropriate wear are adapting and relaxing," Miles says. And as flat shoes, loose fits and fluid fabrics are becoming increasingly de rigueur for the nine-to-five grind, they're also breaking out of those confines. Socialising in what you wore to the office used to be a real bugbear, but now you're just as likely to wear the same trousers or sleeveless coat for a night on the tiles as for a big meeting.
Even the red carpet – that last bastion of girls-will-be-goddesses glamour and fairy-tale froth – isn't immune to the charms of a more relaxed, masculine take on dressing: a Le Smoking-inspired suit remains shorthand for serious thesp.
Successful brands have always been able to balance catwalk-worthy creations with the quiet commercial success of pre-collections, but this isn't just about who excels at those traditionally palate-cleansing pieces. While such items were once regarded as the fillers that keep the killer catwalk pieces coming, they have now been thrust into the spotlight in an unprecedented way, as brands build on those classic yet desirable sensibilities.
"We've introduced Zoe Jordan for the first time this season and have had a great reaction to her pared-back aesthetic," Miles says. The Shop at Bluebird is also set to become one of the first stockists of Catherine Quin later this summer. This new Los Angeles-based label offers a collection built entirely of all-black pieces which, while simple, are beautifully cut.
Rhian Grimstead, the senior womenswear buyer at Liberty, rhapsodises about The Row, the eye-wateringly expensive line from the Olsen sisters, for its "drape, fluidity and handle that is second to none. Understated by nature, they use the finest fabrics on the market."
Stripped back as the aesthetic may be, there's nothing boring about these designs; instead of speaking for you, their silence means that you don't need to shout to be heard. And it's not just confined to clothing: Mansur Gavriel's simple, functional yet refined Anti-It Bags are a runaway success, and with barely-there branding to boot.
And perhaps therein lies the appeal – these are designs that focus on what you're saying rather than what, or whom, you're wearing.
Join our new commenting forum
Join thought-provoking conversations, follow other Independent readers and see their replies