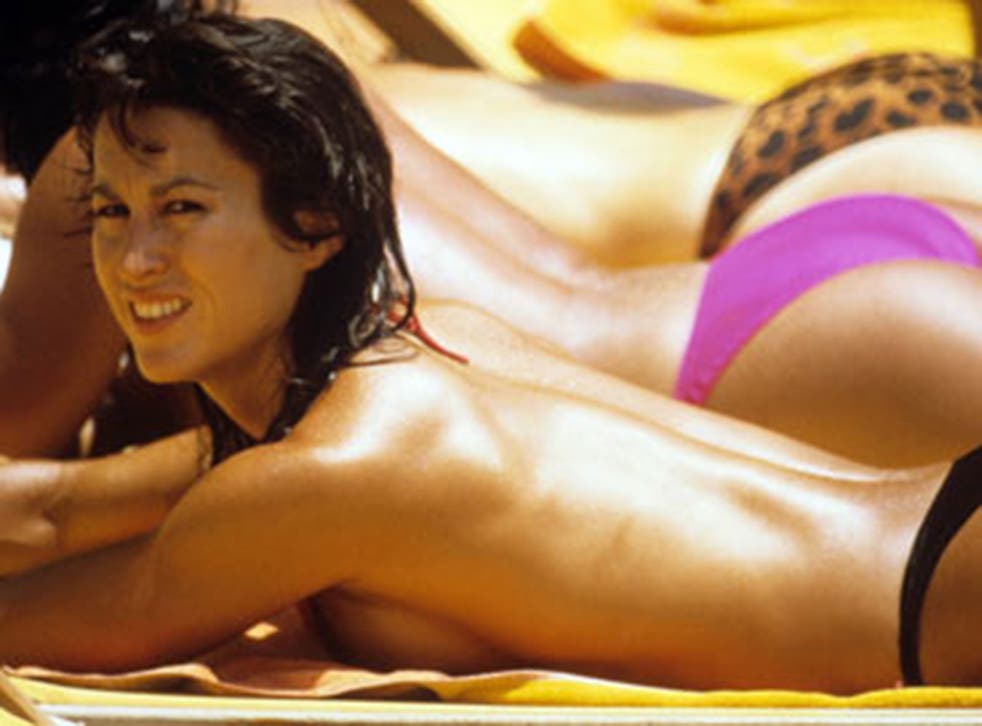 Topless sunbathing is no longer 'du jour' in France
Health concerns and "pornified" perceptions have made women more conscious at the beach
Sunbathing topless in Europe used to be the norm. However according to French Elle, women are feeling less liberated when it comes to beachwear.
The magazine's summer issue suggests that topless sunbathing is over- even on the French Riviera, known for its sun kissed topless bathers. Elle explains that the main reason is health concerns.
Increased awareness about skin cancer and recognition of the detrimental damage of UV rays on the skin have made women conscious about baring it all.
Also influencing sunbathing chic is the "pornified" perception of topless women -when Duchess Kate was shot topless in the privacy of her holiday apartment, the "scandal" hit the front of French Closer.
The reluctance to bare the breast might be surprising in the wake of feminist activism which has sought to promote women's rights through going topless.
Femen use their naked breasts to attract attention to various causes, from breaking into fashion shows, to jumping on top of politicians' vehicles.
More recently, the social media campaign Free The Nipple, encourages women to go topless to tackle body shaming and other stigmas surrounding female bodies. It quickly spread on the web and celebrities like British model Cara Delevingne shared a photo on her Instagram account with the hashtag #FreeTheNipple.
In the 1960s going topless at the beach was simply a sign of equality, ever since legendary Brigitte Bardot was photographed sunbathing.
Jo Slinkard, 60, told The Sydney Morning Herald: "You would go to beaches and everybody would be topless so you went topless, it was the fashion ... I'm a Seventies girl, we didn't care about showing off.''
However, Clotilde Lienhart, 23, told the same publication: "It's something about the nipple. I would feel vulnerable. People will be watching and I don't want to be seen like that."
Nevertheless, according to social media users, topless sunbathing is actually more common. Arthur Bontchemps said: "I had the impression more and more are doing so. Maybe it's a question of generation." Alissa Harger agreed: "I think it's the opposite too."
Sexuality expert at the University of New England in Australia, Professor Gail Hawkes, added: "Maybe this is a form of protecting your body virginity. You keep your nipple private for your lover, not the public."
However, Marselle Fisher, 33, thinks it's more about body confidence. She said: "I would say it's because of the obsession nowadays with perfect breasts, perfect body. In the past without the Internet and the media pressure women felt more comfortable exposing their bits. I think women today are so self-conscious and don't feel comfortable doing topless anymore."
According to recent research by Expedia, Austria, Germany and Spain are most likely to strip off. The poll shows that 74 per cent of Spaniards sunbathe naked, followed by a 28 per cent of Germans and Austrians, while other nationalities are much less comfortable taking their top off. For example, 13 per cent of Americans, 12 per cent of Britons and just two per cent of Japanese holidaymakers would go topless. Norwegians are the least likely to wear skimpy swimsuits and Brazilians are the most like to do so.
Join our new commenting forum
Join thought-provoking conversations, follow other Independent readers and see their replies