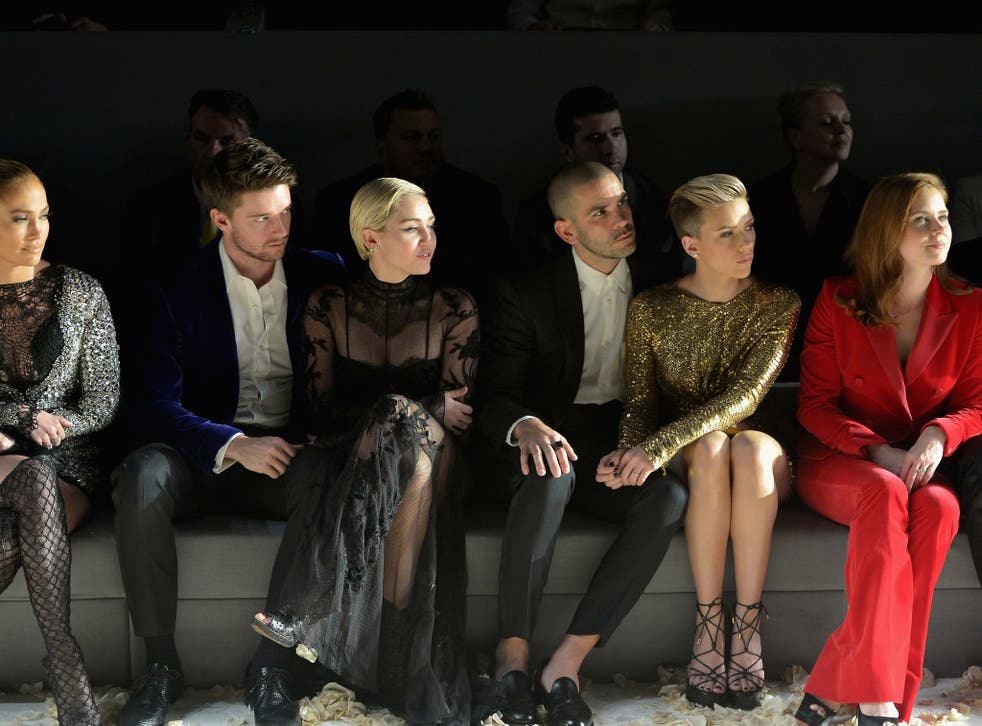 Tom Ford's Hollywood fashion epic – live! Sort of
Tom Ford staged his autumn/winter collection in LA at the weekend to avoid an Oscars clash.
To avoid the publicity disaster of clashing with the 87th annual Academy Awards ceremony on Monday – at least, when it comes to the all-important column inch – the savvy designer Tom Ford (who, please remember, was once up for an Oscar himself) shifted his show to Los Angeles.
He'd already decided to do it last October; he told me he was going to pack his front row with celebrities and have a red carpet laid out front.
Tom Ford is a man of his word, and of bloody-minded conviction. At about three this morning, GMT, he did just that.
In Pictures: Tom Ford autumn/winter 2015 front row

Show all 18
The designers clothes were shown not on a red carpet, but a white one – of rose petals. That was a direct throwback to the autumn/winter 2003 Gucci show, where Ford played Sinead O'Connor and jerked tears out of his audience as adroitly as any schmaltzy Hollywood director. Then he went off, made a film, and now he's back, albeit in Hollywood. He was doubtless aware that the vast majority of his audience – fashion included, as most had already migrated to London for the European leg of the shows – would be watching this not in person but on a screen. Hence, the practicalities of his physical audience blundering through that blizzard of blooms was of no consequence. Like the auteur of a great epic, a Cecil B. de Mille or Erich von Stroheim, Ford made his extras suffer for his fans, and for his art.
That's how I saw Ford's celebrity-packed audience: as a backdrop not dissimilar to Marc Jacobs' black-and-white facsimile of Diana Vreeland's apartment on Thursday night. Ford was showing to celebrities in a conscious, conceptual game. Concepts don't always have to be deep and meaningful and wrought with emotional heft. Ford was in Hollywood, and he wanted his audience packed with celebrities in a way simply not possible with London shows.
So, there was Beyonce and Jay-Z, Julianne Moore, Gwyneth Paltrow, Miley Cyrus and Scarlett Johansson and Anjelica Huston, all wearing Tom Ford from multiple seasons past. Jennifer Lopez was there too. There was a Lopez feel, I thought, to a good chunk of the collection, an old-timer sense of blingy razzle-dazzle to his grisly fur patchworked into denim.
Here's what I loved about this collection: that the comparisons to Ford's old Gucci days are still endless, and that he seemed to throw up his hands this time round and simply re-stage one. Sort of. The clothes were different, and the feel, even if the backdrop sent us hurtling back to Milan nearly 15 years ago.
The geographical shift of last night/this morning/next season helped demarcate the difference. There was a retreading of Ford's love of embellished surfaces, fashion's old gypsy trope, his favoured seventies stomping ground. Ford's teenaged seventies were spent in Santa Fe, New Mexico, not so far in either location nor spirit from California. Abstract the folksy styles of that era and place, and you get his pattern-meandered evening dresses, hairy fringe, Pucci-ish psychedelia and scrappy denims. The silhouette of sucked-in waist and peplum wasn't exactly today, but it certainly wasn't then.
Okay, it was Ford from about a decade ago.
Does that really matter? Ford is blatantly aware of his own past – he remembers it with crystal clarity (unlike some designers, I hasten to add), hence his sly resurrection of a Gucci greatest hit with a slightly different cast of clothes. A remake of a fashion epic? Sometimes, sequels can equal the originals. But it's all about context.
The context here wasn't the flower power, but the real power of celebrity – on the catwalk, watching the clothes, and behind the label. It was the context of a room filled with women who can – and will, and most importantly do – wear these clothes.
Did shifting his show to Los Angeles imply that the opinion of the fashion press matters less to Ford than the opinion of these women? Maybe. It actually should – they're the ones he's aiming his business squarely at. And in wearing his clothes, Miley and Gwyneth and Julianne encourage legions of others to drop cash to look the same. Or maybe to buy a lipstick from Tom Ford's phenomenally successful make-up line, which despite being barely a decade old is already rivalling the likes of Chanel and Dior. Few have the might to upend the system and create a fashion capital all their own. Ford is one of the chosen few.
Join our new commenting forum
Join thought-provoking conversations, follow other Independent readers and see their replies