Twist in the tails: Gaultier lights up the Paris catwalk with his traditional flair

Show all 4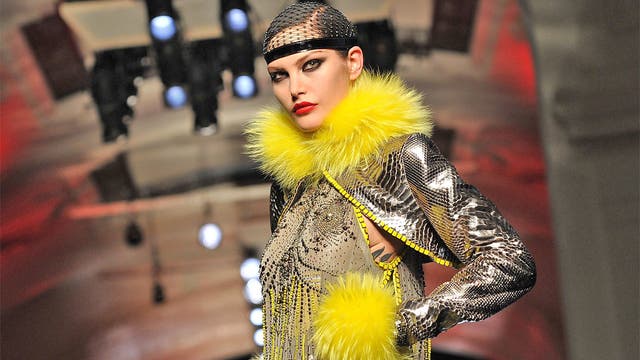 Twist in the tails: Gaultier lights up the Paris catwalk with his traditional flair
Jean Paul Gaultier showed his haute couture collection in Paris yesterday to typically spectacular effect. This was a vintage show heavy on cages – in gold leather or inky black dripping with jet – gender-bending tailoring and corsetry of the sort that made the couturier famous in the 1980s. Remember this is the man who put David Beckham in a skirt and Madonna in a conical bra.
You have to hand it to Monsieur Gaultier for having the flair to cast models of various ages, colour and even, relatively speaking, size, and indeed for throwing in a few men here and there for good measure. The latter looked particularly fetching in silk turban and beaded velvet cape, say, not to mention decidedly camp in a sheer organza jumpsuit, underwear on display for all to see.
French-born Gaultier, who turned 60 in April, is the last couturier left working in Paris who trained in the traditional manner, starting as an assistant in Pierre Cardin's atelier before moving on to Jean Patou.
He launched his own couture collection in 1997, reportedly motivated by the fact that he was overlooked for the top job at Christian Dior. (Instead it went to John Galliano, who took the helm the year before.) Since that time this arm of his business – it's called Gaultier Paris – has been growing. Revenues jumped 23 per cent following the controversial Amy Winehouse-inspired spring/summer haute couture collection shown here in January and that came on top of a 28 per cent increase in 2011.
This was a more rounded collection than the last one, however, that showcased not only Gaultier's skills as a tailor – sharply cut tuxedos came backless, with long-legged trousers or black silk velvet skirts – but also his ability as a colourist. Fringed, beaded flapper dresses worn with billowing kimonos looked lovely in chartreuse, flame and old gold.
The autumn/winter 2012 haute couture collections came to a close later on in the day with an ultra-refined and elegant collection courtesy of the Valentino designers since 2007, Pierpaolo Piccioli and Maria Grazia Chuiri. The combination of finely wrought couture techniques with a lightness of touch that rivals the house's namesake in his heyday is good to see here.
Finally, Maison Martin Margiela showed its Artisanal collection on the runway for the first time. Martin Margiela, that house's founder, retired in 2009 but the maverick spirit which he upheld remains very much in evidence with this line in particular. Found objects, often of little value – brass rings and ropes of red tinsel have both been used in the past – are transformed into one-off garments of considerable, if less obviously haute, beauty. More vintage pieces are replicated but always with a tender twist. It almost goes without saying that every stitch is executed by hand.
Join our new commenting forum
Join thought-provoking conversations, follow other Independent readers and see their replies