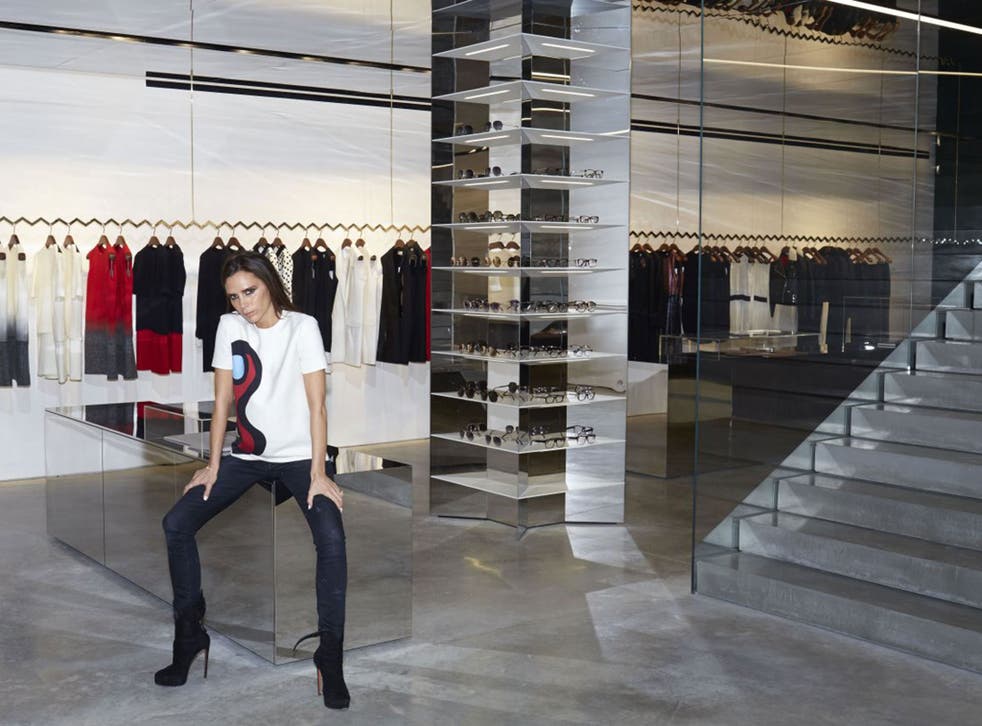 Vend it like Victoria Beckham: Concrete, chains and iPads
When Victoria Beckham's first store opens in Mayfair today it won't be to the sound of tills ringing.
That's not because the designer doesn't have commercial appeal – selling in 60 countries, she has it in spades – but because she's done away with anything as aesthetically unappealing as a till. Instead sales will be processed on iPads before being luxuriously wrapped and packaged.
"I've spent so much time obsessing over the packaging," confides Beckham. "It's really important and my customers appreciate that."
You could say that Beckham's life up to this point has been building up to her new role – an avid follower of designer fashion during her time in the Spice Girls, she has spent time, and plenty of money, in the world's most exclusive boutiques.
"I loved the fact that she'd never worked on a retail space before," says Beckham of her decision to commission architect Farshid Moussavi, who had previously worked on the Olympic Park in Stratford. "I think if I had shared some of my ideas with architects who had worked on retail before they would have thought I was a bit of a lunatic."
Formerly a hunting and fishing goods store, the Dover Street space has been transformed into a bright and airy boutique with industrial elements such as concrete floors and clothes rails suspended from chains. "We came up with this idea, 'how about we drill a massive hole between the three floors?' It was crazy, but it actually works."
The shop is located opposite Dover Street Market – the first luxury fashion retailer to move in to the Mayfair street, known for art galleries and dealers until that time. That was 10 years ago, and in the last few years Acne, McQ by Alexander McQueen, Christian Louboutin and Whistles have made fashionable additions to the neighbourhood, while the recently opened Celine boutique is just a few minutes away on Mount Street.
Although Beckham has shown at New York Fashion Week since she launched her brand in 2008, London is an important territory and reportedly her strongest market. "I do plan on being here as much as I can," says Beckham. Although star-spotters shouldn't get their hopes too high: "I'm not going to be here all the time, I have a big studio here in London, collections to get ready and four children."
Busy schedule aside, a bricks and mortar shop of this size is a serious undertaking: "It's very exciting, nerve-wracking as well. I've got to sell stuff."
Join our new commenting forum
Join thought-provoking conversations, follow other Independent readers and see their replies