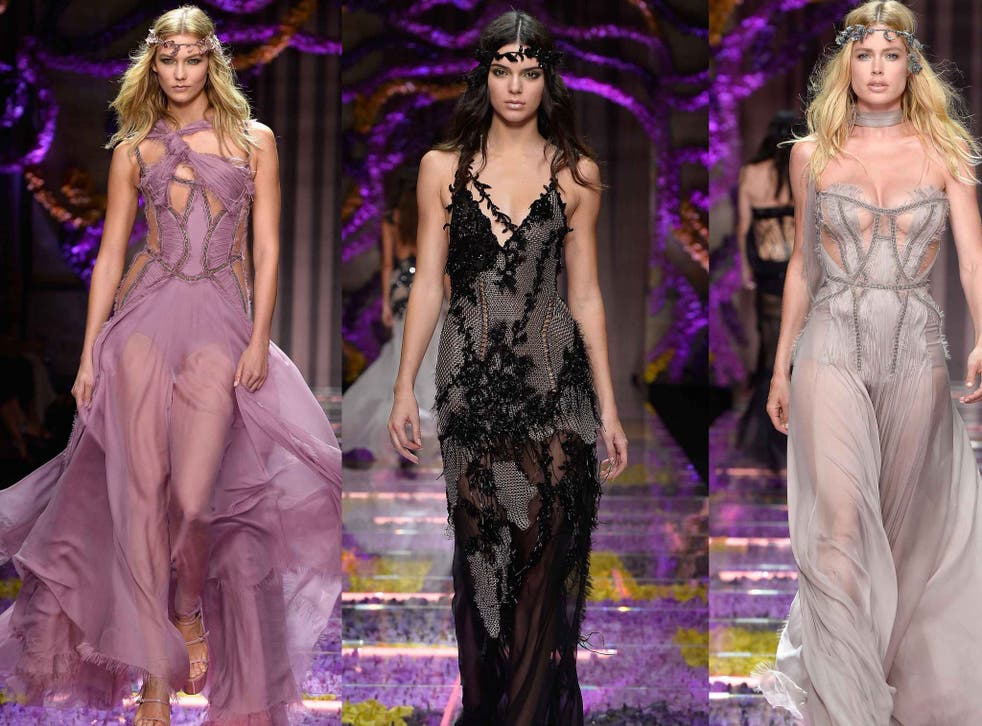 Versace haute couture review: Beautiful evening dresses are some of the loveliest Donatella has ever created
While the sex was to be expected, the brilliant oddness of colours was not
"I bought a few orchids," shrugged Donatella Versace, atop a plexiglass catwalk set with 25,000 of the things. It's a fitting metaphor for the haute couture – four days of shows for the autumn/winter 2015 season have begun in Paris, where designers will show the most expensive clothing on the planet.
The haute couture always requires some suspension of disbelief. The Versace models took to that flowerbed catwalk, beneath an ominous Medusa, as Greece teetered on a potential exit from the Eurozone and world financial markets churned in turmoil. The fact it was running down the middle of the Bourse, the old French stock-market, felt like a let-them-eat-cake moment.
But what's a few tens of thousand euros for a few tens of thousand flowers, when even Elton John's floristry bills pale next to, say, the cost of a Versace gown requiring six hundred hours of hand-embroidery?
The house itself was recently value at a cool billion euros, which maybe explains the new profligacy on (or rather, under) the house's catwalk. Haute couture has always been about a grand gesture - Versace, however, asserts that its couture is actually selling, to more and more younger and younger clients around the world. What do they get from Versace that no one else can do? Sex, that's what. Money may talk, but sex sells.
For winter, however, Donatella Versace was in a softer mood. "Not romantic," she sneered, almost spitting the word out before her show. "But we all have a softer side." For Versace, that meant chiffon - acres of the stuff, trussed and draped around sharp boned bodices, their structure delineated by strips of strass crystal. Lots was frayed, shredded and re-embroidered back onto chiffon. "Construction and destruction," pithily quoth Donatella, pointing to an intentionally jagged, threadbare panel in the back of one of those multiple hundred hours of handiwork dresses. "Like you mess your dress."
This show was a bit messy, in parts. Daywear, never a Versace strong point and certainly not at haute couture, was thankfully over with quickly. And the trudging, heffalump platform boots that bottomed every look suit few women - except Donatella herself. "I 'ate platforms," she said before the show. She was joking, but I'm not.
Your eyes easily adjusted - you simply stopped looking below the knee, though you winced as the models wobbled precariously. A clutch were fledglings, this being their first catwalk experience, Donatella said, with a motherly tone. It must have been like a boot camp. Excuse the pun - on boot, and camp.
The main issue with them (yes, I'm still going on about the shoes) is that they don't fit into the message Donatella Versace invariably wants to communicate, which is of a new Versace woman - confident, powerful, always sexy, but different. Versace is one of the few houses that actually realise the necessity of reinventing their aesthetic season after season - this season, Donatella talked about "the evolution of the Versace woman," next to a draped goddess gown in lapis blue. Those shoes are Donatella's Achilles heel, and her goddesses' feet of clay. It's time to move on, to shoes that women can really move in.
In pictures: Haute Couture Paris Fashion Week autumn/winter 2015

Show all 52
But anyway. What your eye lingered on were the evening dresses. They're what Versace is known for, and for good reason - there was beautiful stuff here, some of the loveliest Donatella has ever created. The sex was expected - you may tangle flowers in the Versace woman's hair, but she'll still end up more nymphomaniac than woodland nymph, corset on show through slashed and tattered dresses vajazzled to the eyeballs.
But the oddness in some of her colours - the brilliant contrast of an acidic satsuma say, with navy, or a magenta chiffon drawn straight from those underfoot orchids - was energising, and indeed unexpected. And I loved her ashtray palette of greys. Donatella is a former chain-smoker. Those dresses were the couture equivalent of a post-coital Marlboro Light.
Join our new commenting forum
Join thought-provoking conversations, follow other Independent readers and see their replies