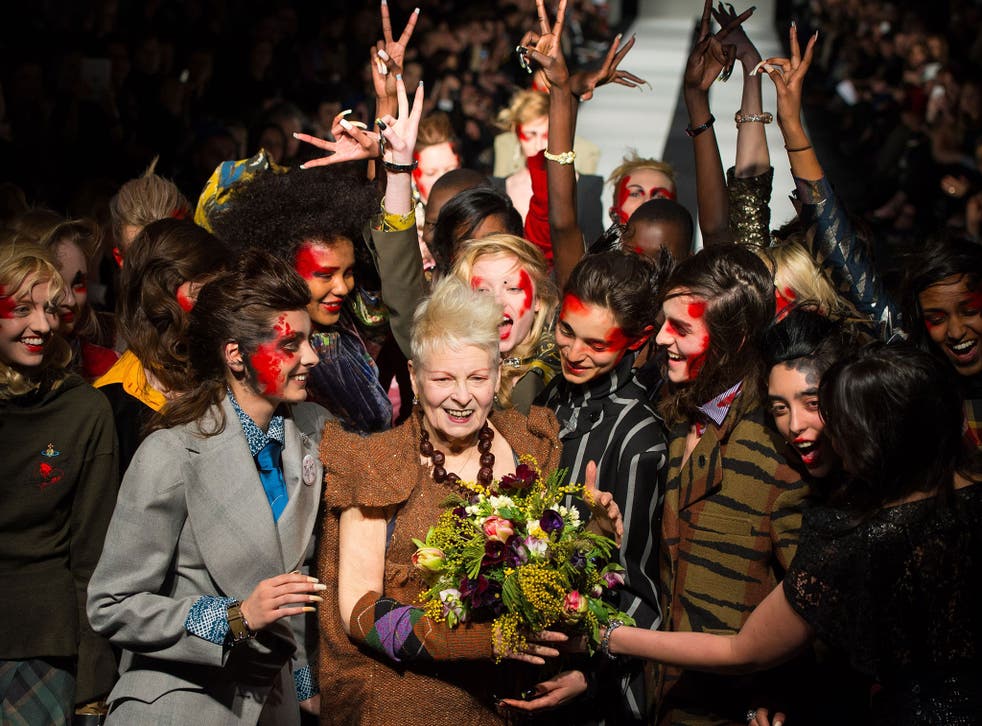 Vivienne Westwood goes green and puts politics back into fashion
'Vote Green' admonished the invite to today's show in London's Science Museum, urging a change from capitalism to a green economy
With only 72 days until the general election, the outcome of which will have a considerable impact on the creative businesses that cash in on fashion, it's a surprise that London Fashion Week has been so distinctly lacking in satirical bite thus far.
Perhaps it's a further sign that the renegades and rebels of yore have struggled to find counterparts in the modern day.
On Saturday night Gareth Pugh gave us a glimpse of that fighting spirit with a powerful collection that was at once fierce and full of hope, featuring black-clad warriors, faces daubed with the red cross of St George. While Pugh's ever-present rebellious streak was there, this collection felt more like a celebration of sorts than a scathing indictment of any particular target.
London Fashion Week autumn/winter 2015:

Show all 51
Leave it to Vivienne Westwood, then, to stay true to her proto-punk roots and use the presentation of her latest Red Label collection as a chance to share her beliefs with a captive audience. "Vote Green" admonished the invite to yesterday's show in London's Science Museum, urging a change from capitalism to a green economy.
The clothes, though almost secondary to the spectacle showed a confidence that has seemed somewhat strained in recent years. There was much to love in the collection, especially for those with a fondness for Westwood's greatest hits, including a long-sleeved cowl-necked black silk gown, which was devastatingly sexy. Westwood stated that her Red Label customer is "a bit like me" with roots in the country although capitalising on the culture of London. "Culture" was one of Westwood's key slogans this season, which coupled with "chaos" gave an insightful glimpse into the designer's political priorities.
During the Thatcher years, and indeed beyond, Westwood and her notable contemporary Katharine Hamnett used slogans to great political effect.
Slogan-mania has died down again after a recent fashionable renaissance, but accessories designer Sophia Webster has made them her own. Her "freak like me"-themed presentation yesterday was part of a collaboration with Coca-Cola – a brand that knows a thing or two about successful slogans, a history that Webster delved into with glee.
Topshop Unique was something of a history lesson too, taking a whistlestop tour of key fashions from the late Sixties and Seventies. Trends seen elsewhere for cord, mini-dresses and velvet where ticked in a collection that had a boarding-school girl sensibility to it and seemed much more accessible than previous seasons.
Join our new commenting forum
Join thought-provoking conversations, follow other Independent readers and see their replies