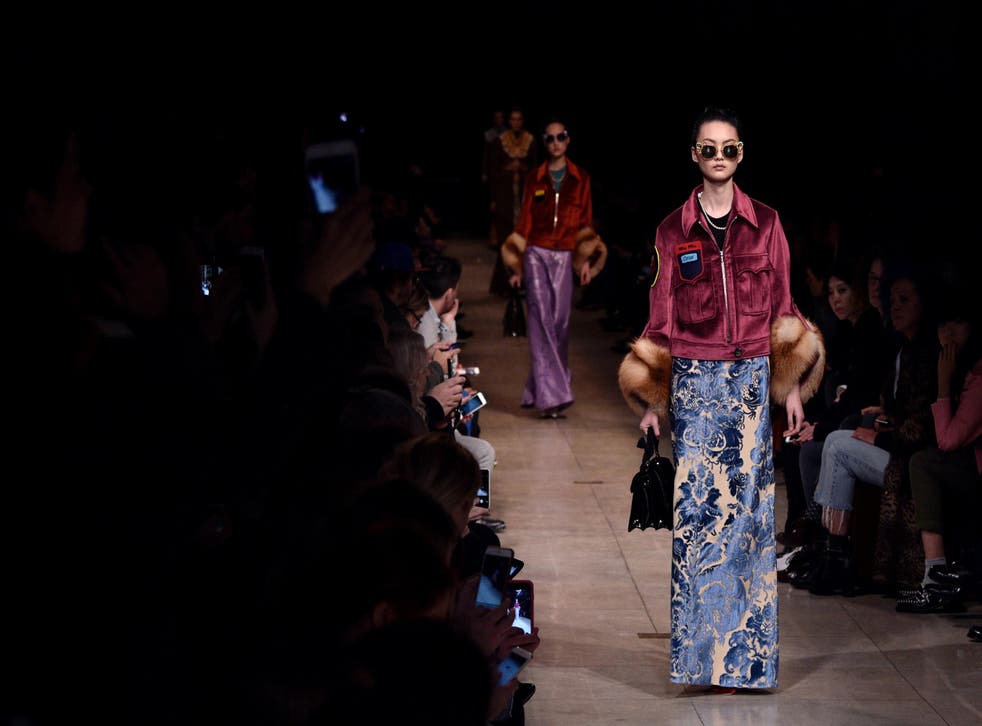 Paris Fashion Week: Atlantis rediscovered at Louis Vuitton, Mrs Prada plays dress-up at Miu Miu
The closing statement of the autumn/winter 2016 Paris collections was one not of eighties haute couture reassertion, but of using the old to mould the new, says Alexander Fury
Using the old to make something new. That was the message of the final day of Paris fashion week, of Miu Miu and Louis Vuitton, the closers to a season that has seen fewer retrospective rehashes than usual. That is, bar an insistent resurgence of eighties haute couture in this city, of styles last seen when fashion was dancing on the precipice of recession and hence pumped out shoulders, poufed skirts and generally made its presence aggressively felt. Hedi Slimane did the same at his Monday Saint Laurent show – both seemed to be crying out for attention, screaming: "I'm still here!"
Read into that what you will, when it comes to Slimane's place at the house of YSL. In wider fashion terms, it marked a plaintive reassertion of Parisian prominence, at a time when many leading houses hover in limbo.
But back to Miuccia Prada and Nicolas Ghesquière, whose clothes looked backwards in order to move on. Mrs Prada used voided velvets and needlepoint tapestries and antiqued shapes – fifties duster-coats, a few puffy eighties-via-forties cocktail dresses (with a great, Miuccia Prada-approved glut of Yves Saint Laurent in the ruffled velvet numbers), a deflated bunch of Victoriana bustle-skirts cut in slobby denim - and mixed them all together. There wasn't really a sense of day or evening or event of casual. It was a grab-bag of clothes, a freeing experience, just as her jaunt through history felt. Tail-coats in denim; short-shorts in needlepoint or tie jacquards. A few jackets were cut in workman styles, with patched pockets and buttoned belt, but in velvet cuffed with fox. They bore strange heraldic badges and men's names that felt from the fifties – Gene, Rex, or Roy, above shields embroidered with flamingos or dog's heads.
The long, spindle-slender silhouette – maxi-skirt with cardigan, maxi-coat with maxi-skirt - felt like a departure. It was sort of grown-up. And there's something intriguing about that at Miu Miu, which at its best has a dressing-up box feel, like a young girl dressed in her mother's clothes. Maybe that mother is Miuccia Prada, given that Miu Miu is her diminutive nickname. I also oft suppose the label represents the 15-or-so year old girl she once told me she sometimes imagines herself to be, whilst designing. I was surprised that this season that girl was Jelena Noura Hadid – at least, for a bit. I would never have put those two together.
Mrs Prada, however, is adept at confounding our expectations, such as making curtain fabrics and wallpaper-style damasks desirable. Of course, she did that in the nineties with her "ugly chic" collections. And while this collection wasn't ugly, it was nevertheless intriguingly off. I say intriguingly, but you didn't want – nor need – to think too hard about these clothes. Like that aforementioned dressing-up box, you'll grab at whatever immediately appeals (a jewelled bag, a high heel, a curtain coat), pull it on, have fun. Simple.
There was something off about Nicolas Ghesquière's Louis Vuitton collection too, presented in a post-modern recreation of Atlantis (apparently). But it wasn't simple. I wonder if Ghesquière meant the Atlantis of Platoean tale or, say, Atlanis nightclub in Eastbourne, with shattered mirrored panels, a throbbing blue light and a disco monochrome floor. Outside, one of the freakish squalls that have buffeted the international fashion weeks in between snowstorms and heat waves (climate change as trend – explains chiffon dresses for winter and furs and macintoshes for spring); inside, Ghesquière showed a collection devoted to travel, as his Vuitton shows always have been. The idea this time was travel between the past and the future, "an archaeology which unearths the future."
That just sounds like fashion, digging up forgotten looks from the eighties and reworking them, projecting them into the future. Ghesquière referenced broadly this time – ergonomic paneling via Jean Paul Gaultier's Les Rap'Pieuses collection, thirties bias-cut slip-dresses, Hermès-style scarf prints, a beading detail from a well-known collection by eighties darling Rifat Ozbek – and collided them with a scrambled illogic. It wasn't random, of course, and yet Ghesquière's referencing was bold and clever – those collisions of theme and time meant each discovery was unexpected, but of an image already half-remembered, the frisson of revelation equal to unearthing a lost bit of the Elgin Marbles in your back-garden. If we're talking archaeology, it didn't take much digging to get to the crux of this show.
Yet Ghesquière's talent is in morphing those flashpoints of the past into something forward-thinking, and desirable. Like Prada, he never seeks to exactly recreate a moment in history, perfectly preserved, like Pompeii. His unearthing is grittier. The passage of time has eroded it so, perhaps, proportions change, meld and mould. Hemlines have risen and fallen. There's change. This collection latched onto the mood of spring, it's urgent online explorer – he cited Lara Croft's Tomb Raider as a reference. She was a heroine I saw in last season's collection, too, delving into Ghesquière's virtual reality, a new universe ripe for exploration. This time the world was actual, tangible and tactile. It didn't operate at a remove. These clothes, like the best in Paris, drew you in and made you want to wear them, to figure out how the shapes interact with your body. In part, out of curiosity, to understand them. On another, baser, level, to look good.
Maybe at Atlantis, in Eastbourne.
Join our new commenting forum
Join thought-provoking conversations, follow other Independent readers and see their replies