Fashion Feature
Why 'The Politician' is the most stylish show on Netflix
From Gwyneth Paltrow gardening in couture to Lucy Boynton campaigning in Chanel, Olivia Petter explains why the satirical drama is our latest fashion obsession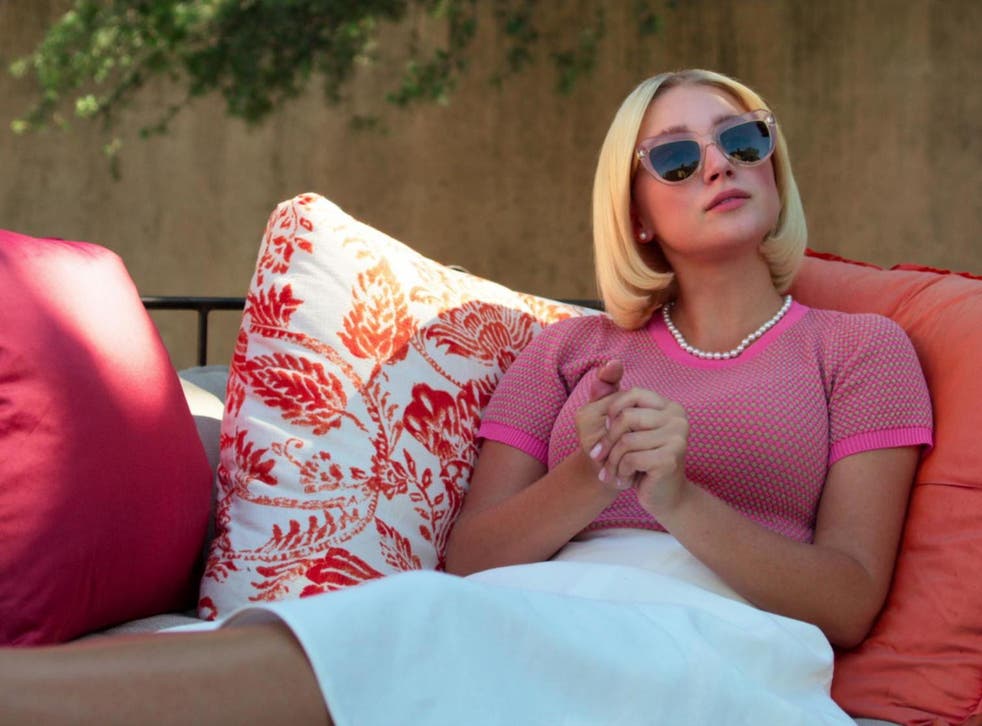 Our fashion roundups are unbiased. On some occasions, we earn revenue if you click the links and buy the products, but we never allow this to affect our coverage.
As the days get shorter and the weather descends into colder climes, an invigorating dose of sunshine and joy on our laptop screens is very much in order.
Thank goodness, then, for The Politician. This acerbic, California-based series from Netflix sees a group of hideously wealthy high schoolers navigating the complexities of teenage life while vying for the coveted role of student council president.
Written by Glee's Ryan Murphy and Brad Falchuk, the plot ricochets between high-octane drama and playful parody, but it's how all this translates visually that makes the show such compelling viewing.
The sets – sprawling Santa Barbara homes and scholarly classrooms – look like something out of a Wes Anderson film, while the privileged characters who fill them don idiosyncratic ensembles that totally satirise their personalities.
Gwyneth Paltrow, who plays protagonist Payton's bohemian but deeply naive mother, swans around her umpteen-room mansion in couture and is almost always inappropriately dressed. She drips in lavish costume jewels while painting a portrait of a Syrian refugee and does the gardening in a scarlet Carolina Herrera gown.
The best outfits in Netflix's The Politician

Show all 13
Elsewhere, there's stony-faced Astrid, played by Lucy Boynton, who runs against Payton for student president. Her canny and conniving nature is realised through a series of Chanel tunics and Miu Miu pussy-bow blouses. With smatterings of knee-high socks and girlish hair accessories, Astrid often looks as if she has raided the wardrobes of Gossip Girl's Blair Waldorf and Clueless's Cher Horowitz – which is no bad thing.
"Ryan really wanted this to be a world of extravagance," says Claire Parkinson, who styled the show alongside fellow costume designer Lou Eyrich.
"Each character's financial background story helped us decipher what their style would be and where their priorities were."
Astrid, for example, shows power through how she dresses, says Parkinson, because she wears almost exclusively designer labels and has the confidence to wear a wide range of trends, channelling Mod style with mini skirts and Mary Jane pumps one day and then pairing a pink frock with combat boots the next.
Parkinson says that despite the similarities, Wes Anderson wasn't used as a reference for the film's aesthetic.
"Mostly we talked about the heightened reality of the world we were creating," she says of her conversations about styling the show with Murphy.
A key influence was American photographer Slim Aarons (1916-2006), who was renowned for his intimate images of those operating within society's elite. "The colour tone of the show was very inspired by his use of vibrant pinks, blues, yellows and green," Parkinson explains.
But many of the show's characters have specific historical influences. Take Payton, whose patriotism and presidential ambitions are emphasised through three-piece suits that come in striking Americana colours.
"We used a young JFK for inspiration," says Parkinson, "as well as Robert Redford's character in the film, The Candidate."
To capture the Ivy League preppy style sported by Payton's narcissistic Ken doll-like twin brothers, Parkinson looked at Ralph Lauren campaigns from the 1980s. The intention was for their outfits to evoke wealth and power, but also to add to their overly groomed appearance, she explains. So the Hobart twins hurl abuse at their younger brother and plot patricide in tight-fitting polo shirts with collegiate sweatshirts hanging around their shoulders. The juxtaposition of their American dream look with their vile dispositions is intoxicating.
Then, in what might be Netflix's most fashion-forward trio, there's McAfee, James and Alice, whose role it is to help get Payton elected to the role of student president. Their style is perhaps the most parodic for a group of teenage high schoolers. Inspired by Gloria Steinem and David Bowie, McAfee wears double-breasted Rachel Comey suits, sky-high platforms by Martin Margiela and tinted Gucci aviators. She favours luxury brands like Commes des Garçons, Dries Van Noten and Celine, says Parkinson. James, meanwhile, mostly wears smart penny loafers and polos, while Alice, who is also Payton's girlfriend, models herself on Jackie O.
"Alice's look is more classic but with a specific sherbet colour palette, so we ended up having to make many pieces for her like tweedy pastel skirts, matching coloured pussy bows and headbands to make her outfits a full head-to-toe look.
"We also sourced quite a lot of vintage pieces to really specify her look since her style isn't as trend-driven, but still very iconic."
In order to recreate some of the key looks from The Politician at a more accessible price tag, celebrity stylist Alex Longmore says it's all about investing in brightly coloured suits, affordable costume jewellery, and retro footwear.
"Anything from J Crew is an absolute must, it's this look all over," she says to those who want to channel some of the preppy ensembles in the show.
Longmore also suggests taking cues from British designer Molly Goddard – whose fuchsia tulle dress is seen in the first episode – by wearing outlandish evening wear during the day, like Paltrow's character often does.
As for the flamboyant costume jewellery that features heavily throughout the show, Longmore advises looking to Jessie Western where you can find turquoise rings that are almost identical to the ones she wears.
"Pearls are a key accessory too," she continues, advising wearing these with pale blue jumpers and leather mini skirts for a very Alice-inspired look. For more Politician-approved pieces, pay a visit to high street shops like Zara and & Other Stories, which Longmore says "are in total synergy with the show".
Join our new commenting forum
Join thought-provoking conversations, follow other Independent readers and see their replies