Style File: The names and labels to look for at London Collections: Men

Show all 2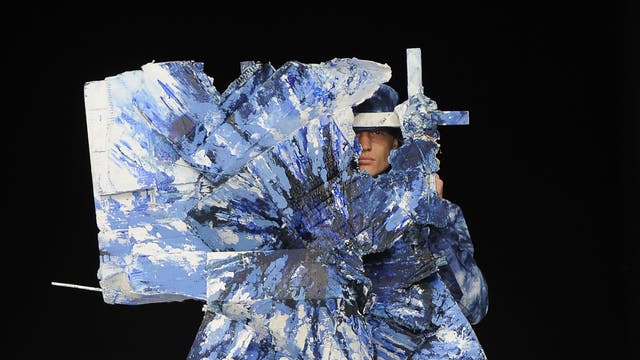 Style File: The names and labels to look for at London Collections: Men
The biggest-ever instalment of London Collections: Men kicks off today. Alexander Fury picks the names to drop and the labels to shop for
BEST IN SHOW
The multibillion-pound behemoth that is Burberry Prorsum inevitably takes the prize for the biggest show of London Collections: Men (LC:M), erecting a massive marquee kitted out with the latest bells and whistles in catwalk technology, such as iPhone 5 videos and stills, live streaming and livelier online buying. For its LC:M debut in June, it also drafted in major-league celebrities such as Hugh Dancy and Serena Williams to watch the action live. Oh, and then there are the clothes, of course, for which Burberry head honcho Christopher Bailey netted Menswear Designer of the Year at the 2013 British Fashion Awards.
BRIGHTEST STARS
Britain's got talent – and not just for dressing the girls. Craig Green stands out – a year into his catwalk career as part of the trio of designers showing each season under MAN, the Topman/Fashion East initiative, he's garnering hefty international plaudits, including a British Fashion Award nomination for Emerging Talent. The clothes, contrary to popular belief, are also selling. Other highlights are witty knitters Sibling and JW Anderson, whose avant-garde approach has netted him LVMH investment and the creative-director role at Loewe.
MOST MISSED
Meadham Kirchhoff's "Brother" line has taken a break for autumn/winter 2014. And the fashion world is in mourning. In its three menswear seasons, we've had 12 lads a-lounging in beaded veils, a roomful of pleather jackets and bin-liners, and a parade of bullies and their victims before an audience perched on school benches. And always some of the best clothes of the week. It will be sorely missed. But hopefully back come summer.
BIGGEST BROUHAHA
LC:M is embroiled in a clash with Pitti Immagine, the Florentine leg of the Italian menswear schedule. Pitti kicks off tomorrow, in the middle of London's chaps'-clobber showcase, with a jet apparently chartered to take straggling press off to Pitti after Wednesday's Burberry show. "We have faith that the issue will be resolved," said Raffaello Napoleone, the chief executive of Pitti Immagine. Nevertheless, it's neatly cleaving the press and buyers into two halves: the Pitti-able, and those who have no Pitti. Ultimately, however, no one's a winner. It just means everyone's that little bit more stressed, with schedules a little bit more squeezed.
BEST BAUBLES
The biggest disappointment in missing the Pitti party? Not seeing the first collection of gentlemen's gewgaws by the Roman jeweller Delfina Delettrez. Expect lots of Cocteau-homage eyeballs in heavier weights.
MOST TERRIFYING TREND
Never mind the Nineties; the next decade due for revival is the Noughties. Agi & Sam's photo-print suiting reminded me of Paul Smith, James Long's suctioned-in cycling gear of Prada Sport. Nasir Mazhar, however, provided its most frightening reincarnation. His IRO-logoed trackie bottoms, patched in baby-pink towelling, paid homage to the twin style nadirs of chav culture and Juicy Couture velour. It's only just begun…
MOST ARCANE ACCESSORIES
Tom Ford knows what you get for the man who has everything: ludicrously luxurious follies such as a 12in ram's-horn desk lighter, or a pair of ebony and velvet crutches. We expect nothing less – the good Ford almighty once sold such Gucci-logo-festooned delights as an ice-cube tray (which I bought) and a spanking paddle (which I didn't). Frankly, the Tom Ford accessories room is my favourite part of any fashion week.
AUDIENCE PARTICIPATION
What are London's menswear mavens modelling off-piste? It's an odd combo of spring and winter, because despite their sartorial dedication, the men among the menswear audience aren't willing to risk a bout of man flu to sport next season's shorts and flimsy silk shirts. There'll doubtless be plenty of Prada and YSL Hawaiian prints, though. Only covered up with a big warm coat.
Join our new commenting forum
Join thought-provoking conversations, follow other Independent readers and see their replies