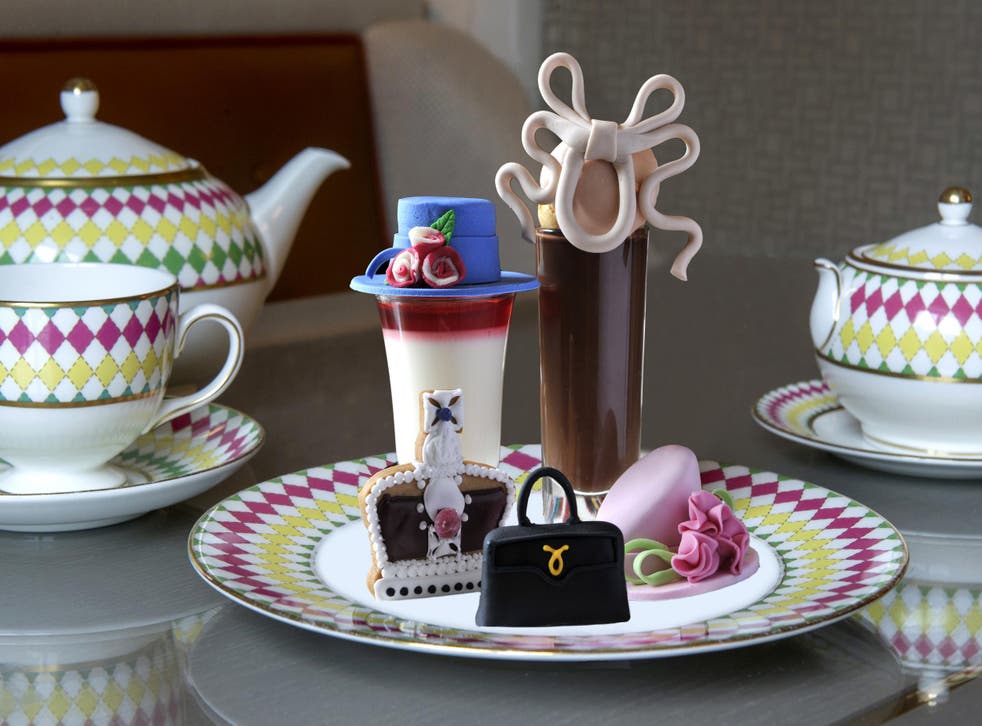 Wear It's At: Right Royal
On the eve of the Queen's 90th birthday, take inspiration from her sartorial choices for everything from your titfer to your tarts, says Sarah Young
The Queen is so posh, she gets to celebrate her birthday twice – any birthday, every birthday, but hitting the big 9-0 seems especial cause for celebration. Those celebrations run the gamut, from mayors encouraging the populous to "Clean for The Queen" (surely tax bills should cover that?) to a bunch of designers paying timely homage to the prim and proper style she has made her signature. Think bright block colours, headscarves and pristine white gloves, all teeming with royal pomp. It's more evident for the autumn/winter than spring/summer season – see Mary Katrantzou's right regal headscarves and fur tippets, the billowing ball gowns of Oscar de la Renta, and the matchy-matchy ensembles at Chanel. The wintry slant is understandable, given her fiefdom's generally inclement climes. An umbrella here is for life, not just for Christmas.
Elizabeth's style values tradition above trend, though. Fashions come and go, but her signatures stand the test of time. Her trademark handbag is a number by British leather house Launer – unchanged since they were awarded the warrant in 1968, although she does cycle through styles. They're mostly practically sized in serviceable black –she favours styles dubbed the Traviata and, aptly, the Royale. But don't try to buy on a whim: each bag takes up to four weeks to create.
Millinery is also a vital component – the hat is, after all, a reminder of the crown. Plus it makes her head visible, even in a crowd. Stephen Jones was made a royal designer in 2010 – his was also the hand behind Vivienne Westwood's Harris Tweed crown in 1986, created for a collection that was an unexpe3cted homage from a woman who once impaled the Queen's face with a safety pin (in print form, of course).
All that costs a pretty penny – but if your budgets are slightly more limited, you can always smell like royalty (really) - Floris is the longest reigning British beauty company in royal favour, and the Queen's fragrance of choice. Otherwise, why not eat like a King (or Queen) and scoff down the The Berkeley hotels one-week-only royal instalment of its "Prêt-à-Portea" lunch menu. Hitherto a selection of fashionable sorts, it's been given a royal twist with fancies in the shape of signature hats – Princess Beatrice's Philip Treacy titfer, for instance. Pride of place, of course, goes to the coronation crown, in vanilla biscuit with edible diamonds. Never too posh to gnosh.
Wear It's At: Right Royal

Show all 5
Join our new commenting forum
Join thought-provoking conversations, follow other Independent readers and see their replies