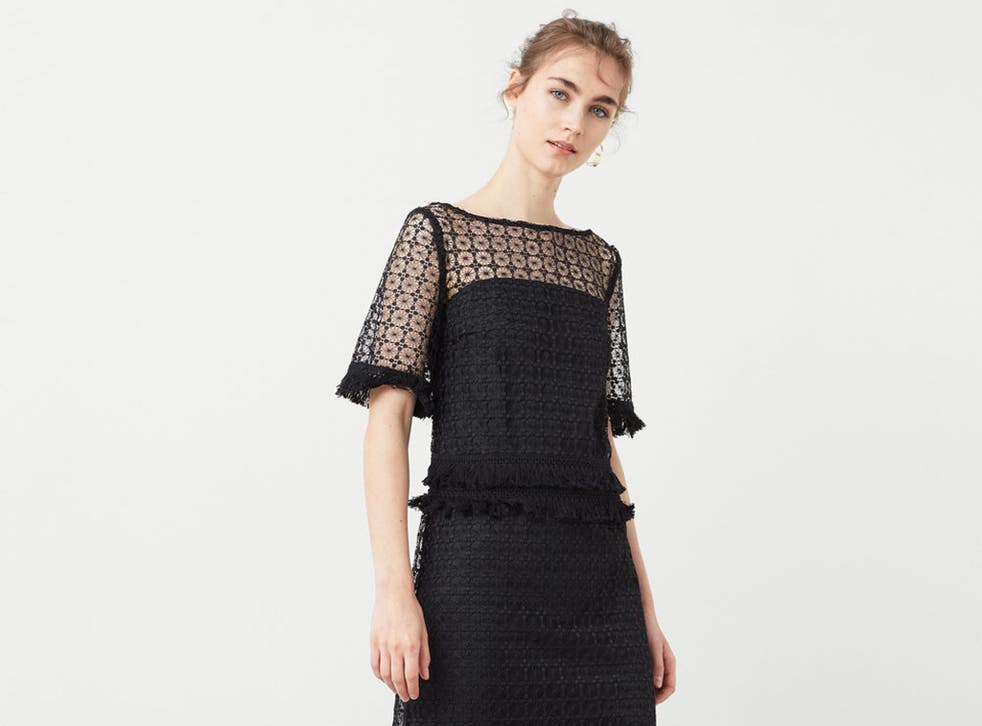 What to wear to a winter wedding: 9 items to get you ready for the big day
Struggling to find an outfit that will keep you warm and look stylish? Sarah Young highlights some of the best pieces to perfect your look
Deciding what to wear to a wedding is tricky at the best of times let alone when you have to factor in the ever-changing British weather; from precipitation to gale force winds, as the wind chill sets in your favourite light-weight dress might not seem like such a good idea after all.
As a rule, you should trade-in floaty gowns for those made of sturdier stuff and slightly longer sleeves. Alternatively, ones that can be easily layered with a winter-ready coat will look just as stylish. If you don't want to cover up too much though, opting for lace, sheer or cut out fabrics will reveal a hint of skin without the running the risk of frost bite.
Colour is equally as noteworthy when it comes to midwinter weddings so switch out the springtide for richer, more luxurious tones - think emerald, sapphire and tawny amber. Nonetheless, the most important thing is to feel comfortable so if you prefer the no-frills approach to dressing forget the flimsy frocks and opt for a matching two piece or a pair of chic culottes.
Prairie Lace Midi Dress, £300
Known for their contemporary approach to elegant eveningwear, Self Portrait are guipure-lace virtuosos. This navy sheer floral dress might look like you could catch a chill but the contrasting black and teal-blue lace panels combined with a high neck, short sleeves and invisible underlay afford the best of both worlds. Stylish yet practical, all you need is a simple pair of heels to complete the look.
This pouch from Whistles is the perfect size for carrying your big day basics; phone, makeup, confetti – check. The sophisticated burgundy colour means it will go with most things and it also comes with a detachable gold chain strap for when it's time to hit the dance floor.
Orla Lace Effect Jumper, £110
If dresses aren't really your thing then try pairing this gorgeous night navy jumper with a pair of trousers or a midi skirt. Knitwear isn't usually a winter wedding staple but this option is so delicate with an intricate lace-effect and subtle high neck that it passes the formal dress code.
Cracked Leather Mid Heel Shoes, £55.99
If super high heels aren't your thing then this pair of mid clock heels from Zara could do the trick. The gold-toned leather outer and metallic heel mean they'll work perfectly with any outfit and should be comfortable enough to see you through the day. Team yours with matching gold jewellery.
Open Work Dress, £129.99
Winter dresses don't have to be high necked and worn to the ankle but if they are opt for an openwork, cut-out design. This is a great option for those that love the style of Self Portrait dresses but are looking for a slightly more affordable alternative. Finished with fringe applique and a strapless inner lining this is super elegant with a fashionable twist.
Floral Jacquard Prom Skirt, £65
Florals are great all year round but for winter opt for larger blooms in gorgeous jewel-like colours. This A-line skirt is exquisitely decorated in ginger, dusty pink and sapphire floral jacquard with a fitted waist band to boot. It's enough of a statement piece on it's own so pair with a simple black top for full effect.
Chinoiserie Embroidered Midi Dress, £85
While chiffon is generally reserved for warmer climes this embroidered dress comes fully lined with wide cut sleeves and a high neckline for extra warmth; it's also perfect for those conscious of their upper arms. We love the oriental blossoms that intricately embellish the floaty black gown.
Black Embroidered Round Toe Court Shoes, £45
If you're the kind of person that likes to go modest up top then make a swerve for some fancy footwear instead. This black pair of round toe courts from Next are skilfully embroidered with floral detailing and come fitted with an ankle cuff for extra support.
Tailored Suit Jacket and Trousers, £100
Perhaps you have an alternative wedding to attend or maybe you're just the kind of girl that doesn't dig dresses; either way the tailored suit could be your go-to. We love this berry coloured two piece from Topshop that is expertly tailored to fit like a dream. Pair with a silky camisole and either a pair of heels or brogues.
Join our new commenting forum
Join thought-provoking conversations, follow other Independent readers and see their replies